Inspired by Teacher's Transplant Story, Michigan Teen Becomes an Organ Donation Advocate
Meet Daily Point of Light Award honoree Srishti Gowda. Read her story and nominate an outstanding volunteer or family as a Point of Light.
In eighth grade, Srishti Gowda learned her English teacher had been waiting for a kidney transplant for years. After hearing what her teacher went through while waiting for a transplant, Srishti was moved to do some research of her own. She discovered approximately 120,000 people in the United States are waiting for a life-saving transplant and 22 people die each day while waiting for one. Srishti wanted to do something to help address the problem, which led to her becoming an organ donation advocate.
Srishti first started volunteering with Gift of Life Michigan, the state's organ procurement organization, in 2017. The following year, she founded Gift8Lives, a school club the educates children and teens on organ donation. As part of her Girl Scout Gold Award project, she helped Gift of Life Michigan develop a toolkit for drivers education instructors to use while teaching students about organ donation. Also for her project, Srishti spoke to drivers education classes and held one-on-one conversations with her peers at various events with the goal of educating them and dispelling the myths surrounding organ donation. Now 17, Srishti has so far recruited over 200 new organ donors in her Troy, Mich.-community through her advocacy.
Describe what inspired you to become an organ donation advocate.
It started in eight grade. My English teacher Ms. Costello had actually been waiting for a kidney transplant for a few years and she talked about the struggles that people go through while waiting for a transplant, whether that be a kidney or liver transplant. She told us about how it's very difficult for people who are waiting for a transplant for a long period of time. That was the first time I realized that I didn't really know much about organ donation. I didn't really understand it, and this made me realize that it's not really something that's talked about. I wanted to know more and I did a little bit of research on it, and I found out that approximately 120,000 people in the United States are currently waiting for a life-saving transplant. According to Gift of Life Michigan, which is the organ procurement organization for our state, 22 people die each day because an organ does not become available to them. I realized this is a really big problem and I wanted to address it. When I was thinking about how I could do that, I realized that I wanted to target teens and children because when you go get your driver's license for the first time, or to the Secretary of State in general, they ask you if want your name added to the Michigan organ donor registry, [as well as] at the DMV in any other state. I realized that I wanted to talk to my peers about it and make sure more people were aware of organ donation.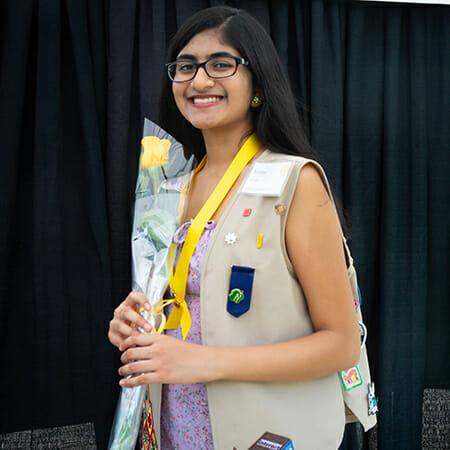 Describe your volunteer roles as an organ donation advocate.
I started my own club at my high school called Gift8Lives, which raises awareness of organ donation in our student body. We have been pretty successful because we've had meetings every month about organ donation, brought in speakers who were in the organ donation community, and made our students and members of our club more aware of what organ donation is. I knew that while starting the club was really valuable and a lot more people were more knowledgeable about organ donation, I wanted to make sure I was making a really permanent impact on organ donation and I wanted to expand my horizons.
When I took Segment 2 drivers ed classes, I felt what was being presented about organ donation there could be changed in a way to be a little bit more effective. To do this, I worked in partnership with Gift of Life Michigan to create and improve organ donation education toolkits. This toolkit, which we distributed to the 84,000 students that take drivers ed yearly in Michigan, provided them with an increased knowledge on organ donation. In this specific toolkit, I included a lot of new things that hadn't been in the toolkit before, like a student letter, a parent letter, a teacher flyer, a Kahoot quiz that's more interactive — things I felt people my age specifically would really appreciate. It was very successful. Part of making the toolkit was actually what I did for my Gold Award project.
The other part of my Gold Award project was having one-on-one conversations with my peers at my high school. There were two events called the Gift of Life Michigan HOSA Challenge and the Libraries for Life event, that were ways I felt I could make a difference even more. For the Libraries for Life event, we set up a donor registry table in our library at our high school where we would talk to students who came into the media center about organ donation. We were able to sign up around 20-40 people in that specific event. We also had a Gift of Life HOSA Challenge which was even more successful, because there we were able to sign up in total around 150 new donors. With both of these events combined, throughout what I've done with Gift8Lives and my Gold Award project and all of my advocacy in general, has resulted in over 200 new organ donors in our Troy community.
What was it about your teacher's experience with organ donation that resonated with you?
I think I realized that with regards to organ donation, it's just the fact that people don't really know the truth of organ donation. There's a lot of myths and misconceptions surrounding organ donation. It was really sad to me, hearing that story, that the reason why there's such a shortage of organ donors is because there's all these myths and there's not enough education about it. All it takes is for someone like an organ donation advocate, like what I've done, going out into the community. Talking about it is what can save many people's lives. Also, I think what really inspired me to take action about this and why it felt very personal to me is not only because my teacher was effected by it, but also because organ donation is something where signing up and making the decision if you want to be an organ donor or not is the harder part. When you actually sign up, it's something that doesn't require a lot of effort, but it can make a world of difference in somebody's life. I think when I have presented the truth of organ donation and people realized 'Oh, I'm not too old to sign up' or 'I'm not too young to sign up,' they really jump on the opportunity. I think making sure all people in the organ donation community, people who know the truth of what organ donation is really about and how it can save many lives, is very important — for us to go out into communities and talk to people about it because more than likely, that story will really resonate with them as well.
What myths and misconceptions about organ donation do you want to clear up for people?
The first thing is that definitely no matter your medical condition or your age or anything like that, you can still sign up as an organ donor because the decision to donate is made by physicians at the time of death. So no matter what, you can sign up on the organ donor registry and make an important decision. Also, another myth is that — this is more of a really sensitive one — if you're at the hospital, medical professionals won't try to save your life if they know you're an organ donor. That's not true at all. They've sworn an oath to protect you and they will do that. Those are the three main myths I've seen.
What's been the most rewarding part of your work?
I definitely think the most rewarding part is having one-on-one conversations with people and seeing their opinions and viewpoints change. For example, at one of our Libraries for Life events a year or so ago, I met a fellow student who didn't really know they could sign up to be an organ donor at their age. They were a high schooler like me. I think being able to talk to them about organ donation and dispel the myths was a really great experience for me — seeing their perspective change on organ donation [after telling them] they could still sign up on the organ donor registry, which is something I think a lot of teenagers don't know. They don't know they can talk to their parents at 14 years old and make a decision to be on the organ donor registry, but if something were to happen to them before the age of 18, then their parents would make the final call.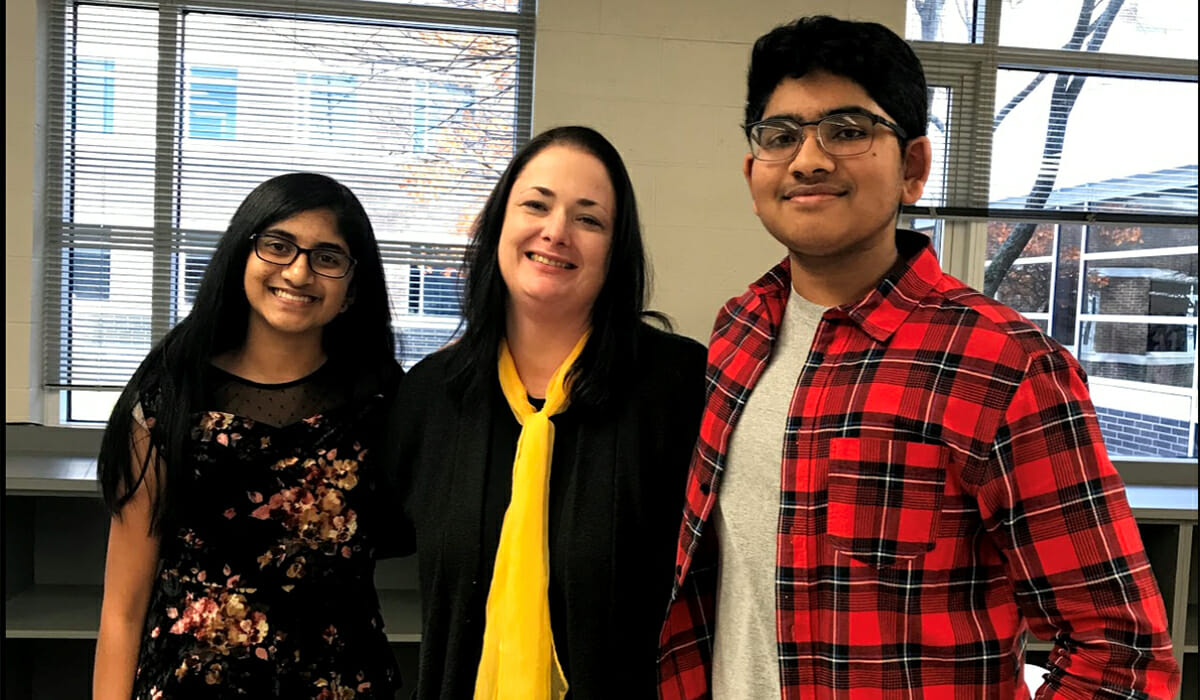 What have you learned through your experiences as a volunteer?
I really learned the power of a conversation and how education is so important in so many conversations and topics that aren't really talked about. Through my experiences, I've learned that talking about organ donation is not something that's super easy. It's a very sensitive topic. It requires proper discretion, but once you [discuss it], you realize that you've made a decision that's good for you and you understand the importance of having that conversation. With the work that I've done, yeah, I like to advocate for organ donation and make sure that people know the truth, and they are hopefully going to sign up on the organ donation registry. But I think where my job really comes in is educating people about what organ donation is. They then have to make the decision for themselves. I am just as satisfied if I have provided the truth on organ donation and someone decides not to sign up. I still take that with pride, because I have done my job and I've talked to them about the truth and they understand what organ donation is. I think that's the most important part of it.
Why do you think it's important for others to give back?
I think it's a way to make a positive impact on your community and on your society. I've learned through my experiences as an organ donation advocate that it doesn't take a whole lot of numbers or a big audience to really make an impact and give back. You can do little things like saying something kind or being a nice person everyday. I've learned that having simple conversations with people can make a really big impact on giving back to the community. I would really encourage people to understand that giving back doesn't need to be something big or crazy that you do, it can just be simple actions in your day-to-day life.
Do you want to make a difference in your community like Srishti? Find local volunteer opportunities.
Share this post