Florida Teen's Can-Do Service Offers Hope for Neighbors and Transforms Community
Meet Daily Point of Light Award honoree Eric Feichthaler. Read his story and nominate an outstanding volunteer or family as a Daily Point of Light.
Volunteering since he was a child, now 16-year-old Eric Feichthaler's dedication has grown to improving his community and extending a hand to those in need.
As a volunteer at the Cape Coral Kiwanis Club Thrift Store, Eric, a high school sophomore, uses his can-do attitude to support the store, which benefits children in the community, whether he's restocking shelves or helping to move heavy furniture. Continuing his service even amidst the COVID-19 pandemic, Eric volunteers to support food insecure populations by harvesting fruits and vegetables at the Oasis Middle School garden, which is operated through his school's Kiwanis Builders Club. Volunteering to bring hope to his community and help future generations reach their full potential, Eric is giving back to those in need and inspiring other youth through his service.
What inspires you to volunteer?
My dad volunteered with Kiwanis before I began volunteering with them. I realized that I really enjoyed helping others after attending my first food hand out. I'm inspired to volunteer because I know there are many who are less fortunate than me.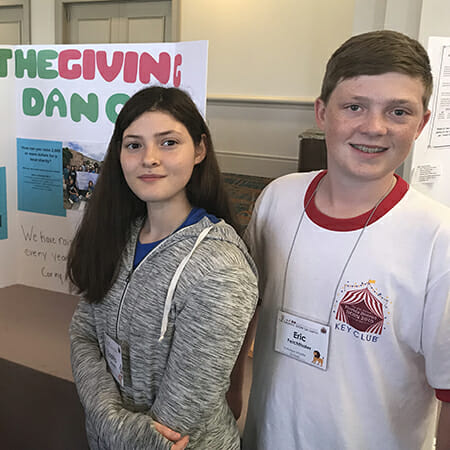 Describe your volunteerism with the Kiwanis Thrift Store.
I help take donations dropped at the store, help to restock shelf items, and do a lot of heavy lifting including when someone drops off furniture. I volunteer at the store once a week and do whatever I'm asked to do, whenever help is needed.
Share one personal story with me from your volunteerism.
While volunteering at a food distribution event in my community, I saw one old woman struggling to carry heavy bags to her car. I decided to go help her and she had a look of relief and a smile on her face. I could see she felt somebody was helping her in a way she didn't normally get help. It made me feel really happy, and made me feel I'd made a difference.
Why do you think it's important for others to give back?
People never realize how grateful they should be for what they have, and that by helping people less fortunate, they're actually helping themselves by learning how to give back to their community and helping someone less fortunate to live a better life.
What's been the most rewarding part of your service?
The feeling I get when people thank me. It's rewarding when I see them smile, it always makes me happy inside to know that I helped someone and they are grateful.
How have you continued to volunteer throughout the pandemic?
In addition to my volunteerism at the thrift store, I volunteer at the Oasis Middle School garden which is run by the Kiwanis Builders Club. I served as a volunteer for this organization before the coronavirus, but our service became even more important during the pandemic as food insecurity increased. I harvest vegetables and fruits which are then distributed to people at the Cape Coral Caring Center food pantry. I've been able to inspire other student volunteers to help at the garden, which provides homes for insects, lizards, fish and birds, and helps feed more than 1,100 people in our community. Additionally, I am the vice president of my school's Key Club.
What's your favorite fruit or vegetable to grow at the garden?
I enjoy growing sweet potatoes, because they tend to get really large in our garden, and that feeds so many.
In one word, what does volunteering mean to you?
Helping.
When you're not busy in school or volunteering, what do you do for fun?
I really enjoy photography and guitar. I play music often, my favorite song is 'Hotel California' by the Eagles. I also like to read and play tennis and golf.
How can readers help?
Please visit the Cape Coral Kiwanis Thrift Store website for more information about how you can help.
Do you want to make a difference in your community like Eric Feichthaler? Find local volunteer opportunities.
Share this post