Teen Recruits Students, Bolsters Volunteer Work for American Red Cross Despite Pandemic
Meet Daily Point of Light Award honoree Cassandra Leo. Read her story and nominate an outstanding volunteer or a family as a Daily Point of Light.   
High school junior Cassandra Leo is already a valuable and seasoned volunteer at age 16, despite a global pandemic that has limited in-person gatherings and activities since 2020.   
She has been a blood donor ambassador for the American Red Cross since her freshman year and started a Red Cross Club at The Quarry Lane School in the San Francisco Bay area. She then expanded her efforts, becoming a club liaison coordinator and national field ambassador, helping more than 100 similar clubs and more than 3,000 teens at high schools throughout the Bay and Northern California coastal areas volunteer their time to a good cause.   
Describe your work with the American Red Cross and how you became involved.
I first became involved as a blood donor ambassador, helping out at blood centers and local blood drives. I'd heard about the Red Cross before, but I didn't know that there was so much more to volunteering. I really wanted to investigate further. That's when I started a Red Cross Club at my school. A few years ago, my school had had a largely successful Red Cross Club, highlighted by enthusiastic members and a plethora of impactful service events. However, the club eventually disappeared into the abyss of what I would call the alumni network. I strived to restart its legacy.   
At my home club, I implemented activities and hosted workshops. This can range from blood services to other services that people might not be familiar with, such as international services.
A lot of what I do is guide youth members in respect to starting their own Red Cross Clubs. I host monthly developmental workshops pertaining to leadership skills and communication skills, like emailing and interacting with others and tips on how to do so. I'm currently onboarding as vice chair for next school year, which I'm excited about. In addition, as one of 30 national field ambassadors, I represent the Bay Area and Northern California coastal region and I've developed projects to help identify and further strengthen volunteer service in our region, and co-hosted an international services campaign. I have also developed a youth volunteer handbook.  
It sounds as if you devote many hours each week to this service. What drives you to set aside so much time on this?  
Yes, I'd definitely say I put a lot of time into this outside of school. I usually work on volunteer service for the Red Cross on a daily basis, for a few hours. It doesn't really feel like work at all because it's actually fun for me and I personally enjoy helping others and helping them through the process that I know I initially struggled with.
What did you struggle with?
I'd say a part that I definitely struggled with was having a connection with every individual within the Red Cross. So far, during my time on the Red Cross, a lot of our activities, events and workshops have been held virtually. Communicating online has been a little difficult in terms of getting to know everyone in my region. There are more than 100 clubs in the Bay area, probably 3,000 or 4,000 youth. I might not have met all these people in person, but the fact is that the work I do is still meaningful. The fact that I can still connect with a lot of people, even virtually, has been really inspiring to me and is the main motivation why I continue my service with the American Red Cross. 
How can school clubs help the Red Cross when many teens don't meet age and weight requirements to donate blood themselves?
Each club chooses its own activities. They often host blood drives, where students assist phlebotomists and provide snacks to blood donors, who often are staff members at their school. One club has an annual event called "Socks in the City," where they go to San Francisco and hand out socks to homeless people. It's very impactful for them to have one-on-one interactions with people who are under-resourced. Others do disaster preparedness or fire safety canvassing, and some schools do kit drives, where essential items are collected and delivered to those who need it the most.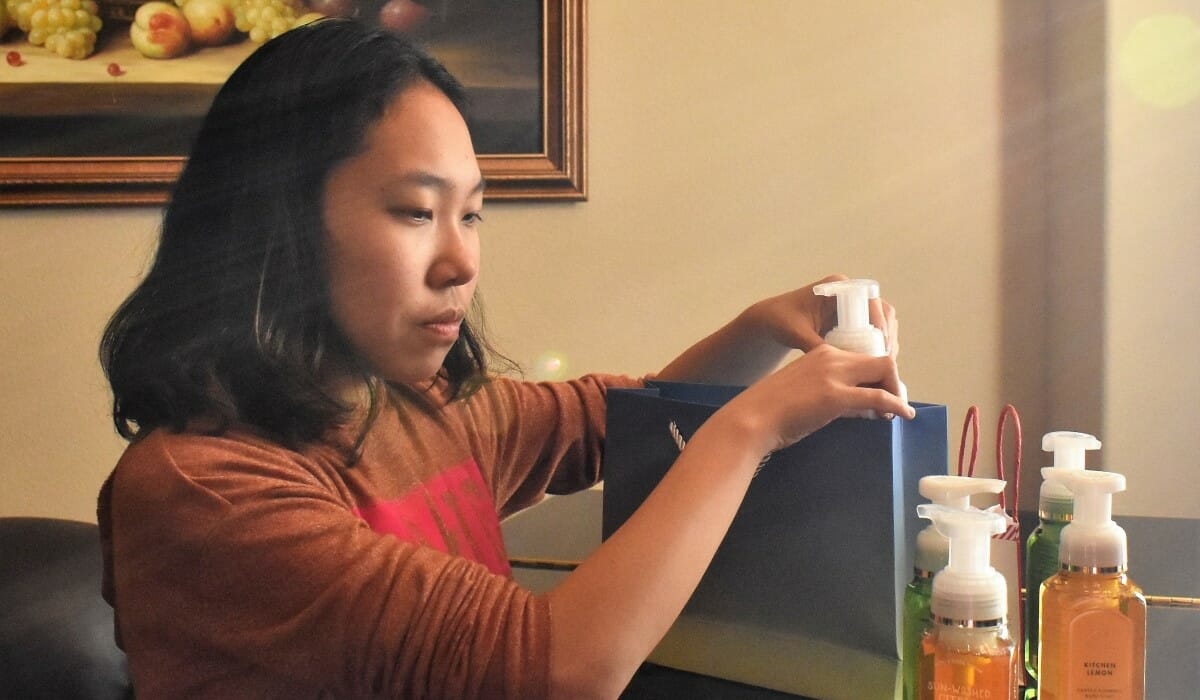 What advice would you give to young people who want to volunteer but don't know how?
You often hear that volunteering is good for your mental health and for contributing to the community, but one piece of advice I give is to delve into doing volunteering that is special to you.  Volunteering just to do it for credit and volunteering because you actually feel interested in it are pretty different from each other. Reflect on your own values and why this is important to you. 
What values make the American Red Cross a good fit for you?
The Red Cross's incorporation of diversity, equity and inclusion. I am a minority (Burmese). I feel we all shine within the Red Cross and are able to present our strengths in the best light as possible while still working in a collaborative community without fear of being judged or a feeling of not being able to be part of that community.   
How can other teenagers find a good place to volunteer?
Explore different areas of volunteering! Discovering what we feel particularly interested in, especially at a young age, can be so difficult at times. It's totally normal to be unsure about what you want to exactly do. It's key to note that volunteering doesn't have to just be subjected to a specific role within an organization but rather the simple action of contributing to the community. Through exploration, we develop a deeper understanding of our communities around us, which may help evolve a newfound interest. 
Do you want to make a difference in your community like Cassandra Leo? Find local volunteer opportunities.
Share this post