Teen Rediscovers Kindness & Hope through "Meals on Wheels" Volunteerism for Seniors
Meet Daily Point of Light Award honoree Rachael Gavlik. Read her story and nominate an outstanding volunteer or family as a Daily Point of Light.
Bullied in school, Rachael Gavlik says she had a hard time seeing the good in people, and at times, lost hope in the goodness of the world. The 18-year-old McMurray, Pennsylvania high school senior decided to turn a negative into a positive through service, creating kindness and serving as a symbol of hope to others.
As a volunteer for Meals on Wheels, Rachael is helping to support the thousands of hot meals delivered to seniors every year, the organization providing daily personal contact for seniors increasingly isolated during the COVID-19 pandemic. First volunteering in-person helping to pack lunches and creating unique lunch bag designs to brighten the day of a senior receiving the meal, Rachael has supercharged her efforts in response to the pandemic, making bags, placemats, cards and blankets. Delivering handmade love to seniors and volunteering well over 1,000 hours thus far, Rachael is reminding seniors that they are not alone.
What inspires you to volunteer?
I felt like I didn't matter, and I lost hope that there was good amongst people because of my experience at school. I decided that if I couldn't see the good, I would create it myself. Some of these seniors have no family or no visitors, so receiving a card or drawing, even from a total stranger, lets them know they do matter and they are special.
You're delivering handmade hope through your volunteerism. Explain.
Volunteering gives me purpose, and I thought that I should be the person I want to see in the world. By turning a negative into a positive, I hope that I can inspire others to do the same. I want everything that I make to be a symbol of hope in someone's life.
Describe your volunteerism with Meals on Wheels.
When I first got introduced to Meals on Wheels, I started out creating designs on paper bags, and then over time I loved it so much that I kept going. The designs give the seniors something exciting to look at while they're eating lunch. I've designed hundreds of lunch bags, placemats, cards and fleece blankets since the pandemic began. I sometimes try to coordinate designs for upcoming holidays.
Share one personal story with me from your volunteerism.
A Meals on Wheels coordinator recently sent a picture of a lady who thanked me for her lunch bag. She had this huge smile on her face. I'd created this design for her bag of a little boy holding a hose and spraying paint to make a rainbow. To see how purely happy and comforted seniors are with something so simple as a drawing gives me a feeling of pure joy. Some even display all the items they receive from us on their windowsill. It's so cool to know they look at something I've created on a daily basis, and it reminds them that they matter.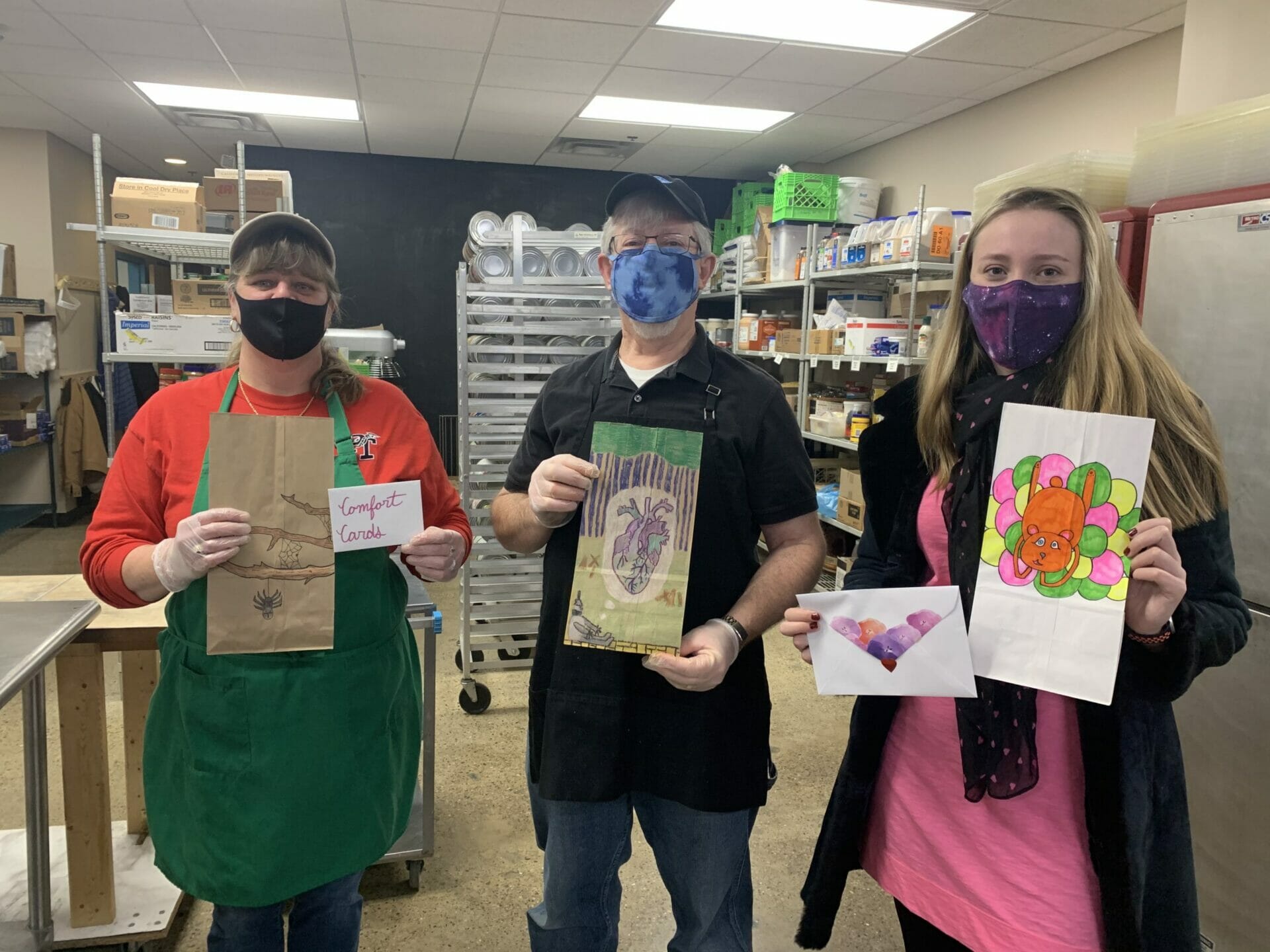 Why do you think it's important for others to give back?
We all have times in life where we're feeling not at our best and we could use extra support. It's important to contribute because you don't always know what other people are going through, but putting out some good in the world gives it to people who really need it.
What's been the most rewarding part of your service?
It's rewarding knowing I can bring seniors some joy, especially during times when I, too, longed to feel that joy and excitement from things around me.
How have you continued to volunteer throughout the pandemic?
I shifted more of my volunteerism to what I could do at home. I started designing bags, and when I ran out of bags, I moved on to cards, placemats and then eventually, fleece blankets. From August to December I ran a blanket project and created over 600 fleece blankets which were donated to Meals on Wheels clients and local shelters.
In one word, what does volunteering mean to you?
Happiness. Volunteering is best when you find something you enjoy and you can share it with others. I enjoy art and visual projects, but service doesn't have to be a humongous project. It can be as small as one card.
When you're not busy with school or volunteering, what do you do for fun?
My dog, Yogi, is my best friend. He's a Havanese. I play with him and he loves to do tricks. We'll say, 'take a nap,' and he'll lay on the ground. When we say 'wake up' he jumps up.
How can readers help?
Please visit the Meals on Wheels website for more information about how you can give back.
Do you want to make a difference in your community like Rachael Gavlik? Find Local Volunteer Opportunities.
Share this post