Teen Runs Annual Competitions to Promote Girls in STEM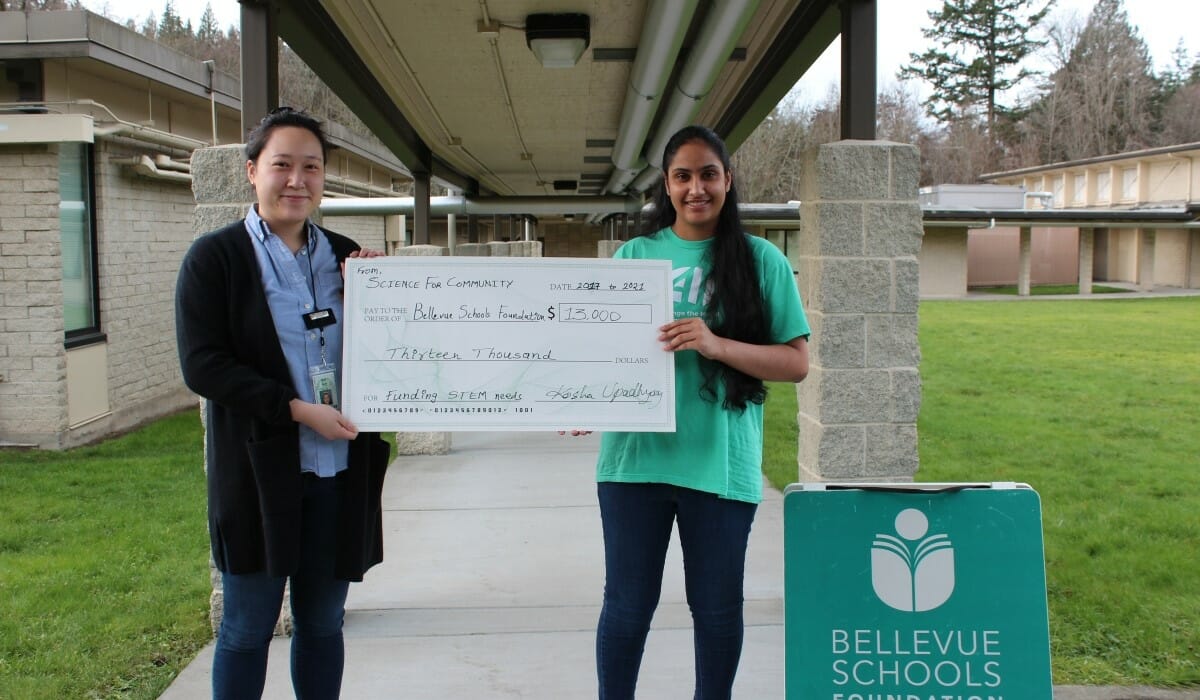 Meet Daily Point of Light Award honoree Kosha Upadhyay. Read her story and nominate an outstanding volunteer or family as a Point of Light. 
Kosha Upadhyay has had a deep love of math since she was a young girl. Her passion brought her to math and science competitions while she was in elementary and middle school. It was at those events that she noticed the lack of female representation in the STEM fields. Determined to promote STEM participation in girls, she started the nonprofit Science for Community, for which the 15-year-old also serves as president. 
Since 2016, Science for Community has held annual Buzz Bowls — competitions that test participants' knowledge in math, biology, physics, and chemistry — for middle and elementary school students. The organization holds annual outreach meetings for girls to come together to discuss STEM topics, and recently started a STEM Talent Search competition. Science for Community also raises money in support of the Bellevue Schools Foundation, which builds STEM-focused extracurricular activities in Kosha's Bellevue, Washington-based school district. The nonprofit has impacted over 1,500 students and served over 60 schools in Washington and California, and is currently working on expanding to New Jersey. 
Describe your volunteer role with Science For Community.
I'm the president of Science for Community, which is a nonprofit organization that aims to encourage STEM participation in elementary and middle school kids through an event called Buzz Bowl. I started loving math in third grade after being one of the lucky few to go to a regional competition. I usually was the only girl on my team. Being just an elementary school kid, I wasn't bothered too much by it and thought of it as a coincidence. As I started getting older, around my middle school years, I participated in quite a few math and science competitions like Math Counts and Science Bowl. I began noticing how few girls were around me. That really stood out to me when a person on my math team said there were more people named Owen than there were girls. While it was meant as a harmless joke, it really got me thinking about how there were so many girls around me taking advanced STEM classes at school, yet seeing a girl taking her knowledge to the next level is kind of an anomaly. I wanted to inspire girls to get interested in STEM the way I did, and get girls to pursue STEM at an early age. I started holding weekly meetings at my local library, where I had girls play Buzz Bowl. I started off with six girls with this event, and it has grown to 70 girls in a 200-student Buzz Bowl.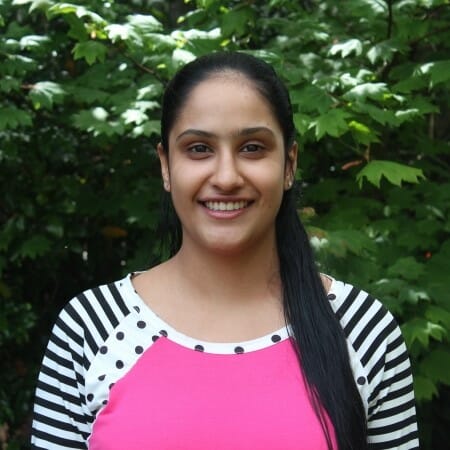 How does Buzz Bowl encourage girls to follow the STEM path?
Buzz Bowl aims to inspire children to pursue STEM in a really fun and team-based way. By seeing other children around them playing Buzz Bowl and also having fun in STEM, people start getting more and more interested in STEM and researching more about what they want to do in STEM. This has really allowed for them to consider STEM as a future career pathway.
What kind of feedback have you received from girls who participate in this? 
During the 2019 Buzz Bowl, I was guiding a team of seventh grade girls and they were kind of uncertain at first, because they weren't used to Buzz Bowl's timer-based format. I helped them get used to the format and I gave them strategies on how to answer questions in an effective way. I remember that after three more rounds they were a lot more confident in answering questions, and they even placed in the top ten without any more help from me. A couple days after, the parents sent me a note and they said thank you so much for guiding our girls throughout. Because of my help, they were able to study their favorite science subjects and feel more confident about working in STEM in the future. 
Tell me more about Science for Community's outreach program.
The outreach program aims to inspire more girls to participate in STEM-based competition. We started off meeting every week in a library with a couple of my friends and a couple of their friends. Over time, while it was just a bunch of friends who got together to meet up, it kind of evolved to something more like a scientific seminar — a bunch of girls coming in, excited to discuss science topics. Now because of COVID, we're holding these meetings virtually and it's still going strong. 
What is the STEM Talent Search?
The STEM Talent Search was started this summer. We held an event where there's teams of elementary and middle school students who come in and answer questions in the math, biology, physics, and chemistry areas. These questions are a bit harder than the questions in Buzz Bowl. They have 15 minutes to work on each question and there's a total of four questions. Through this, people are not only able to get interested in STEM, but they're able to take their knowledge of STEM to the next level and become more interested in pursuing advanced knowledge.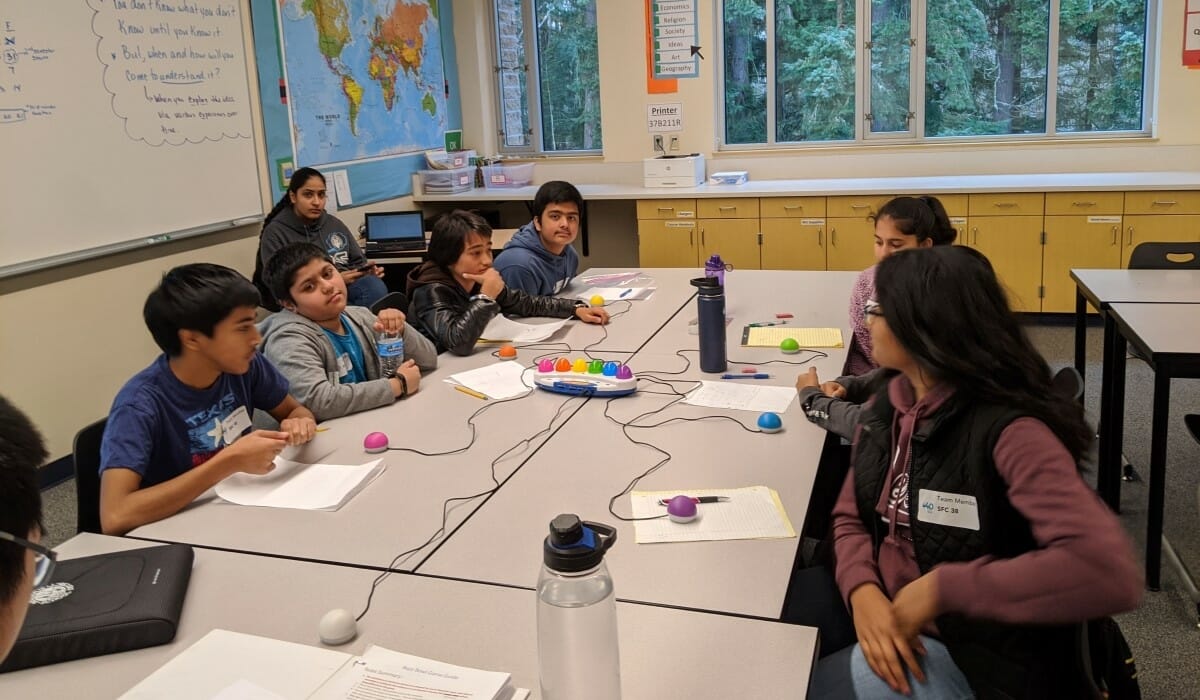 What's been the most rewarding part of your work? 
I think the most rewarding part of encouraging people to participate in STEM is to see how they've made STEM become such an important part of their life like I did. It's very motivating and inspiring to sit back and think about how I've been able to change so many young people's lives because of volunteering. 
Why do you think it's important for others to give back?  
The world is filled with needs. I think that no matter how much help is out there, there's always room for more. True progress occurs when we look into our own experiences and offer our privileges to the world. STEM has totally transformed my life, and I really want for others to experience the journey the way I have. 
What do you want people to learn from your story?
I would want for people to learn about how important it is to acknowledge a problem they see in their daily life and to be brave enough to take the first step in addressing it. I think it's often hard to get started and believe you have the power to change your community, but if you have the courage, you can even surprise yourself with how much of a difference you can make in someone's life. 
Do you want to make a difference in your community like Kosha? Find local volunteer opportunities. 
Share this post