From Humble Beginnings, Volunteer Spreads Youth Leadership Around the Globe
Meet Daily Point of Light Award honoree Hema Kanthamneni. Read her story and nominate an outstanding volunteer or family as a Daily Point of Light.  
Hema Kanthamneni may come from humble beginnings, but the Lawrenceville, New Jersey volunteer, leader and mother is helping change lives around the world. As the current chief programs officer of PURE Youth, Hema has helped to grow the organization from chapters in just three US cities, to participants and volunteers in 30 US cities as well as in India. Now, she's on a mission to address the urgent needs of the world's children — one child, one classroom, one school and one village at a time.
Describe the PURE Youth Leadership Program and your volunteer and leadership activities.
I joined PURE Youth in 2017. But my volunteer journey started when I was a  parent volunteer with both of my daughters — I always try to make sure we are doing something for others like going to soup kitchens or helping with clothes donations. Eventually, I became a mentor at PURE Youth before being promoted as a director and then chief programs officer in 2019. The organization has so many chapters, and as a mentor I was able to help start the Lawrenceville, New Jersey, chapter for PURE Youth. My leadership roles progressed gradually and I took on new roles step-by-step.  
PURE Youth has over 300 volunteers and is present in more than 500 schools. It specifically aims to facilitate discussion and awareness of the impact that education has on society through numerous projects and fundraising. We also work to facilitate a better understanding of what public school standards should be and provide assistance to schools in developing nations located across the globe. 
It was really hard starting a new chapter. Nobody really believed in me at first and it was tough for me to make people understand what went into growing the chapters. I began fundraising, I even led a bake sale and other events around the schools in town, and the passion spread. Our local chapter turned into 13 new chapters. Now PURE Youth has 35 chapters — even one in India. It motivates us to do more. 
What is the PURE Youth Leadership Program trying to teach children?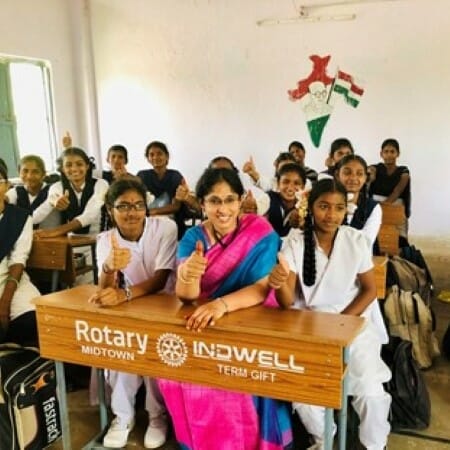 One of the main purposes of PURE Youth is education, but we have so many different programs and causes we seek to help. The PURE Youth Education Program was created to spread empathy, compassion, and motivation to youth around the world and to encourage youth to give back to the community as they grow up. 
What inspires you to volunteer?
I come from very humble beginnings in India. Growing up, I would always compare myself to the kids going to private schools who seemed to have everything. Returning to India, especially with my children, changed my life. I came back and knew that I couldn't sit still because even clean drinking water is a privilege, and I wanted to help kids everywhere have a brighter future. 
What have you learned through your experience as a volunteer and leader?
When I took my kids to a school in India in 2015 and mostly everything was the same since the last time I was there. I saw the same kind of unclean drinking water, the same rough buildings, and the same large number of students per school. I decided there that I have to do something about it. I've learned that we can change things when we work together — all of us.  
Why is it important for others to give back?
It's important for people, especially youth, to give back to the community every week for at least an hour. It will produce so many good things. If everybody does a little service each day and does their part, just think about how much we can do. Every little act puts the greater good in motion. I know challenges will come with work life balance and business, but so much can be accomplished with multiple people working together and giving their time for others. We can spread the chain of positivity.
Are there any partnerships, programs, or events that you are excited about? 
We are doing so many new things this year! Our PURE Youth Sanitary Napkin Hygiene Awareness Program has already reached almost 250,000 girls in India and it's going to keep growing. We are also continuing to support teachers and offer uniforms and meals for kids around the globe — kids who most of the time get one meal a day at their schools. We're also trying to lower the language barriers for kids who live in rural regions who have a hard time understanding teachers. We're always working to inspire and motivate kids.  
Also, each year one chapter is responsible for creating a virtual cultural program with the PURE Tirana, which means inspiration, program of PURE Youth. Each chapter will send video links and video files of dances and performances for us to compile and share. Sometimes it airs live on TV channels and local companies sponsor us. I'm also planning a cricket fundraising tournament sometime in 2022.  
Do you want to make a difference in your community like Hema? Find local volunteer opportunities. 
Share this post