Teen Starts Organization to Promote Healthy Habits in Kids
Meet Daily Point of Light Award honoree Tejal Patel. Read her story and nominate an outstanding volunteer or family as a Point of Light.
Two years ago, while out volunteering with kids in need in her community, Tejal Patel became aware of some of the health problems facing young people, especially those in underserved communities. The Brea, California-native felt the health problems were caused in part by a lack of education for children on how to live a heathy life. Tejal decided to fill that need herself by starting Teens for Healthy Kids.
Teens for Healthy Kids teaches children throughout Orange County how to lead healthier lives through activities and games about health and wellness. Prior to COVID-19, Tejal and her fellow teen volunteers would hold a program almost every week, either at schools, libraries, Boys and Girls clubs, or other community outreach programs. Teens for Healthy Kids has remained active despite the pandemic by hosting smaller programs online, as well as donating masks and snacks to various community centers. Currently a senior at Troy High School, Tejal wants to study medicine or a healthcare-related field in college so she can continue to help people.
Describe your volunteer role with Teens for Healthy Kids.
Teens for Healthy Kids is an organization I founded as part of my Girl Scout Gold Award. The goal of this organization is essentially to teach young children about the importance of having healthy habits and leading healthy lives. Basically, what we do is we go around to different schools, libraries, and community outreach programs to help, which are all aimed at teaching young children about leading healthy lives. We do a lot of this through different games and activities that we planned.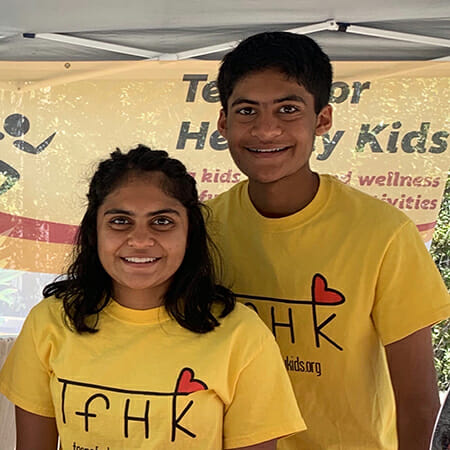 What made you want to do this for your Gold Award?
I'm part of another organization located in Anaheim, CA. called, Assisteens. Within my community, one of the projects of Assisteens is to help clothe kids [identified as homeless through] the McKinney-Vinto Act. As I was volunteering to help through Assisteens through Operation School Bell, I became aware of the health problems that these kids were facing as well as the differences in education. One thing that stuck out to me is that while there were a lot of different community outreach programs, there weren't ones that were teaching kids the importance of leading healthy lives. This problem is really prominent, I think especially in the underserved communities, because kids aren't being taught the importance of leading healthy lives. They aren't aware of the problems that it could cause and how it causes a lot of disease later in their lives. I wanted to do something about it and that's why I created this organization.
What kind of activities do you do to educate the kids?
Before COVID-19, we went to the Boys and Girls Club in our community and hosted different programs. It depends on where we're going, but the program that we do is about 45 minutes to an hour, focusing on one aspect of living a healthy life. For example, one activity that we did was around the idea of making healthy food choices. We played a game with kids and in that game, the kids would choose between three food choices and try to choose the healthiest option. We also expand it out to teaching kids more about the human body and also how to keep themselves, for example, safe from the sun or how to keep themselves safe while playing outside. We do activities and games and often at the end of the activity, the kids would do a little craft or something to remember what they had learned.
Why is it so important for young children to be aware of their health and how to live an active lifestyle?
A lot of health problems that affect us later in life, especially in the United States, [such as] obesity and heart problems, all stem from habits we pick up at a young age — for example, not eating as healthy or not remembering to exercise regularly. The reason why I think teaching young kids about healthy habits is especially important is because it can prevent the prevalence of the incidences of these diseases later on in life and help them live better lives.
What's been the most rewarding part of your work?
Definitely the most rewarding part is being able to go every week and work with the kids, and seeing how enthusiastic they are to learn about everything, and seeing them always excited to learn new concepts. For me, I just enjoy working with them.
Why do you think it's important for others to give back?
I think it's important to help make our society more equitable. Volunteering is a great way to bring those in the community who are more privileged or luckier together, and it's also a way to really help change the lives of people who may not have as much, and I think that is very important.
What do you want people to learn from your story?
I would want people to learn if you want to do something that you know will help others, to go ahead and do it. When I first started this organization, it was rather hard to get venues or people to take a chance on what I was doing. But keep persevering, because if what you're doing is to genuinely help people, then it will work out.
Do you want to make a difference in your community like Tejal? Find local volunteer opportunities.
Share this post