Adolescent Volunteer Honors Long-Lost Loved Ones Through Gravestone Archiving
Meet Daily Point of Light Award honoree Robert McPhie. Read his story and nominate an outstanding volunteer or family as a Daily Point of Light.
Robert McPhie is safely serving others left behind, showing volunteerism knows no limit, even during a worldwide pandemic. The 12-year-old Irvine, California boy is helping his community amid COVID-19 by sewing masks, and most recently, has led a project to document gravestones at cemeteries around the world.
As a BillionGraves volunteer photographer, the 7th-grader leads his Eagle Scout service project to document gravestones. Believing in the importance of remembering those who have been left behind, Robert is helping to create a lasting record by archiving gravestone information, including many veterans. Additionally, Robert answered a call for help from Orange County Rescue Mission amid the pandemic, and has donated dozens of handsewn face masks, continuing to help his fellow neighbors in a safe way.
What inspires you to volunteer?
It's really important for people to be remembered. We always remember famous people, but it's also important to remember regular people. I have always loved family stories. My grandma is a professional storyteller. One wall of my house actually has a tree painted on it and is covered with photos of ancestors who make up my family tree. We have journals and letters and pictures of two of my great-grandpas who fought in WWII. While I don't think I'm going to do anything really extraordinary in my life, everyone wants to be remembered, and my service helps to do that.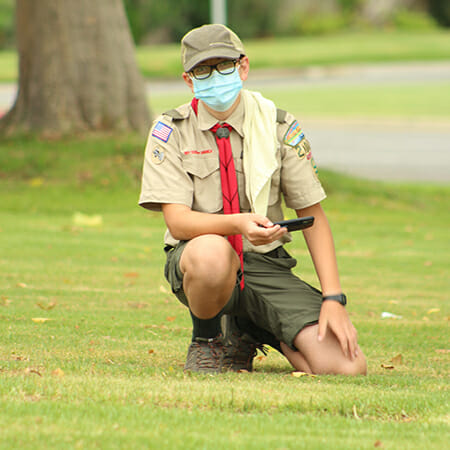 Describe your volunteerism.
As a BillionGraves volunteer organizer, I'm offering a meaningful and safe project that can be done outdoors, wearing masks, socially distanced. I have helped to document more than 10,000 individual gravestones, many belonging to veterans. We take GPS-encoded photos of gravestones which are then transcribed and made publicly available to genealogy researchers and people around the world who are looking for their family members. My project's efforts continue to grow – two of my cousins living in Portugal found gravestones at cemetaries that weren't even listed on the BillionGraves app, and Scouts have participated in my project in Scotland, Portugal, Switzerland, Germany, and Austria, and across the U.S. The names on these gravestones will deteriorate soon, and our online photos will serve as a lasting record.
Also, I'd previously volunteered at Orange County Rescue Mission, and when the food bank asked for help making cloth masks at the beginning of the pandemic, I joined in to help. I've made dozens of face masks thus far.
Share one personal story with me from your volunteerism.
My scoutmaster once volunteered with me as we were documenting gravestones, and he wanted to visit the grave of his neighbor's father to pay his respects. He opened up the BillionGraves app, and the app immediately showed where to find gravestone. We walked over to the gravestone together, and he told me about Jack Keene, a great man and a great American. Jack had been a bomber in WWII, and then came home, and raised a great family. I loved seeing that the app actually worked, because it is helping people find, remember and honor the legacies of those who have gone before.
What does it mean to know that you're helping find long-lost gravestones for strangers?
It's really amazing to be able to help people. It's really powerful to think about all these different people, even if you didn't know them personally.
What saying do you live your life by?
President John F. Kennedy said, "A nation reveals itself not only by the men it produces, but also by the men it remembers, the men it honors." I volunteer so that we can remember the men and women who have made the ultimate sacrifice in order for us to have the freedoms that we enjoy. I never want these people to be forgotten, because they are the people who have given us our American heritage.
Why do you think it's important for others to give back?
We're all very lucky, and it's important to give back to the community because that's how we make the world a better place.
In one word, what does volunteering mean to you?
Community. You're helping to strengthen your community.
What do you do for fun when you're not in school or volunteering?
I play piano, and I'm learning trumpet. I'm involved with my church youth group. I love scouting. I also enjoy reading. This summer, I read all of the Sherlock Holmes books.
How can readers help?
If you have a couple of hours, and a smartphone, you can help ensure that our American heroes are never forgotten. Please visit the BillionGraves website for more information about how you can help.
Do you want to make a difference in your community like Robert McPhie? Find local volunteer opportunities.
Share this post