Connecticut Volunteer Not Only Delivers Library Books, but Laughter and a Helping Hand to Senior Citizens
Meet Daily Point of Light Award honoree Terry Ziegler. Read her story and nominate an outstanding volunteer or family as a Daily Point of Light.
From encyclopedias to romance novels, the Groton Public Library is filled with aisles upon aisles of books that allow the citizens of Groton, Connecticut to dive into new worlds. But for homebound seniors and those who are physically disabled, a trip to the library can be difficult.
That's why for the past 18 years Terry Ziegler has brought the library to them. No matter if their house is 5 or 20 miles away, if it's raining or blizzarding, Terry has been delivering books, DVDs and magazines to dozens of seniors and others who are physically unable to make it to the library.
One person Terry has been delivering books to for many years is Heather A. Davis, who cannot go to the library by herself because she is in a wheelchair.
"Having the books and movies brought to me means everything to me because they keep me from being bored," Heather added. "I enjoy talking to Terry. She makes me laugh. People ask me if a consider Terry a friend. No! I consider her a sister."
Groton Public Library's Homebound Delivery Service was actually started by Terry's own mother back in the 1970s.
"She started a program of delivering books in her '66 Mustang to different senior housing because these people couldn't get to the library," Terry recalled. "Once a week, she loaded that car up with huge canvas bags and off she went."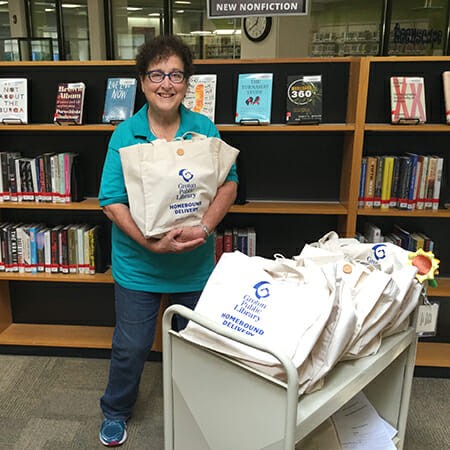 Terry's mother stopped working at the library after 25 years, so the program ended as well. But after Terry retired as a music teacher, she brought the Homebound Delivery Service back to life, becoming the program's sole volunteer.
The program started out with just a few deliveries, but today, Terry delivers two times a week to about 40 homes.
For the seniors who used to be doctors and physicists, the books allow them to continue educating themselves. And there's some seniors "who just love the romance stuff," Terry said.
"There are a lot of people who are alone and this keeps their minds going. It brings them a lot of enjoyment," Terry said.
But with each delivery, Terry does far more than bring books. She's known to bring treats for people's pets, take out their garbage and create meaningful relationships with the people she delivers to.
Even when the library had to shut down during the coronavirus pandemic and Terry couldn't deliver books, she made sure that the seniors who were surely feeling lonelier than ever knew that she was thinking of them.
"When the pandemic resulted in self quarantine, Terry checked in on me by text going above and beyond to make sure I knew that there were still people out there who cared and that one day again soon we would all have our books," said Tenille Martin, who became housebound after two traumatic brain injuries.
She even helped create an intergenerational pen pal program during the pandemic so many of the program's senior patrons have been receiving cards, letters and drawings to brighten their day.
"Terry is amazing. She never stops," Kimmerle Balentine, a librarian and the coordinator of the homebound delivery service said.
"Word has slowly but surely gotten about this Library service and Terry's passion for it. As a result, three other Connecticut towns – East Lyme, Waterford and Norwich – have used our program and Terry's methods as a model to create their own Homebound Delivery Service programs," Kimmerle added.
On top of her volunteer work with the library, Terry also knits hats that she donates to oncology centers for people undergoing chemotherapy. When asked why she selflessly dedicates her time and efforts for others, she said "because this is humanity."
"We help each other. This is what we do."
Do you want to make a difference in your community like Terry? Find local volunteer opportunities.
Share this post