Teen Volunteer Uses Unique Skills to Benefit Those in Need, from Hungry to Military
Meet Daily Point of Light Award honoree John McPhie. Read his story and nominate an outstanding volunteer or family as a Daily Point of Light.
John McPhie is a rising high school freshman, but the 14-year-old Irvine, California teen is proving that age does not define ability, as he dedicates his unique skills to serve people in need, from the hungry to US troops.
As a volunteer with Operation Gratitude, an organization that strengthens the bond between military and civilians, John handmakes paracord bracelets, which are then donated to troops and first responders. Inspired by gratitude for his country's service men and women, John says it is individuals like his great-grandfather, who fought in WWII, that he honors through his service, which also includes writing letters to deployed troops and others. Most recently, John has extended his service to his community during the COVID-19 pandemic. Raising more than $2,700 for Second Harvest Food Bank of Orange County, the teen creates his art in exchange for donations to his virtual food drive that has put more than 7,500 pounds of food on the tables of families in need.
What inspires you to volunteer?
Because I've been given so much, I feel as though I should give back to my community. I feel a need to give back to my community because I feel very lucky to live in America and in Orange County.
Describe your volunteerism.
My volunteerism helps people near and far, including the hungry and military members.
Second Harvest Food Bank of Orange County: At the start of the pandemic, I decided to hold a virtual food drive for the food bank. I am raising money by painting watercolors that people request from me in exchange for donations they make to the food bank. To date, those donations have funded more than 8,1000 meals for families in need.
Operation Gratitude: My handmade quick deploy paracord survival bracelets are donated to troops and first responders. All who serve use paracord, which gets its name from parachute cord and can hold up to 550 pounds of weight. The bracelet provides 7.5 feet of cord in an emergency. We owe a lot of gratitude to the men and women who defend our country and our freedoms, and this project was a way for me to show my thanks for all they've done for our country. I've led other volunteers to make 600 bracelets thus far. I also write thank you letters that are included in Operation Gratitude care packages.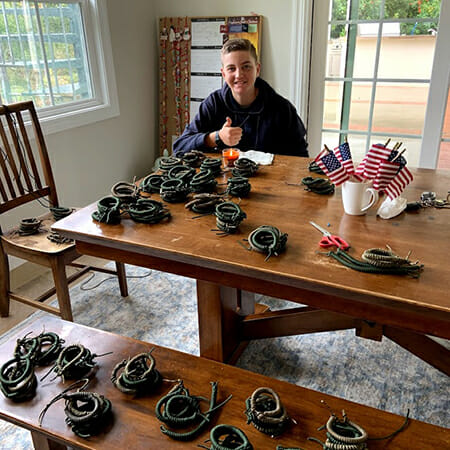 Share one personal story with me from your volunteerism.
Operation Gratitude shares weekly stories of people who receive our bracelets. Maybe the recipient was going through a hard time, or felt lonely and received our care package with the bracelet and letters, and it makes their day. They have the opportunity to think about what they're fighting for, and they feel appreciated. That's really powerful. They're doing so much for us, it's the least we can do to return the favor and make someone's day.
Why do you think it's important for others to give back?
It's important because we must think about and consider all the ways in which we are blessed. All the things we have and all the things we take for granted are really very important to making our lives so great, and that gives us a much deeper appreciation for all the people who serve us and do things for us that you might not otherwise notice. We should give back so we can continue the cycle, continue lifting other people up, and serving others to make a better community.
What's been the most rewarding part of your service?
I lead community groups in making the paracord bracelets and writing thank you letters for our deployed troops, first responders, new recruits, and military veterans. It's one thing to receive a bracelet, it's a show of thanks, but writing letters really helps the volunteers to connect with the troops. The letters remind service members that people are thinking of them and sending them their thoughts and appreciation.
In one word, what does volunteering mean to you?
Appreciation. Appreciation of things people have done for us and giving back to those who have made our lives better.
What do you do for fun when you're not in school or volunteering?
I am really involved in my Boy Scout troop, I am the senior patrol leader. I also play the piano and am involved in our church youth group.
How can readers help?
Please visit the Operation Gratitude and Second Harvest Food Bank of Orange County websites for more information about how you can help.
Do you want to make a difference in your community like John McPhie? Find local volunteer opportunities.
Share this post