Teen Tackles Global Issues through Student Exchange Program Service
Meet Daily Point of Light Award honoree Ashley Lin. Read her story and nominate an outstanding volunteer or family as a Daily Point of Light.
Growing up in a bilingual household immersed in a culture vastly different from her native Taiwan, Ashley Lin says it became her mission to figure out who she was as a person, and also learn more about other cultures. Following a once-in-a-lifetime exchange program in Uruguay, the 16-year-old Vancouver, Washington student decided that she wanted to give other students the opportunity to have a meaningful and interdisciplinary cross-cultural learning experience as part of their educational journey.
Launching Project Exchange in 2018, Ashley connects high school and college students from around the world for a 12-week digital exchange program called "cohorts", facilitating conversations about culture, promoting mutual understanding and preparing young people to tackle today's critical global issues through cross-cultural collaboration.
Connecting hundreds from the U.S. to the U.K., India and more, Ashley is bridging global gaps and erasing cultural differences between students through Project Exchange across the world.
What inspires you to volunteer?
Learning about different cultures in school brought clarity to my own identity, something I first discovered learning Spanish in middle school. The next step for me was to study abroad, however this was financially inaccessible for my family, and I never thought I'd have that opportunity. In high school, I received a scholarship from the U.S. State Department to serve as a Youth Ambassador to Uruguay. Fully immersing myself in a different culture, I learned from people who maybe didn't agree with me, but we still had a dialogue about those differences. I realized I could apply what I learned in my own community, and I believed that every student should be able to have access to the same experience I had.
Describe your role with Project Exchange.
As Founder and CEO, I lead a team of about 20 high school and college volunteer students from around the world that facilitate our various programs, social media and outreach. I keep our mission to increase access to cross-cultural learning opportunities alive.
Tell me about some of your programs.
The majority of our students are from the U.S., but we also have students from around the world, including Saudi Arabia, UAE and India. Our exchange facilitators include volunteer college students from Pakistan, India, and the U.K. Some of our programs include:
Digital Exchange Program: An online cultural exchange program designed for and led by students that uses design thinking, community journalism, and the UN Sustainable Development Goals to strengthen language learning and cross-cultural collaboration.
Impact Incubator: A social impact fellowship for exchange alumni to turn intercultural understanding into community action.
Virtual Field Trips: This monthly program explores today's critical issues from a cross-cultural perspective by helping students connect their local community experiences to the greater global narrative. Limited spots for the upcoming June virtual field trip are available, more information here.
Share one personal story with me from your volunteerism.
A student that participated in our program immigrated from India a few years ago, she lives in Illinois now. By assimilating into U.S. culture, a lot of your own culture and roots are lost in the process. This girl was connected with a student from Pakistan. Traditionally, an Indian wouldn't usually speak with people from Pakistan, and they have some cultural differences. During this exchange, she was really pushed to learn about Pakistani culture and she was also able to reconnect with some of her own culture because the questions her Pakinstani partner was asking prompted more conversations about Indian culture with her own family. Her exchange experience was a really powerful way for her to not only reconnect with her culture, but also share it and build a cross-cultural relationship that provided an alternative narrative for the traditional India and Pakistan relationship.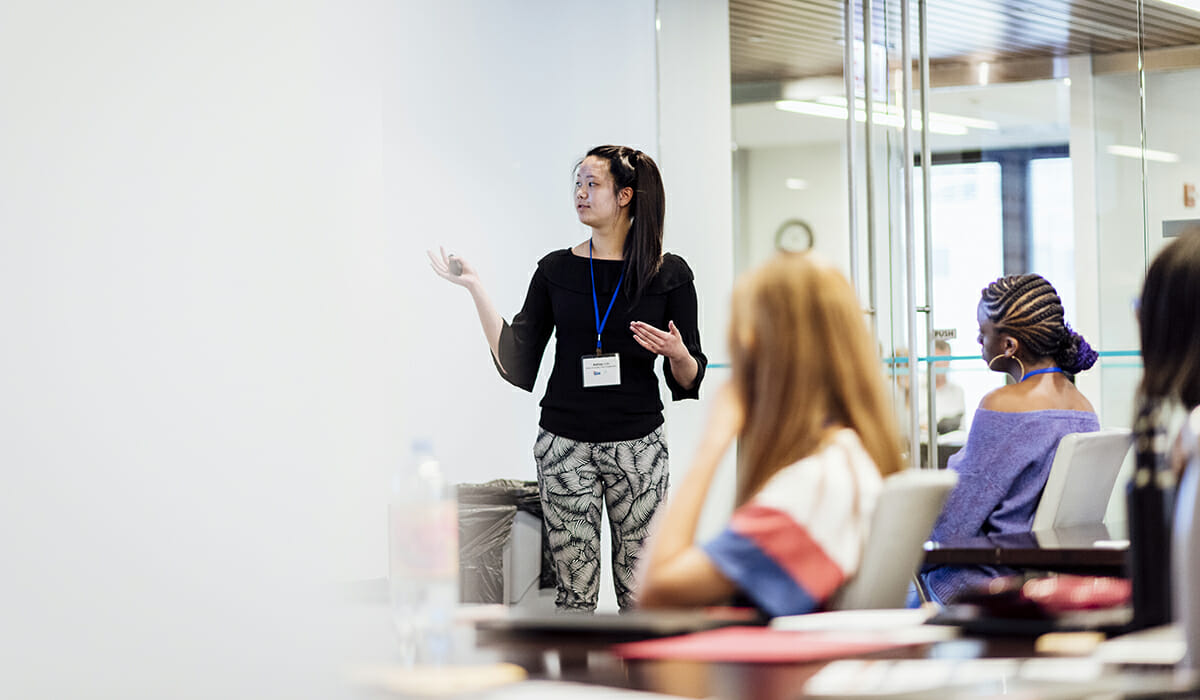 In one word, what does volunteering mean to you?
Family. It sounds really cheesy but every one of our cohorts come out as a family. We get so close to each other and the exchange experience is so personal. You are opening up to each other and trusting each other with your experiences in order to grow as a person.
What's been the most rewarding part of your service?
It's been rewarding being a part of the intercultural exchange because the learning goes both ways. I help organize our digital exchange program, and when we launch, and all of the student introductions start rolling, it's absolutely crazy to see all the names, locations and all of the unique student stories. Being part of that interaction myself is amazing, and I've learned so much from our participants.
When you're not busy volunteering or in school, what do you do for fun?
(Laughs). Learning languages and culture is always something I'm interested in. I'm currently learning my 4th language, Arabic. I love ethnic food carts. I recently got into kickboxing and since the coronavirus pandemic started, I have been baking a lot at home. I am still a pretty bad banana bread baker though (laughs).
How can readers help?
We've received increased interest in our programs during the pandemic because a lot of students are at home and have free time. Now more than ever before, it is important for students to feel a sense of connection, solidarity and continued community bonding because a lot of our in-person connections have been removed. Please visit our website for more information about how you can help.
Do you want to make a difference in your community like Ashley Lin? Find local volunteer opportunities.
Share this post