Teen Uses Computer Science Skills to Help Free Grocery Delivery Service for Immunocompromised
Meet Daily Point of Light Award honoree Garison Julius. Read his story and nominate an outstanding volunteer or family as a Point of Light.
When Garison Julius found himself with more time on his hands at the beginning of the COVID-19 pandemic, he decided to put that time to good use through volunteering with PDX Concierge, a free grocery delivery service throughout Oregon. The 17-year-old was one of the first to join the service last year, which was started by his friend Neel Jain as a way to help the elderly and immunocompromised in their Portland, Ore.-area community. Along with over 110 other student volunteers, Garison helps take and deliver grocery orders to those in need. Since its inception, PDX Concierge has made over 650 deliveries across seven cities.
Aside from helping with groceries, Garison has also headed marketing for PDX Concierge. Garison, who hopes to major in computer science when he attends university next year, spent a month working on an app for PDX Concierge which he premiered on the App Store this summer. He has also helped contact grocery stores for partnerships as well as distribute advertisement flyers to communities throughout Oregon.
Describe your volunteer role with PDX Concierge.
My role is the marketing aspect. I made the app for PDX Concierge on the App Store. I contacted groceries for partnerships. I sent out flyers to our other volunteers in other parts of Oregon. I put up flyers in my neighboring communities to reach out to the immunocompromised in my area. I do deliveries, too.
Why were you interested in volunteering in this way?
Quarantine really gave me a lot of time on my hands, and I really enjoy helping others and especially helping my community. I do a decent amount of food bank volunteering and public road cleaning. It gives me a sense of satisfaction, so this is a win-win. I get to use my time wisely and help others. I saw it as a great opportunity.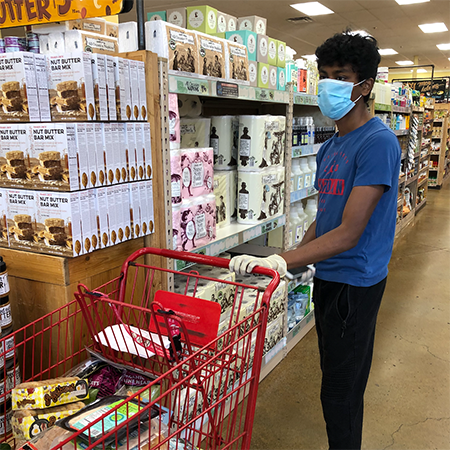 What made you want to help out with the marketing aspect of PDX Concierge?
I'm planning on pursuing computer science in college, so I wanted to combine my unique skill set. I thought the app would be a great idea. I asked Neel [Jain, PDX Concierge's founder] and he gave me the green light. I wanted to use my personal interest and mix it with PDX Concierge to really promote the service.
Why is it important for your community to have a service like PDX Concierge?
When I was talking to my friends and family during peak COVID times, a lot of them were struggling to get groceries because they were really scared of the COVID virus. They're all middle-aged people and I realized if the middle-aged people were this scared, I couldn't even imagine how scared the elderly were, because at the time they were saying the elderly were more prone to it. We realized that we should probably do a service where the young people who are a little bit more immune to it can help out the elderly and people who are struggling to get groceries.
What's been the most rewarding part of your work?
Meeting with community members. Oftentimes when I complete a delivery, they are very joyful and always thank me for my service. That short interaction is probably my most prized achievement.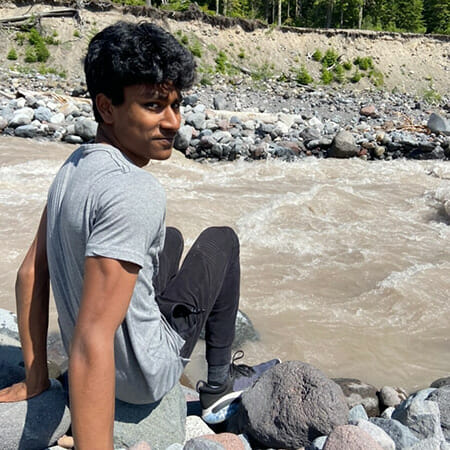 What have you learned through your experiences as a volunteer?
I learned that the joy a person gets from helping someone other than themselves is unrivaled, at least for me. I do other activities for fun, but this kind of service really lightens my day and my mood. It makes my day. I didn't know volunteering and service could really help me out.
Why do you think it's important for others to give back?
I feel it's your duty if you're a part of a community to help out as much as you can. I know some people are more free and able than others, but try to do your best to give back to the community you grew up in. I feel it's very important to play your part in the community.
What do you want people to learn from your story?
I would say if you have time on your hands and you're not too busy, try to find any new opportunities in your community and help out as you can, whether it be cleaning roads, food bank volunteering or something similar to PDX Concierge. Time is always valuable so try to use it wisely and try to help out as you can.
Do you want to make a difference in your community like Garison? Find local volunteer opportunities.
Share this post