Teen Uses Passion for Origami to Help Teach Students
Meet Daily Point of Light nominee Karthik Jetty. Read his story and nominate an outstanding volunteer or family as a Daily Point of Light.
Seventeen-year-old Karthik Jetty has always loved origami, the art of paper folding, and credits it with both his creativity and his love for math. When the Louisville, Ky. resident was in tenth grade, he realized a lot of his friends hadn't been exposed to the art form after his math teacher tried to use the practice to help explain curriculum. Along with his fellow origami-loving friend Raymond Suo, Karthik founded the nonprofit Origami for Education shortly thereafter.
Through workshops and a yearly convention, Origami for Education helps advance education through origami, which helps with math, cognitive and motor skills, as well as creativity and mental wellbeing. In two years, the organization has expanded to seven different chapters throughout the U.S. and South Korea. Through his nonprofit, Karthik has helped reach over 3,000 students.
Describe your volunteer role with Origami for Education.
Right now I'm CEO of Origami for Education. I started it in the middle of my sophomore year which was around December 2017. Right now, I organize several of the workshops that are run. We're currently doing seven workshops. In total, we've done over 16 workshops in my local community. Every week I go to a different school and I teach kids a little about origami, a little bit about the math behind origami, just so they can get more immersed into origami and so they can develop a new hobby. I also run every year, we have a convention, so it's kind of like a workshop but for people of all ages. We try to make it really fun. It's about three to five hours. We do a lot of fun activities. We have a competition during it where people can make their own designs and present it and the winner gets a prize.
In addition to the workshops and the convention, I also do a lot of fundraising for Origami for Education. Right now we've raised over $30,000 and we do this in a couple of different ways. On our website we have an origami store and we sell origami pieces we've made or some of our volunteers made. We also set up little origami pop-up stores around our community, kind of like a lemonade stand but with origami instead of lemonade. Usually we make about $200-300 for each one, and in the past I think we've set up 30 in Louisville. We also get sponsorships from local education centers in my community and we've also applied for grants.
There's a lot of people in other regions of the U.S., and even we have one chapter in South Korea, who are interested in starting their own Origami for Education initiative in their community. What I do is provide them with supplies and curriculum. I kind of show them how they go around in their local community promoting origami and its benefits and exposing a lot of different people to origami. We call them chapters. We have six in the U.S. and one in South Korea. I think the other big thing I work on is we have origami kits that we make. In these origami kits, we put our origami book we published, some origami papers and instructions and some other material so people can do origami by themselves without having somebody like me be there. We did this to expand the reach of origami since most of our classrooms are about 20 to 30 students and it's hard to impact a lot of people just by teaching one class at a time.
What inspired you to start Origami for Education?
Since I was a kid, I always did origami. To be honest, I credit my creativity that I have right now and the reason that I do enjoy math because I did origami as a kid. I remember in tenth grade, which is when I started this organization, my math teacher in class [had us do] this little project where we made an origami model. I realized a lot of my classmates weren't as exposed to origami. I had a very fun time with the project, but a lot of my friends didn't want to do anything artsy. They just wanted to do the math because they signed up for a math class. That is when I decided to start Origami for Education. I really wanted to make an impact on young students who are impressionable. Over time, I realized that I could do a lot more with origami. At the very beginning, I did one workshop. We just folded stuff. Over time, I realized there are a lot more benefits to origami than even I had realized. There's a lot of research detailing that origami is very important [and] can benefit a child. It has a lot of psychological and mental benefits, a lot of critical thinking benefits and children just get more excited to learn stuff after they do origami. I realized that I had to do more to spread my mission. After I realized that, Origami for Education grew into what it is today.
Can you describe what a workshop entails?
We make it so it accommodates what the school wants. Each workshop typically lasts about four weeks and we meet once a week. At the beginning of every workshop, we start off with some math principles that are related to origami. For example, we usually go to middle schools [as well as] higher grades and elementary school, and geometry is a big point of emphasis because a lot of people struggle with geometry. It's really cool to present geometry concepts through origami. We spend anywhere from five to 20 minutes teaching geometry by folding paper, teaching different concepts, answering any questions. After that, we typically go into folding. I show them patterns that arise from the concepts we just learned at the beginning of the session. We fold at the end of each session. We typically fold around for fun, we talk to each other. At the end of every workshop, we also give each of the students an origami book so they can continue from where they left off, so they can continue different math concepts and learning about the benefits, different origami folds. The workshops are our way of directly reaching out to students. In other chapters, they do similar workshops.
Different schools have different requirements. Some schools just want to focus a lot more on the math aspect of origami because that's where their school is lacking, so we tweak the curriculum a little bit and focus more on the math. We might not do as much folding but we might show a lot of math concepts through folding, and then at the end students can go home and do the origami on their own. In other schools, they want to focus a little more on the art and maybe a little bit about the history of the origami. For those schools, we typically spend most of our time folding. We still try to point out any patterns that might pop up, but in those schools we focus on the art.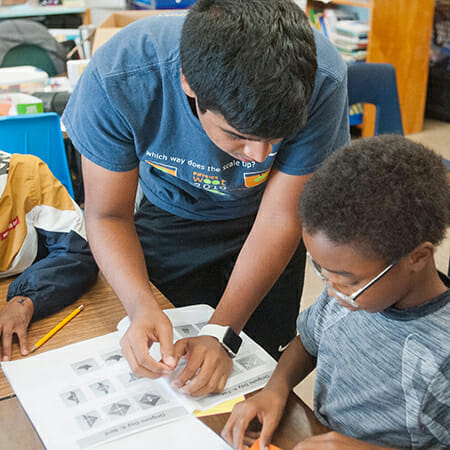 How exactly does origami benefit the kids you are teaching it to?
Origami means the art of paper folding. Every time you make a paper airplane or you make a cube or something with paper, it's origami. When students do origami, especially when they're young — first of all it's just a fun hobby to have. A lot of kids like it … It's a good hobby to have instead of doing other stuff like playing video games. But in addition to that, it also builds the child's creativity, especially because when you're folding, you're not always just reading instructions. You have to be creative when you're folding especially when you're making your own design or you're just playing around with paper. You end up discovering a lot of new stuff. It opens up the other part of your brain. It kind of connects both the math aspect and the art aspect. A lot of my friends either only like math or they only like art, but doing origami kind of mixes both of them and allows kids to be more engaged with both of them. There's a lot of benefits for doing origami in the classroom. There's research that says with origami, a lot of students are more attentive, more engaged in their classroom, and it results in them doing better in school.
What's been the most rewarding part of your work?
I think it's just seeing students get passionate about something, and seeing them be passionate about the same thing I was passionate about when I was super young. And seeing their development, because our workshops are typically four weeks long and there are so many times I see a student at the beginning who is really hesitant about origami. They didn't like art, they said they weren't into folding or something like that. And by the end, they're super passionate about it. They show everybody, they come up to me and they say thank you. It's just a really nice feeling to have, to see [students' perspectives] change from beginning to end of a workshop, or even our convention or any other program we do.
What are your longterm goals for Origami for Education?
I think I want to spread this to a lot of other communities. I think that's the biggest way we can grow right now. I want to recruit people from places around the U.S., even internationally. I know the chapters that we did start are the results of our advertising. I asked a lot of my friends to start chapters and a lot of them said no. When they said yes and they began doing it, they might have been a little bit reluctant at first, but they always enjoyed the experience. I want to create a community of volunteers, a community of people who are passionate about origami and want to spread this to people in their community, people that haven't been exposed to what they enjoy.
Why do you think it's important for others to give back?
I think it's important to be a good role model for everybody else in your community. If you start helping one person, that person will feel really happy. They'll feel like there's somebody out there looking out for them, and they'll have a mindset of paying it forward. If everybody has this mentality, then I think the world can become a much better place. I think the world can be filled with people who want to help others. We can bring each other up instead of dragging each other down.
What do you want people to learn from your story?
I think it's important for others to know that they can make a difference in their community with anything that they do. You can take something you enjoy, like for example if you like reading, and find a way to spread it in your community. It might be doing something small at the beginning, like getting books and donating it to students, but if you're passionate about it, over time it will grow. Over time you will enjoy what you're doing. You'll make a difference in your community, even if it's just one person, and the feeling is worth it.
Do you want to make a difference in your community like Karthik? Find local volunteer opportunities.
Share this post