High School Student Volunteers for Lonely Seniors with Heart and Talent
Meet Daily Point of Light Award honoree Vincent Wu. Read his story and nominate an outstanding volunteer or family as a Daily Point of Light.
Vincent Wu was raised in part by his grandparents, and shared a close bond with them as a result. Understanding the importance of spending time with seniors who may be separated from their families, Vincent decided to dedicate his time to solve one of the persistent problems seniors face: boredom and loneliness.
As a volunteer at Oaks at Hampton Assisted Living Community in Cumming, Georgia, the 17-year-old high school senior visits senior residents weekly, playing classical piano and saxophone during dinner in addition to calling Bingo on Sundays. Through his time, talent and heart, Vincent is strengthening the assisted living community and is a warmly anticipated visitor for seniors each week.
What inspires you to volunteer?
I grew up with my grandparents living in my home, and I know firsthand how important it is for senior citizens to interact with other people as otherwise, they sometimes don't have many other things to do. A lot of these seniors don't get to see their children and grandchildren, and I thought volunteering my time would give them some joy in their days.
Describe your role with Oaks at Hampton Assisted Living Community.
I volunteer weekly by playing piano and saxophone for the seniors during dinner time as their entertainment. I also call Bingo for the seniors on Sundays.
What made you decide to entertain seniors by playing music?
I started playing piano and saxophone at the assisted living community because I'd stopped playing instruments in school to focus more on academics, and I didn't want to lose my ability to play. This was my way to not give up music completely, and use my skills to entertain others.
Share one personal story with me from your volunteerism.
Selma was one senior that would attend every day I volunteered. One day she wasn't there, and one of her best friends, Ruth, told me that Selma passed. I was taken aback because she had been at every single one of our Bingo events, and I never even got to say goodbye. These people have lived such fulfilled lives and for a life to be taken away so fast just underscored for me why volunteering my time and effort is important.
What's one way you hope to inspire others in your service?
Even if you have a passion you don't put to use day to day, it can still be used in other ways. For example, I gave up on piano and sax, but these passions could still be utilized. I shifted my focus from competing and playing the piano to inspiring and performing for others. These seniors don't necessarily have much left in their lives, but I can still bring happiness to them in some way with my music and Bingo.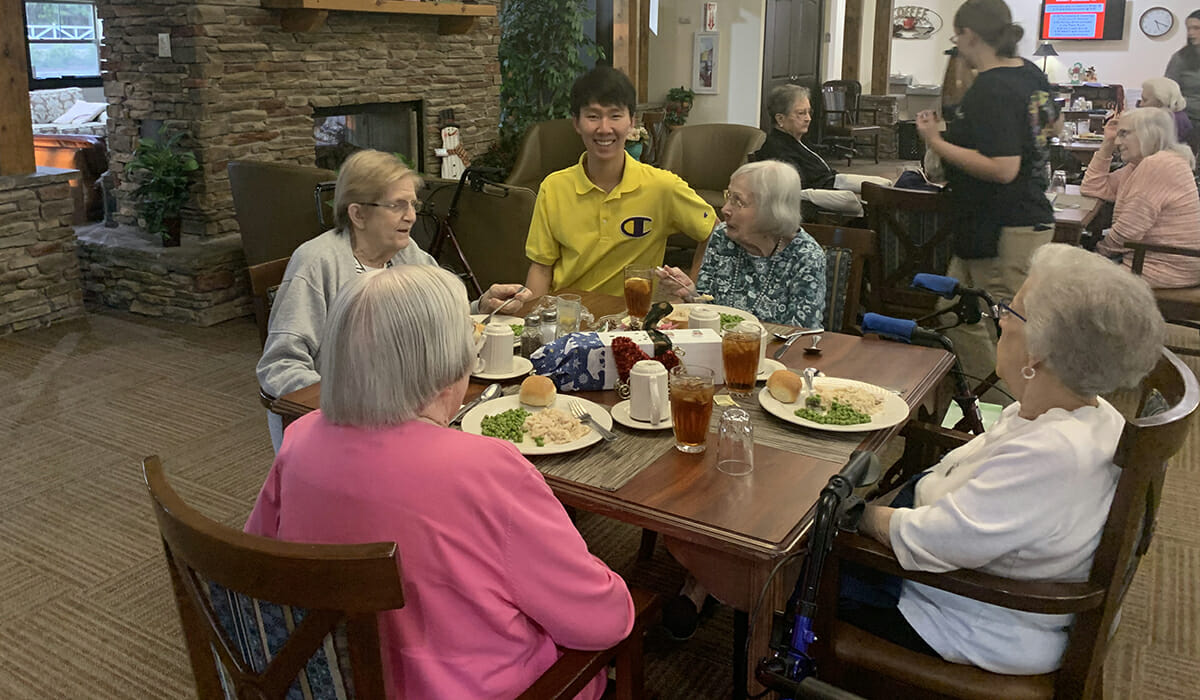 You've been recognized for strengthening the senior community with your heart, talent and time. What does that mean to you?
It's amazing because this is not just a routine thing that I go through every week. My service has an impact, and I give my time because I just want to help them.
What's been the most rewarding part of your service?
Listening to the stories from the seniors. There are so many. From WWII veterans to people that outlived their children, I've learned from them and they've learned from me. That's truly what motivates me to volunteer. One WWII veteran, Mr. Richard, told me how he survived grenades and bullets flying past him while fighting. The way he shared details about his story like it was yesterday, it was amazing.
What's your favorite song to play?
A group of songs by the musician Richard Clayderman, 'Love Story' is one of his most iconic pieces. Everyone at the assisted living community knows it now because of how often I play it. There's this one resident, Bob, who loves music. He used to memorize my music so that when I'd perform, he'd hum the tune along with me. He knew the names of my songs that I planned to play before I did sometimes!
What have you learned through your experiences as a volunteer?
I can have a greater impact if I use my full intention. If I give my full effort with my whole heart, I receive satisfaction and know that I am impacting seniors in a big way.
How can readers help?
Please visit the Oaks at Hampton Assisted Living Community website for more information about how you can give back.
Do you want to make a difference in your community like Vincent Wu? Find local volunteer opportunities.
Share this post