Corporate Executive Dedicates His Life to Instilling Volunteerism in Hearts of Employees at Disney and Beyond 
Meet Daily Point of Light Award honoree Jeff Hoffman. Read his story and nominate an outstanding volunteer or family as a Daily Point of Light.  
They say Disneyland is "The Happiest Place on Earth," and while characters like Mickey and Cinderella are known to bring smiles to children at the park, there's one person who worked behind the scenes at Disney for over 30 years to ensure the company brings smiles to the faces of less fortunate, but equally deserving children. That person is Jeff Hoffman.  
Jeff's journey at The Walt Disney Company started humbly in 1978 with him selling shrunken heads, rubber snakes and other souvenirs at Adventure Land theme shops in Disneyland. This was also the moment Jeff met his future husband, Bob Lane, who describes Jeff as his soulmate and a person who has always had a passion for service.  
"Even as a kid, he would volunteer at pancake breakfasts and things like that," Bob said. "He's always been involved in service one way or another." 
Jeff's dedication to volunteerism led him to eventually become Vice President of Disney Worldwide Outreach, in which he was responsible for the company's philanthropy, community relations and award-winning employee volunteer program, Disney VoluntEARS. Each year, dozens of nonprofit organizations nominated by Disney employees receive more than $350,000 through the program and employees volunteer tens of thousands of hours at local events such as food banks, community playground constructions, and toy drives.  
Carmen J. Smith, Vice President of Creative Development at Walt Disney Imagineering, worked with Jeff for over 20 years, including on an event where Disney characters read books for about 8,000 underserved children from Harlem and New York City.  
"Jeff led volunteer efforts for the Walt Disney Company around the world," Carmen said. "By being able to organize ways to be of service, he brings together people across cultures, across discipline, across generations, across orientation. He has that ability to be the great collaborator and connector of people."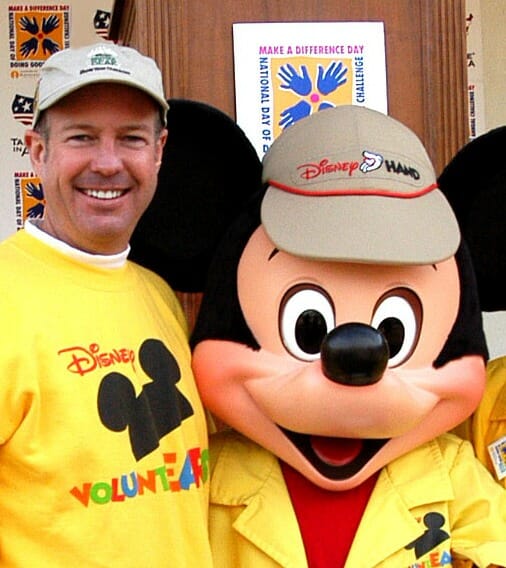 After leaving Disney, Jeff went on to start his own consulting firm called Jeff Hoffman & Associates, which helps other companies develop their own employee volunteer programs and charitable projects. He is also founding leader of The Conference Board's Center on Corporate Citizenship and Philanthropy and serves as Chair and program director of the organization.  
Polly O'Brien Morrow, Vice President of the Pitney Bowes Foundation, served with Jeff on the National Council on Workplace Volunteerism. She says Jeff's passion for corporate social responsibility is important because "it's a real win-win for the company, for their employees and for their communities."  
"It always strikes me odd when some companies are not as involved as they could be or have so many resources they could bring to bear, so there's still a lot of work to be done in the field, but I'm glad that Jeff is out there helping to inspire others to do it," Polly said.  
Jeff's leadership in this field even caught the eye of former California Governor Arnold Schwarzenegger, who appointed Jeff to the California Commission on Service and Volunteerism where he served as Chair. Jeff has also served on the Meridian International Center Global Service Leaders Advisory Council, International Association of Volunteer Efforts' Global Corporate Volunteer Council and the California Business Partners Program.  
The list of organizations Jeff has worked with never seems to end, but Carmen says whatever organization Jeff is working with, he's "always demonstrating and sharing his knowledge with others, and helping the greater group or organization fulfill their promise."  
This includes Points of Light and its HandsOn Network, where Jeff has been a member of the Board of Directors.  
"Jeff has been an exemplary Points of Light board member for 23 years," said Natalye Paquin, president & CEO, Points of Light. "But more importantly, throughout his life he's been a volunteer leader. His commitment to philanthropy, volunteerism and corporate responsibility has led him to be chairs of state and local commissions, and serve on numerous other boards. Through his work and service, he enables business, organizations and individuals to reimagine a world full of hope, promise and opportunity." 
Do you want to make a difference in your community like Jeff Hoffman? Find local volunteer opportunities. 
Share this post