Teenage Cancer Survivor Founds Nonprofit to Help Children in Need
Meet Daily Point of Light honoree Grace Callwood. Read her story and nominate an outstanding volunteer or family as a Daily Point of Light.
Nothing has held back Grace Callwood from helping out those in need — not even being diagnosed with non-Hodgkins lymphoma at the age of seven. In fact, her illness is what led her to starting her very own nonprofit organization.
When she was diagnosed at the start of her first grade year, Grace decided to donate her new back-to-school clothes to two little girls within her community who had just lost their home in a fire. Inspired by hearing how grateful they were for the donation, Grace started to put together a few more projects to donate to fellow kids in need. With support from her mother and her Bel Air, Maryland community, the projects snowballed into her founding the We Cancerve Movement in 2012. The nonprofit organizes giving opportunities for the community to bring happiness to homeless, sick and foster children.
Grace is now 15 and has been officially cured of her cancer since February 7 of this year. She is the chairwoman of the We Cancerve Movement's board, which consists of nine other volunteers aged from 8 to 18. They organize an average of 12 projects a year to help children, including running a summer enrichment camp for homeless youth, opening three libraries, throwing a holiday party for teenagers in foster care, donating toys to kids sick in the hospital and much more. Overall, the We Cancerve Movement has served over 17,000 homeless, sick and foster children at 10 homeless shelters and transitional housing programs, nine hospitals and organizations that serve sick kids, three group homes and three orphanages, including two in Africa.
Describe your volunteer role with The We Cancerve Movement.
The We Cancerve Movement is a nonprofit organization that helps homeless, sick and foster children through projects and events. We're a youth-led organization. We're all youth ages 8 to 18. Together we bring swift solutions to children in need because we believe that happiness shouldn't have to wait. All these projects are community-based at a very low cost. We like to ask the community for their time, support and effort. They're all with the goal of bringing happiness to children in need. I am the founder and chairwoman of the nonprofit organization.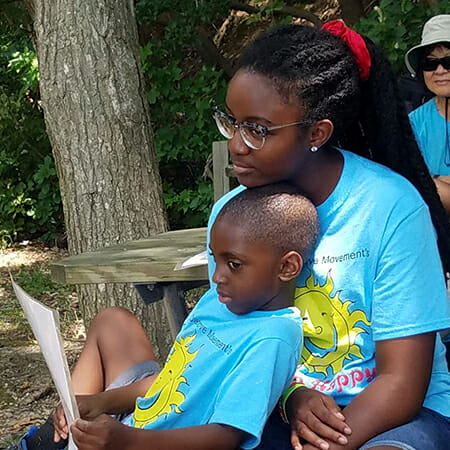 What led to you founding this nonprofit?
I've been doing community service ever since I was two years old. When I was seven years old, shortly after I started the first grade, I was diagnosed with non-Hodgkins lymphoma. It was a very scary and new thing for me because I had no idea what cancer was or what it really meant until I had it. There were a bunch of changes that came with this new sickness, including being homeschooled, gaining weight from the medicine, having to learn how to take medicine, all these other things. One day a family friend told me about a family who had lost their home in a fire. They had two little girls and all I could think about was how I related to them and how they had entered homelessness and I had just entered sickness. I decided to donate my brand new back-to-school clothes to those two little girls. I was too sick to go, so my mom went to deliver the clothes for me. When she told me about how happy they were, I knew giving back was what I wanted to do for the rest of my life. I did a few more projects and was able to gather some support from the community and I started the We Cancerve Movement, Inc., in 2012.
Why was it important for you to help children specifically dealing with homelessness, sickness and foster care?
It's important to me because they're all children put in sad situations that are not their fault. When I was first diagnosed, I was seven. When something bad happened, it was usually something that was caused, so I tried to figure out what caused cancer for me. At first I thought it was my fault because I didn't know what other reason it could have been. That's why I help homeless, sick and foster children, because they're all children put in sad situations that are not their fault. I want to make sure that, number one, they have some happiness in the horrible situation they're in, and two, know it's not their fault and they can have a smile even during a tough time.
What are some of the different projects you do with the We Cancerve Movement?
A project that we're in the midst of right now actually is called Breakfast Bags Bonanza. It's where we give nonperishable breakfast food items to homeless and foster youth over the Thanksgiving and winter breaks. Often children that are under the poverty line are on free or reduced meals during the school year, but during these breaks they may not get as much food as they need. With Breakfast Bags, we're now able to give these kids food over the Thanksgiving and winter break. In the past we've usually given about 600-800, but this year thanks to a ton of community support, we are able to give about 3,000 bags. I'm very excited for the rest of this project.
Another big project we have is Eggstra Special Easter baskets which we've been doing since I started We Cancerve. Through this project, we give homeless, sick and foster children Easter baskets. These are actually bags because they're better for the environment and they're cheaper to buy than actual baskets. This is a great project as well for the community because lots of schools and different groups and youth groups, churches, everybody likes to come together, raise money to buy candy, to collect candy and small toys, some people like to come to our stuffing parties where we actually put the bags together, decorating the bags, things like that. So it's a great project for the community and we've donated over, I think the number is 5,000 so far to date. I'm very excited for the new year coming up soon so we can get ready to do Eggstra Special Easter bags again.
What gives you the idea for these projects?
There's quite a few things that give me the ideas for these projects. Some of these are personal experiences from being a sick kid in the hospital, like the project Beach in a Bucket. I was close to being in remission in February of 2014 when there was a horrible ice storm and things went bad in the operating room so I ended up being hospitalized for about 14 days. During this time I was real sad and I wasn't doing too well, so my mom threw me a beach party in my hospital room that was able to lift my spirits and make me really happy. It was my grandma who suggested that we make that into a project so now we have a project called Beach in a Bucket where we give sick children sand pails filled with different crafts and activities, sand art, sunglasses, inflatable beach balls and all these fun things to bring the beach to them.
Some of these projects come from personal experiences, but a lot of these projects are also just addressing a need that I realized was happening, especially with Camp Happy. I had gone to a local homeless shelter called Anna's House in 2015 when I was ten years old, looking to start a library. It turns out they didn't need one, but instead the director at the time of Anna's House said they wished they had a summer enrichment program for the youth there. Within a week, my mom and I came back and presented a four-week summer camp and they approved it. Ever since, we've been able to grow and expand. We've now had Camp Happy at four different locations with curriculums going from either four weeks to one week. We have different themed weeks and/or days. We go on field trips, we bring in special guests, and we've had just a lot of blessings with that project. We cover a pretty broad spectrum of different needs, but I love what we're doing and I'm very grateful to the community we have.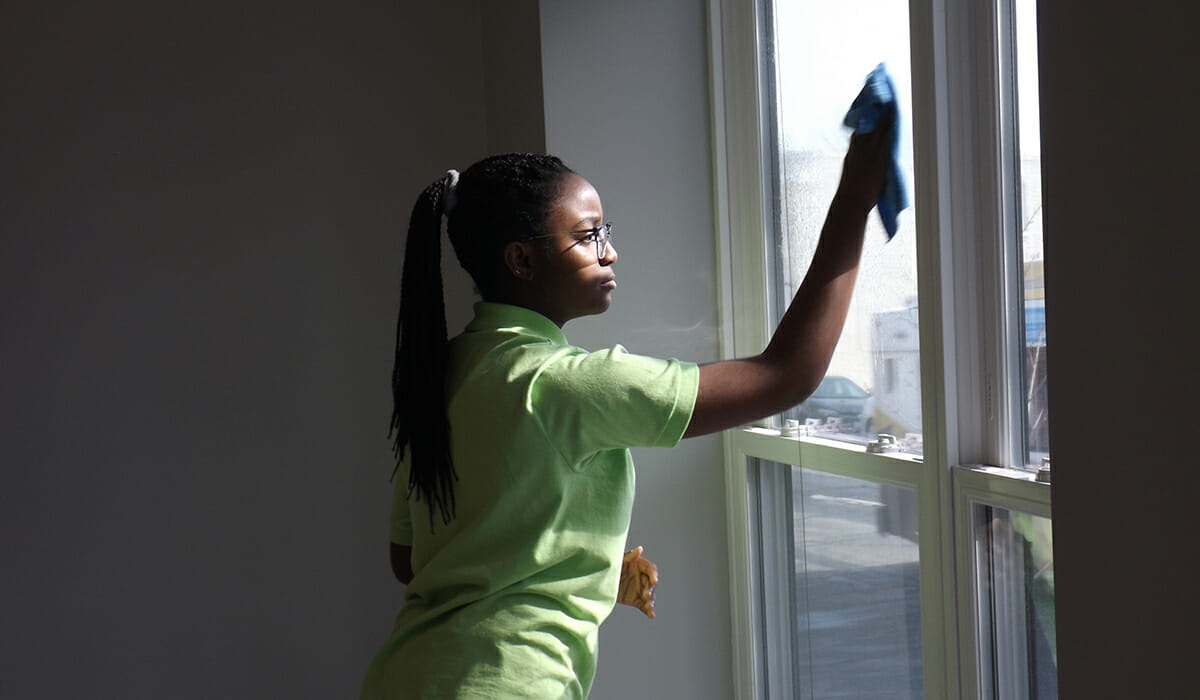 What's been the most rewarding part of your work?
The most rewarding part of my work is probably during Camp Happy — being able to witness the happiness that I've been able to bring or just even my idea of weekends there, whether it's with me personally, whether it's a board member giving an idea to someone else, just being able to see that happiness. Ever since I was born, I've loved making other people happy. It's what I love to do whether it's with my friends, my family or children in need, so Camp Happy is my favorite project because I get to interact with the homeless children one on one for days and days at a time. I get to see how happy they are and how vulnerable they are and how much they enjoy being with us.
The same thing goes even for just two weeks ago, we set up our third library at Halls Cross Elementary. We set it up within two hours. We stocked the shelves, we put stickers on the book shelves, we cleaned everything, we added in pillows and cushions for the windows. Two teachers who had stayed after school to let us set this up for them, when they came in and they had these huge smiles on their faces after seeing the library, that meant the world to me because I knew they loved it and they thought the youth were going to love it too.
What have you learned through your experiences as a volunteer?
I've learned a lot not only about giving back to the community and about being a person who advocates for young people, but also I've learned a lot about myself. Some of the main things I've learned is to always have the spirit of learning, being willing to learn and accept new things and try new things and being flexible, being a champion and definitely being an advocate for young people. I believe there is no age limit on service, and that's why my board members are all young people ages 8 to 18. And I've also learned to definitely ask questions and make sure what I'm giving is what's needed so that we don't become a burden on the recipient or organization. A lot of these places don't have very much storage so giving them an abundance of things can sometimes be troublesome. As well as just learning different tips about speaking engagements and even phone interviews like the one I'm having with you now. I've learned a lot to just trust the process because even when some small errors come up, I've learned to stay calm because in the end it always works out well.
Why do you think it's important for others to give back?
I think it's important for others to give back to the community because of the impact it has on all levels, really. It makes a big impact on other people in the community just seeing that others care. It's cool to know that people at my high school or within the community know that I give back to others because it inspires them to want to give back to others, too. Same thing goes for the impact it has on me personally. Not only does it make me feel good being able to give back, it just feels good knowing that I've been able to bring a smile to someone who needs it most. And then also the kind of impact it has on the person you're helping. Being able to know that people like me care enough about them to spend my time giving back to them, trying to make them happy and seeing everything I can do to bring them a smile.
Do you want to make a difference in your community like Grace? Find local volunteer opportunities.
Share this post