With #GivingTuesdayKids, 12-Year-Old Changemaker Encourages Kids to Unlock Their Power to Improve to World
Meet Daily Point of Light Award honoree Khloe Thompson. Read her story and nominate an outstanding volunteer or family as a Daily Point of Light.
Smile money is the world's greatest currency, according to Khloe Thompson. Just 12 years old, the Los Angeles native began her service journey four years ago when she came face to face with homelessness in her community. Seeing women and families living on the streets, Khloe felt compelled to help and in 2015 she founded Khloe Kares –  making and distributing sturdy, handmade "Kare Bags" to Los Angeles' homeless community, each one filled with two-to three-month supply of toothbrushes, toothpaste, soap, lotion, feminine hygiene products, socks and underwear. What began as the single act of service of creating and distributing 25 Kare Bags, has grown into a movement, with more than 5,000 Kare Bags handed out to those in need through partnerships with local companies, churches and nonprofit organizations.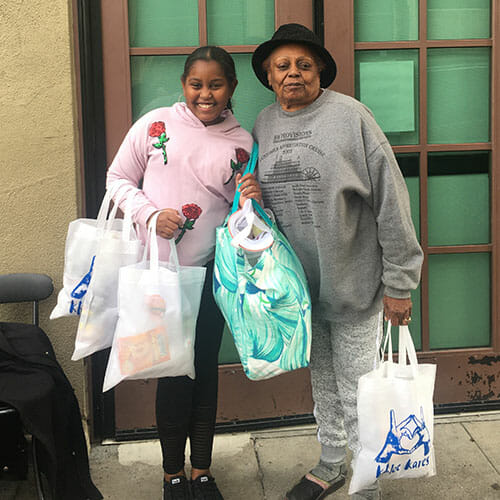 And she didn't stop there. With an infectious smile and a heart for service, she has become an unstoppable force of good, both domestically and around the world. At her core, she knows that getting outside of her comfort zone to engage with people in need is how to start ripple effects of meaningful change – and she is passionate about inspiring other kids to create change, proving that there is no age limit on the impact an individual can have in their community, and around the world.
That passion is the driving force behind Khloe's latest endeavor: #GivingTuesdayKids. Created in partnership with global generosity movement #GivingTuesday, this new youth-led initiative encourages young people to take action around the causes they care about most on #GivingTuesday. Thanks to Khloe's leadership, this year on Dec. 3, kids all over the world will lead volunteer projects and acts of kindness in their communities, proving that everyone has the power to make change and that everyone has something to give.
"Being 12, I like to be the example that at any age you are capable of making an impact," said Khloe. "Never let your age stop you from being the next changemaker. I am hopeful that kids all over the world will step up and make a difference."
If #GivingTuesday is a day all about giving, then why can't kids be added to the mix? This is what ran through Khloe's mind as she brought #GivingTuesdayKids to life. Instead of focusing on monetary donations, Khloe understands that giving can be in numerous forms. During #GivingTuesdayKids' first year, a team of youth ambassadors is encouraging young people from all around the world to create epic moments of generosity and positive action in their communities. Kids and teens can search for an ambassador or youth-led service project in their community, or they can create their own. In Los Angeles, Khloe will lead a supplies packing project for people experiencing homelessness.
The #GivingTuesday movement is built so that anyone can find a way to plug in and give back, and #GivingTuesdayKids is a natural fit for youth to connect their unique skills to volunteer service.  "In just seven years, #GivingTuesday has radically changed how people think about generosity. Now we're helping to harness the energy of the next generation of young leaders for social change," said Kathleen Murphy, director of digital strategy for #GivingTuesday. "When Khloe raised her hand to lead the movement for her age group, we were beyond excited."
#GivingTuesdayKids is not Khloe's first experience with changemaking on a global scale. As Khloe Kares has grown, she has led initiatives to provide water pumps and bathroom facilities in schools throughout the West African country of Ghana. Partnering with philanthropist Dawn Sutherland, Khloe also created Dawn's Sunday Girls, a weeklong seminar focused on empowerment, encouragement and motivating Dawn's girls to be anything they want to be. Khloe has developed impactful relationships with Ghanaian youth, and will return to Ghana on Dec. 5 to continue her efforts there.
With help from her mother, Khloe has also built workshops for youth to develop core entrepreneur skills and confidence. Hosted through schools and partner organizations, Khloe's leadership series is designed to teach and educate youth about business planning, building confidence through public speaking and the importance of not only setting goals, but also achieving them. According to Khloe, these workshops are significant because "youth are the future, but we are also the now."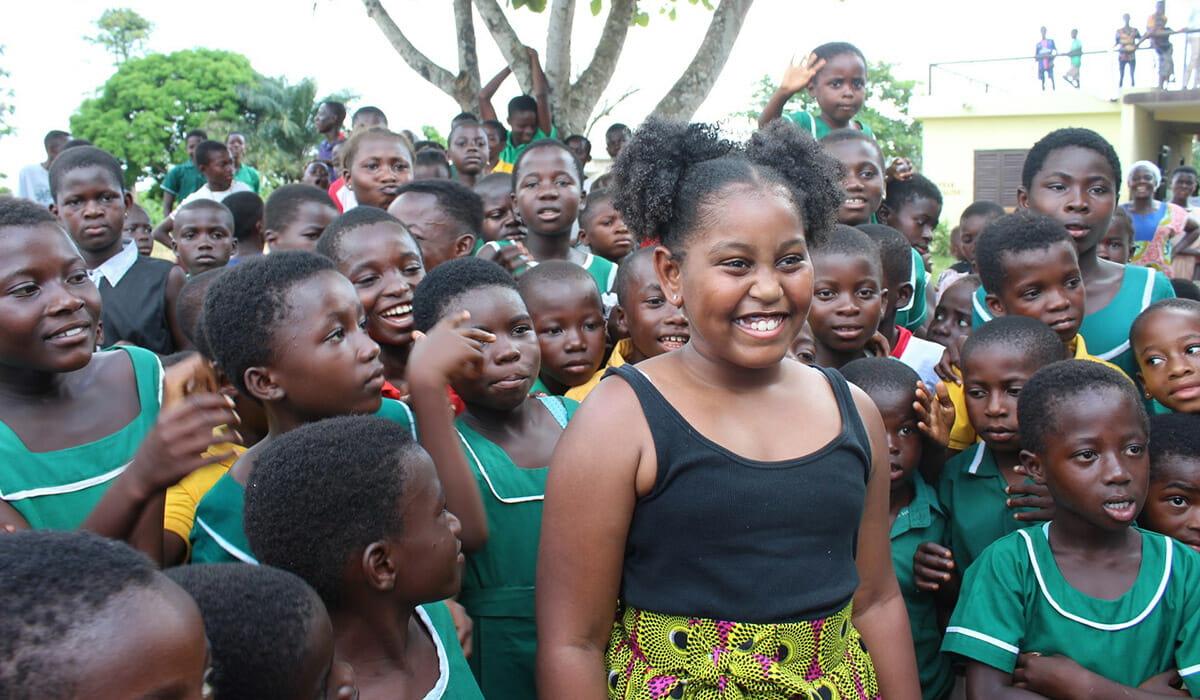 Why does Khloe volunteer? "Why not?" is her response. "I'm doing this to make someone else feel good," she said. "It's not one of the things you do for yourself. Yes, you feel great, but it's not all about feeling great. It's about somebody else doing great."
Khloe believes that the only way to understand what's going on in a community is to go out in that community and see for yourself. And the best way to spark change is to get involved – because when one person gives, another person gives. Leading with these values, Khloe effortlessly reflects the vision of our founder, President George H.W. Bush, who believed that the power of the human spirit can drive positive change. For her extraordinary efforts to create change in her community, and in communities around the world, Khloe was an recipient of the 2019 George H.W. Bush Points of Light Awards. Her everyday actions and words continue to light the path for other points of light of all ages.
In recognizing Khloe's extraordinary service, Points of Light President & CEO Natalye Paquin said, "Khloe represents a generation of awake and engaged young people who are not only creating the world we want to see tomorrow – they are designing the world we experience today."
Do you want to make a difference in your community like Khloe? Find local volunteer opportunities.
Share this post