Through Soccer and Academics, Volunteer Builds More Inclusive World for Underprivileged Children
Meet Daily Point of Light Award honoree Nile Liu. Read his story and nominate an outstanding volunteer or family as a Daily Point of Light.
As a soccer player in high school, Nile Liu says the sport provided the opportunity for camaraderie, where players could depend on each other and unite for one shared goal. Now, the 20-year-old is giving back to children in need through soccer and academics, imparting the same meaningful benefits for both body and mind that Nile himself gained through the team sport.
As a volunteer for Soccer Without Borders, the Baltimore, Maryland resident coaches children on soccer skills and academics weekly. Through the accessibility of a game and serving with a mission of inclusion, Soccer Without Borders offers marginalized populations such as refugee and immigrant children a familiar space to build friendships, gain confidence, experience success, acclimate to new surroundings, and heal.
Nile has connected with dozens of students through Soccer Without Borders, helping to provide an avenue for positive engagement, a platform for personal growth and a toolkit for a brighter future.
What inspires you to volunteer?
I was lucky to be provided opportunities and resources as a child, and I want to give back to kids that don't have the same opportunities as I did. It's nice to help and teach others, and helping them to understand academic material is really fulfilling to me.
Describe your role with Soccer Without Borders.
As a soccer volunteer, I help elementary and middle school students interact and play nicely as a team. We focus on practicing values like acceptance and making sure that no one is excluded from activities. In the academic setting, I help small groups of kids with homework. Our volunteerism is about getting everyone involved and working together across this group of marginalized children.
Share one personal story with me from your volunteerism.
I connected with this one kid because we'd do math together and if he did well with his homework, we'd play chess afterwards. I taught him how to play chess, and he'd always say that one day he'd beat me at the game. It took awhile for him to master those skills, but last year, he beat me. He was really proud of winning and I was really proud of him too, because I could see his improvement each time we played.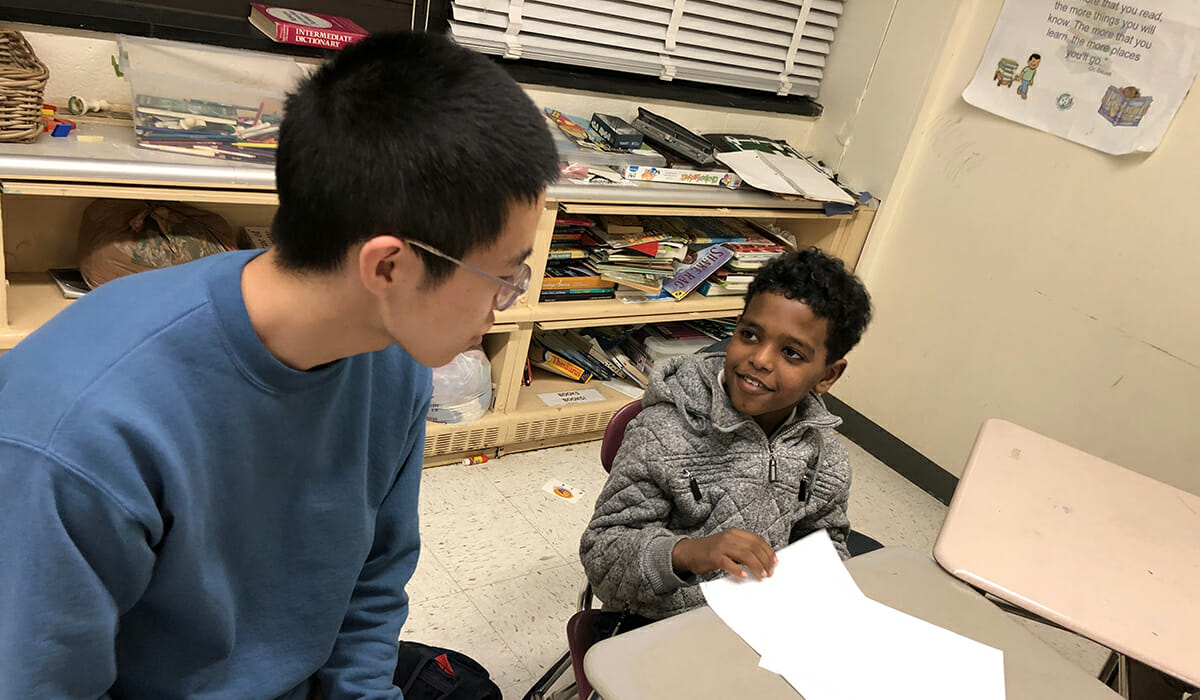 What's one way you hope to inspire others in your service?
For people like me who are citizens and born here in the U.S., we have great opportunities and chances to succeed. The kids I volunteer with are refugees or immigrants, they come to the country not knowing English, not having connections or resources to rely on. We have to give back and help improve life for them because it's important to help others.
What's been the most rewarding part of your service?
Doing our academic volunteering, when I'm teaching the kids a specific concept, it takes awhile for them to understand. But when I see the look on their face, that "aha" moment when they finally understand the concept, it makes me feel really good. That is very inspiring and makes me very happy.
What have you learned through your experiences as a volunteer?
The time I spend volunteering with these students isn't enough time to change their life, but any amount of time helping them, little by little, is very important. You don't see immediate tangible results, but we are making their lives just a little bit easier and happier.
How can readers help?
Please check the Soccer Without Borders website for more information.
Do you want to make a difference in your community like Nile Liu? Find local volunteer opportunities.
Share this post