Volunteer Duo Provide Comfort and Joy to Alzheimer's Patients with Baby Dolls
Meet Daily Point of Light Award honorees Shannon Blair and Sandy Cambron. Read their story and nominate an outstanding volunteer or family as a Daily Point of Light.
Sandy Cambron had explored many avenues in seeking comfort for her ailing mother-in-law, who was depressed and unable to communicate because of Alzheimer's disease. A mechanical stuffed animal and the distraction of a television did no good. Sandy's husband was shopping one day when she suggested that he buy a baby doll for his mother, an item Sandy herself had cherished as a child. The positive change in her mother-in-law's demeanor was immediate, Sandy says, and she and her husband began to informally bring baby dolls as gifts to other Alzheimer's patients, witnessing the joy they brought.
When Sandy's co-worker, Shannon Blair, was struggling with the care of her own mother who suffered from Alzheimer's, Sandy asked if she could buy her a baby doll. The unexpected result was emotional to watch, says Shannon. "I took the baby into my mom's room, and when I lifted the baby doll up out of the basket my mom's roommate immediately held out her hand and started to cry." Nurses told Shannon that night her mother's roommate refused to be changed out of her clothes, clutching the doll hours after she'd received her.
That lasting connection has been gifted to over 800 Alzheimer patients since 2018, through Pearl's Memory Babies, an organization named after Sandy's mother-in-law. By customizing and then personally delivering as gifts baby dolls and stuffed animals to Alzheimer's and Dementia patients residing in memory care facilities, Sandy and Shannon are providing love and comfort with something soft and familiar that individuals can cherish.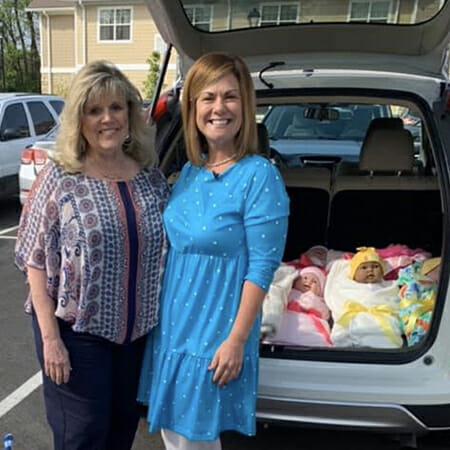 What inspires you to volunteer?
Shannon: I know what it felt like being a caretaker of someone with Alzheimer's. It's a brutal disease and they lose so much of what they know, they've lost all their connections. We volunteer even if just 30 minutes of our time with one person brings back memories, a connection and a little happiness.
Sandy: We saw how lonely my mother-in-law was, she'd sit and stare. My husband and I saw a drastic change in my mother-in-law after we gave her the baby doll, and we felt compelled to get more babies out to more people.
Your story of service went viral. Explain.
Shannon: When I brought the baby doll to my mother, it was just such a neat thing. All the women from the facility came to my mom's room and it created a stir because everyone wanted one. Sandy suggested we deliver baby dolls to all 41 patients in that memory care unit, so we went back on Valentine's Day in 2018 armed with baby dolls for each patient, and the experience was super emotional for everybody. I posted videos and photos of the day to my Facebook page, and the next day, the post had received half a million shares. It went viral overnight. We received tons of messages, and people started donating to us. That's when we created Pearls Memory Babies.
Describe your role with Pearl's Memory Babies.
Sandy: We receive emails and messages every day from people looking to donate and for more information, sometimes we can get 50 emails a day. Through donations, we are able to purchase baby dolls, we then re-package them, outfitting them with a diaper and hat and wrapped in a blanket so that they look like real babies, and then we deliver the dolls to patients in memory care units. Our efforts don't end there, because we spend time with each patient after we've delivered the doll.
What's one way you hope to inspire others in your service?
Shannon: These people need visitors. And not just Alzheimer's and dementia patients. I hope that we inspire people to go visit anybody in a nursing home. I leave more blessed after visiting with patients because they have so many stories. Those stories might be from 30 or 40 years ago, but they're so meaningful.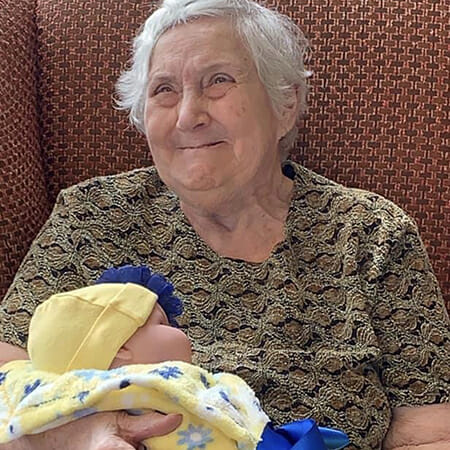 What's been the most rewarding part of your service?
Sandy: The moment I hand over the baby is the most rewarding. The excitement I see in the patient's face, they just light up. They'll say, 'oh look at their pretty teeth, their pretty eyes'. They'll take the soft blanket the baby is wrapped in and bring it up to their face. They'll stock rocking them. The emotion they exhibit is varied, they start crying, or sometimes they'll laugh. It's just such a comfort to them, and the doll brings out a nurturing sense that the patient still has, even if they don't remember much else.
What have you learned through your experiences as a volunteer?
Shannon: I never dreamed I'd be hanging out in nursing homes after my mom passed away. Once our post about the baby dolls went viral, I realized this service is what I am intended to do. It's not a choice, the good Lord is in control and he wants us to do this.
Sandy: We've heard from people across the world – 48 different countries and counting. People write us sharing stories about their family, and they'll send pictures of their loved one. They can't thank us enough for sharing the message of Pearl's Memory Babies, and how it's helped their loved one. We always say we'll deliver as far as our donations will take us. We've delivered babies to patients in Kentucky and Indiana thus far, and hope to go even further next year.
How can readers help?
Please visit our Facebook page for more information about how you can help and donate.
Do you want to make a difference in your community like Shannon Blair and Sandy Cambron? Find local volunteer opportunities.
Share this post