Teen Volunteer Brings Hope & Curbs Violence to Help Kids "Bmore Safe"
Meet Daily Point of Light Award honoree Quintrell Reese. Read his story and nominate an outstanding volunteer or family as a Daily Point of Light.
He's just 15, but Quintrell Reese has already suffered tremendous personal loss, counting his cousin and aunt amongst the hundreds who are killed each year in Baltimore as a result of gun violence. Describing the deep pain he felt with each loss, Quintrell has dedicated his time to curbing gun violence and keeping his community safe.
As a volunteer leader with the Bmore Safe Project, an initiative facilitated by Let's Thrive Baltimore: Youth in Action., the rising high school sophomore says his younger brothers inspire him to make his community safer. "Cleaning and greening" his neighborhood to help drive violence and drug dealers out, Quintrell has led volunteers in more than 100 community cleanups and a handful of peace walks in the past two years, working to make sure residents in Baltimore don't just survive, but they prosper.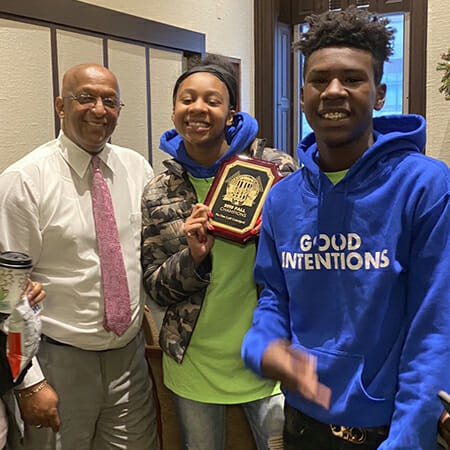 What inspires you to volunteer?
I lost a cousin, aunt, and a lot of people that I loved to gun violence. It hurt me real deep to lose these people, and I don't want to see my little brothers go through the same pain I went through. I'm trying to help out in the community to stop the violence.
Describe your role with Bmore Safe Project.
As a volunteer for the youth-led Bmore Safe Project, I lead peace walks and help other kids and family members of gun violence victims out. We plant flowers and bushes for our cleanups, and also hold cookouts at block parties to bring the community together.
Share one personal story with me from your volunteerism.
At our peace walks, I see the expression on peoples' faces. They tell me to keep up the good work. If I had somebody to be there for me when my aunt or cousin were killed, then maybe I'd have looked at their losses differently. I'm trying to help other kids not to have to suffer from the pain I did. These people see me in the streets, they're following my lead.
Why do you think it's important for others to give back?
I volunteer because I like helping out.
In one word, what does volunteering mean to you?
Peace.
When you're not in school or volunteering, what do you do for fun?
I play basketball (point guard) or football (wide receiver and cornerback). I like Cam Newton, so I'm for the Patriots now.
How can readers help?
Please visit the Let's Thrive Baltimore website for more information about how you can help.
Do you want to make a difference in your community like Quintrell Reese? Find local volunteer opportunities.
Share this post