Eagle Scout Uses Project to Create Herpetarium for His School
Meet Daily Point of Light Award honoree Vincent McKinney. Read his story and nominate an outstanding volunteer or family as a Daily Point of Light.
Vincent McKinney has been passionate about reptiles for as long as he can remember, as far back as to when he was only two years old. Now 14, Vincent has put that passion toward creating a herpetarium at his school, as well as a Herpetology Club, in order to help teach his fellow students about the animals and environmental conservation.
The Bluford, Ill.-native started work on the Wayne City School Herpetarium in January 2019 as part of his Eagle Scout project. He met with the school staff and board, worked on advertising, recruited volunteers, planned fundraisers, tracked donations and inventory, and spent a significant amount of time conducting research on the best reptiles to house in the herpetarium, including looking into the necessary tanks, diet, lighting and supplies. After months of hard work, Vincent was able to provide his school with a herpetarium containing 19 reptiles and amphibians, as well as four species of insect breeding colonies, all housed in vivariums set up as mini ecosystems.
Vincent now serves as the President of the Herpetology Club, which maintains the herpetarium, hosts reptile presentations for class tours, holds assemblies for schools within the area, and does public demonstrations. As Vincent enters high school this year, he plans on starting a club there, too. The club's efforts have reached several thousand people with the message to love and protect the natural world.
Describe your volunteer role with the Wayne City School Herpetarium.
For my Eagle Scout project, I created the Wayne City School Herpetarium, which is a zoological exhibition space in a learning environment where students care for reptiles and amphibians. The herpetarium currently includes 19 reptiles and amphibians, as well as four species of insect breeding colonies, housed in vivariums set up as mini ecosystems. My project also allowed a new club to be formed, the Wayne City School Herpetology Club. I planned, developed and made this project from start to finish, and I now serve as the President of the Herpetology Club as we continue to maintain the herpetarium.
What inspired you to start this?
As a Scout for over half my life, there's always been a heavy focus on community service and conservation. These ideals have become a part of me, so I was inspired to do this project because I've always loved reptiles and nature. Trying to come up with an Eagle Scout project, I brainstormed with my parents and they asked if I would be interested in doing a more typical Eagle project like a pavilion or a flag pole or a memorial prayer garden, but I've never really been much of a carpenter or gardener. They told me I better pick something that really interests me or the project might not ever get done. I came up with the idea to do a project involving reptiles at the school because I really enjoy taking care of my pet snake that I got for my tenth birthday. I've always loved the reptile exhibits while visiting zoos, aquariums, and nature centers. I also liked the idea of doing it at the school because it gave many people, especially other kids, the chance to enjoy them on a daily basis. So, we discussed how I could make this work as an Eagle project and how I should go about doing things.
What does your Herpetology Club do?
We have individual members, as well as zoo keepers and leadership positions like president and vice president. All of them help take care of the reptiles at the school individually whenever they're called in during their free time at school. We also hosted a 'Name the Reptile' contest that allowed the whole school to participate even if they weren't in the right grade. They submitted votes and we picked out the ones we liked and sounded the best, which eventually named all the reptiles. We also do assemblies at other schools where we talk about conservation education and things the people at the schools can do to help.
What kind of feedback have you gotten from your classmates about the herpetarium, the assemblies, and the other activities you've done?
There's actually been a great turnout of how many people have joined the club and have helped with it. Along as with the assemblies, everyone said it was great. … A lot of people love the reptiles. There's a few people who are afraid of the snakes, but they say they are actually getting over their fears because of all the animals being in there and positive feedback from other people, and also being able to handle [the snakes themselves], realizing it's not actually dangerous or going to hurt them in anyway.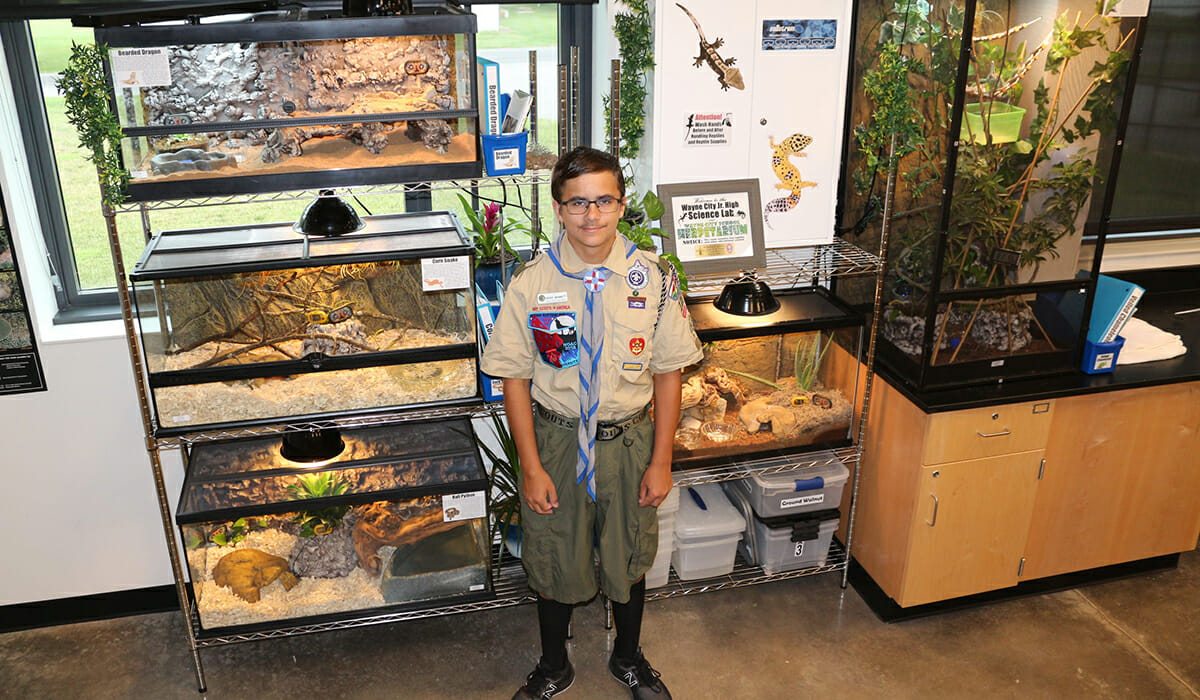 What's been the most rewarding part of your work?
Through this project, I learned leadership skills and learned to help and serve others. I have also learned about time management, responsibility, budgeting, and to be prepared, which is the Boy Scout motto. I also learned more about reptiles and environmental conservation. I also saw the good in people because they went far beyond my expectations to contribute toward my project. It was rewarding seeing all the support, donations and appreciation everyone gave toward my project. I'm truly grateful for everyone who helped contribute toward it. If it weren't for them, it wouldn't have reached the level it achieved. I also saw that people were generous and inspired by my project. I feel I am a more grateful leader because of it.
Why do you think it's important for others to give back?
Some of the most life-changing and world-changing positive events happen because people are passionate enough and care enough about a cause that they take the time to help others. Without the many dedicated volunteers who took the time to help me in my journey through scouting over the past eight years, as well as those outside of scouting that contributed toward this project, it wouldn't have happened. Many of the kids would have missed out on this life-changing opportunity to learn about nature, helping others, responsibility, leadership, and knowing the important role that such delicate creatures have on our lives and the planet as a whole. I feel like I owe it to everyone else who took their time to help me and show my gratitude.
What do you want people to learn from your story?
I would like other people to learn that it takes a lot of training to effectively lead and teach. I also would like them to know to never stop working hard toward your goals, and success comes with a lot of work. Having a true passion for something good can encourage others to care too, and can impact far beyond your expectations.
Do you want to make a difference in your community like Vincent? Find local volunteer opportunities.
Share this post