Native American Volunteer Fights Discrimination and Advocates for Indigenous Peoples' Rights
Meet Daily Point of Light Award honoree Dylan Baca. Read his story and nominate an outstanding volunteer or family as a Daily Point of Light.
As a child, Dylan Baca learned about his rich Native American heritage by spending time with family. Visiting Cibecue, Arizona where his mother's family is from, he'd walk with his beloved great-grandmother around her land, finding pottery pieces, beads, and arrow heads in the corn field. One day, walking with his grandmother, aunt and great-grandmother, his grandmother picked up a very beautiful shard of pottery beneath a huge black walnut tree. She handed it to small Dylan, saying 'never forget where you came from.' Dylan says these words have defined his life and secured his connection to his culture and history, as he struggled with his own identity as a interracial child, reaffirming his position belonging not just to one people, but to several.
It was as the Pinetop-Lakeside, Arizona teen, a member of the White Mountain Apache tribe and also part Navajo, now 18-years-old and a rising high school senior, grew in his community, that he noticed discrimination against his family, and inequities Native Americans face nationwide.
"Native Americans are an overlooked population within the U.S., vastly ignored for the most part. Personally, I've been shielded from the discrimination and stereotypes, but I have witnessed discrimination affect family members. It hurts. Why does one person feel that their race is more superior to another? We're all people. It made no sense (at the time). It still doesn't make sense."
Determined to spotlight those disparities and erase stereotypes, Dylan founded Indigenous Peoples' Initiative in 2019, advocating for Native Americans, raising awareness about the indigenous peoples' experience and joining hands with others to promote change for marginalized groups experiencing adversity. His first priority, working to abolish Christopher Columbus Day, a national holiday that has transformed into a controversial celebration for some, as modern historians have exposed a legacy of brutality and violence committed by the explorer.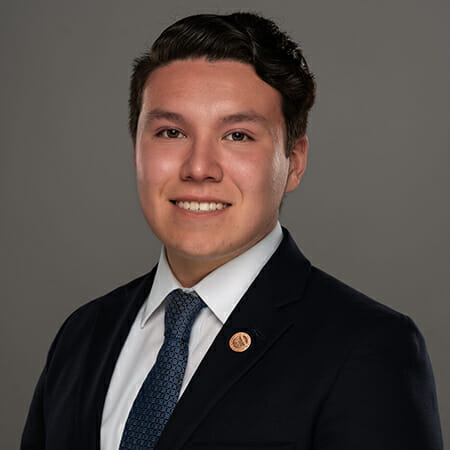 "Since time immemorial, Native Americans have been seen as savages of the U.S., even referred to that in founding documents, the term 'redskins' was used. (Since then,) treaties have been broken with the U.S. government. These are important factors to understand. Native Americans were in the U.S. first before any settlers came. Our organization focuses on removing Columbus Day and replacing (the day) with Indigneous Peoples' Day, because that heritage reflects colonization, something that is deeply painful for Native Americans."
First lobbying and providing education for a more positive narrative for indigneous peoples to ensure that educated policy decisions are made by those in power, Dylan is also working to form partnerships with and share messages of organizations like National Congress of American Indians, Missing and Murdered Indigenous Women and the Indigenous Peoples' Caucus. His volunteerism with Indigenous Peoples' Initiative became a rapid response effort once the Covid-19 pandemic struck, as marginalized populations across the country were disproportionately devastated by the deadly virus.
Distributing donations for EMS, fire department, Whiteriver Police Department, jails, doctors, and people within the community in need of supplies, Dylan got life-saving PPE like N95 masks for the Johns Hopkins Center for American Indian Health and first responders, in addition to donated supplies for the White Mountain Apache tribe Covid-19 Distribution Center like food, toys, hand sanitizer, gloves and masks. Dylan is now helping to cut out gowns for first responders who are in need of them.
The assistance has been critical for populations who are often scraping by on the reservation where the virus has run rampant, says Indigenous Peoples' Initiative vice president Madeline Jones, many living without running water or electricity. Madeline, a classmate of Dylan's who lives in neighboring Lakeside, Arizona, says her own experiences with discrimination have motivated her desire to advocate for equality.
"We're all in this together. We must stick together and help each other out so we can eventually be equal with everyone. I'm mixed with black and white. Seeing my family being called the N-word, having people hold their purse tighter when they walk past, is just horrible. For Native Americans, it's almost the same. They were ripped off their land and had to move away from where they were living."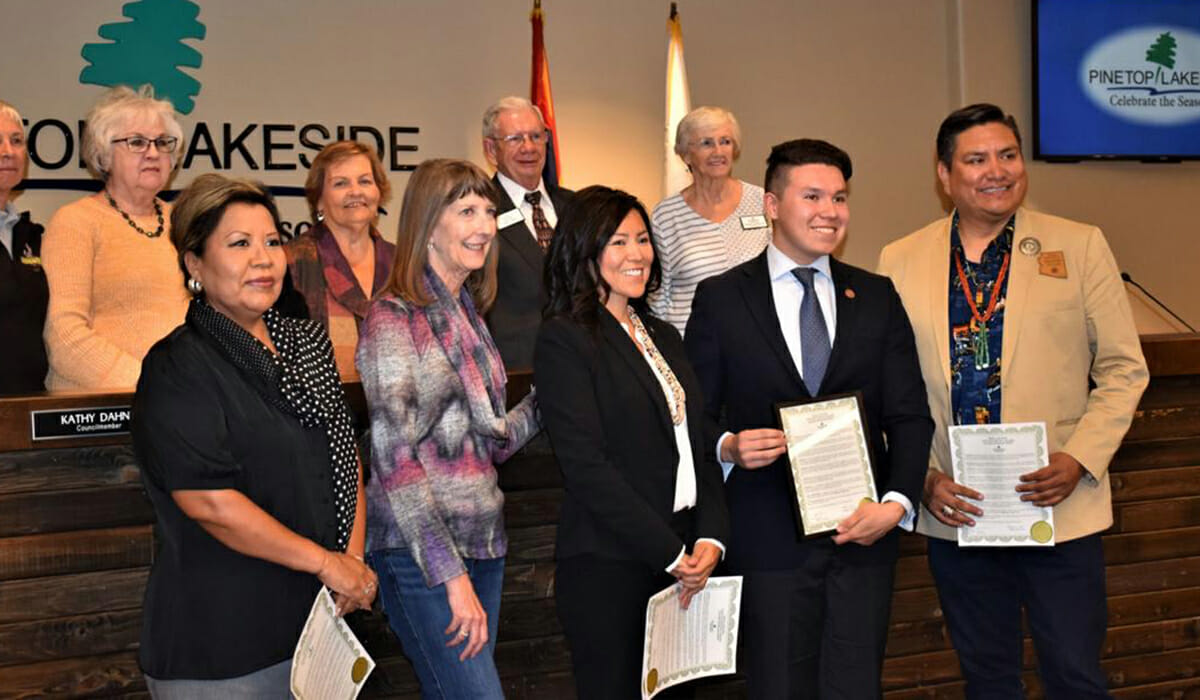 Saying volunteerism is his way to do something bigger than himself, Dylan is working on the 2021 legislative session at both the state and federal level to continue his efforts on Indigenous Peoples' Day, and remains committed to providing essential resources to his community during the pandemic. On recent nationwide protests against discriminatory policing, Dylan says while the fabric of the U.S. is changing at a rate we've not seen in recent history, the country still has much progress to make.
"While I have faith in the American people and it is my hope to be put out of a job, I do not believe that is realistic," says Dylan. "While the United States has changed over many decades, there are still many different forms of systemic racism that still exist and affect minority communities daily. It is my hope that as a people, we can put our differences aside and work together with cooperation and mutual respect for one another to make this nation one that truly aligns with democratic principles. Until then, I will continue to work to end stereotypes and systemic racism within marginalized communities."
Do you want to make a difference in your community like Dylan Baca? Find local volunteer opportunities.
Share this post