Certified Volunteer Naturalist Teaches Visitors about Rare Ecosystem
Meet Daily Point of Light Award honoree Randy Haar. Read his story and nominate an outstanding volunteer or family as a Daily Point of Light.
62-year-old Randy Haar says his wife, Chris, is the botanist in their family. "I'd say, 'that's a blue flower," Randy says, "and she'd say, no, it's from this family because of this (X, Y, Z)." A lifelong love for the outdoors meant the Haar family always did a lot of hiking, but Randy's volunteerism has focused that appreciation for nature, as he promotes and safeguards one of the rarest ecosystems in the world, right in his own backyard.
As a volunteer with Metroparks Toledo, the Bowling Green, Ohio resident's nature stewardship involves leading nature tours, conducting restoration and promoting conservation. Randy, an Ohio Certified Volunteer Naturalist (OCVN), is known as a dedicated volunteer who has interacted with more than one thousand park guests since 2011 to teach them about the region's local wildlife, history, and culture.
What inspires you to volunteer?
Two things. First, I do some amount of sharing with our guests, including talks and leading walks. We hope that in sharing information about our environment, other people catch a little bit of our passion. Secondly, when I started volunteering, I learned how imperiled a lot of our natural areas are.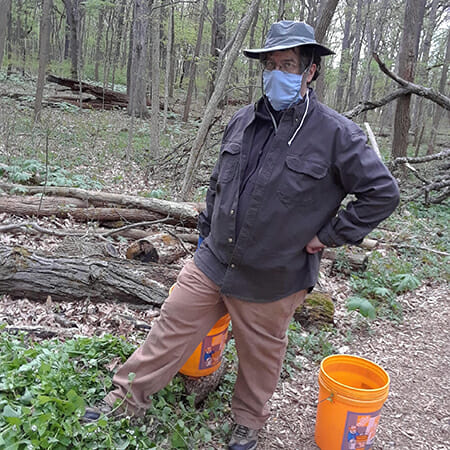 Why is your volunteerism so important?
You wouldn't think so, but we happen to have a really globally rare ecosystem consisting of sand oak barrens in northwest Ohio. We're rated a G2 on the global conservation status ranking, which means some of our plant life is at a high risk of extinction or elimination due to several factors. I work on our natural areas to keep them looking good, maintain plant diversity and eliminate invasive plants.
Describe your role with Metroparks Toledo.
As a volunteer, I conduct our wildflower walks each spring along with my wife, we also maintain an Adopt-A-Natural-Area to remove invasive plants from the rare habitat. I also do plant monitoring, presentations and other stewardship projects.
List some of the flowers you spot on your spring wildflower walks.
Hepatica, Spring Beauty, Dutchman's Breeches, Trillium.
How does your volunteerism help to educate others?
Skunk cabbage is not a rare plant, it's a very common plant. It's a plant that most people would never say, 'this looks like a flower'. It's a very unusual flower because it's the earliest plant that flowers in this part of the country. It generates enough of its own heat, if it happens to snow when the plant has come up, it'll melt the snow around it. This is an example of how we share our expertise with our guests. Skunk cabbage is something people would probably ignore otherwise, but we always point it out because it's certainly one of our favorite plants.
You're an Adopt-A Natural-Area participant. Explain.
Along with my wife and another volunteer, we adopted a small portion of the Oak Openings Preserve Metropark in 2017, a conservation partnership between Metroparks and Green Ribbon Initiative. We mostly remove invasive plants from our rare habitat. As a country, we've brought in all these Asian, European and Eurasian plants because they look pretty, and they don't have any competition or predators that want to eat them and they run through and push out other native plants. No park system ever has enough people to do everything they want, but you start seeing impacts of your work, you'll go through an area you've visited before and you won't find any invasive plants. Even though the job is never "done," it's knowing we are making a difference.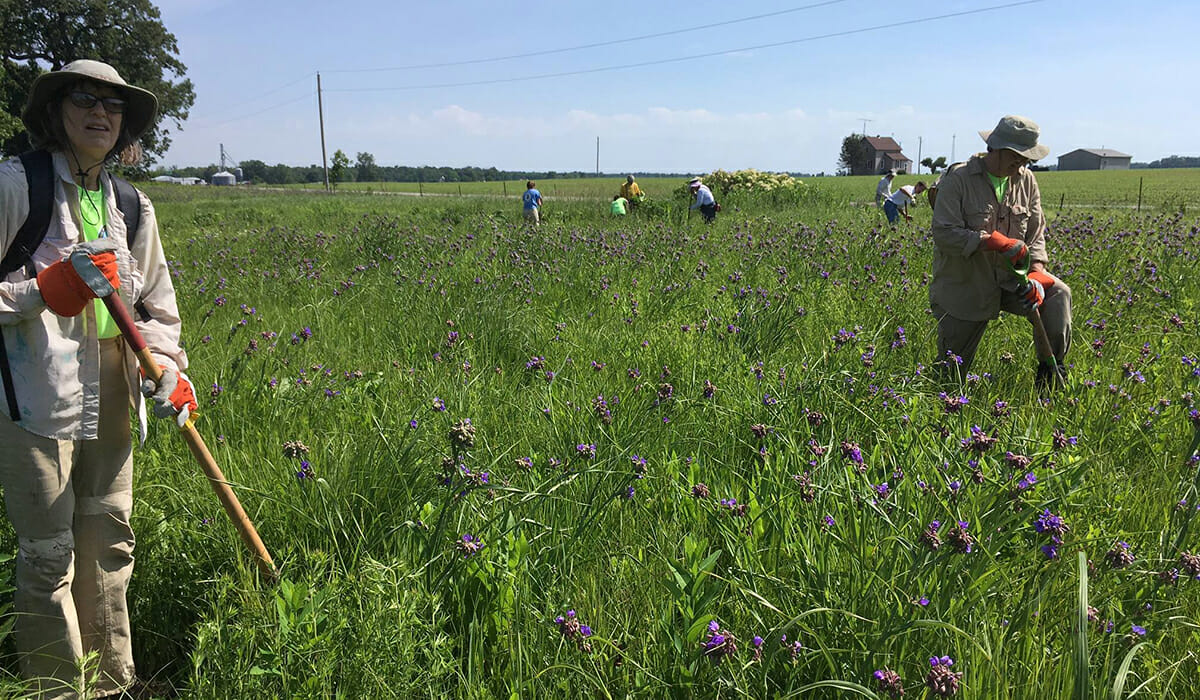 Why do you think it's important for others to give back?
If everybody gives a little or a lot, whatever they can, you do make a difference. I am fortunate that even though I'm not retired, I work at a community college and I have more time in the summertime for service. It is incredibly fun to volunteer leading walks. You'll go out and there are 15 people waiting for you, they're always excited.
You also volunteer for other nature organizations.
My natural area stewardship volunteer activities include the city of Bowling Green, Wood County Parks, Wild Ones, The Black Swamp Conservancy, and The Nature Conservancy in Ohio.
In one word, what does volunteering mean to you?
Do-it.
How can readers help?
Please visit the Metroparks Toledo website for more information about how you can help.
Do you want to make a difference in your community like Randy Haar? Find local volunteer opportunities.
Share this post