Teen Volunteer Helps to Feed Families with Dignity During Pandemic
Meet Daily Point of Light Award honoree Ashley Cohen. Read her story and nominate an outstanding volunteer or family as a Daily Point of Light.
When the COVID-19 pandemic hit, 17-year-old Ashley Cohen says worsening food insecurity in her community surfaced issues she'd never before noticed. The high school rising senior says she decided to take action when she read an article about a mother skipping meals in order to pay for her family's groceries.
Founding Helping the Hungry Virtually (HTHV) in April 2020, Ashley distributes grocery gift cards to children and others in need. Raising more than $18,000 thus far, the San Diego, California teenager has helped to feed nearly 250 families around the nation, from California to Texas and Pennsylvia, as she supports communities throughout the pandemic.
What inspires you to volunteer?
I love helping others. I was inspired to volunteer because I realized that kids were no longer receiving lunches at schools and food banks were closing. Whether it's helping my peers with a math problem or volunteering at a local hospital, it's amazing to make a difference in people's lives. Seeing that difference and vision of change makes me want to volunteer for the rest of my life.
Describe your volunteerism with HTHV.
As founder and chief executive officer of HTHV, I help coordinate fundraising across our 8 branches and coordinate and prepare communications. In addition, I manage our team of high school aged volunteers. Lastly, I communicate with school systems to coordinate distribution of grocery gift cards and also, with some in need individuals who receive our gift cards.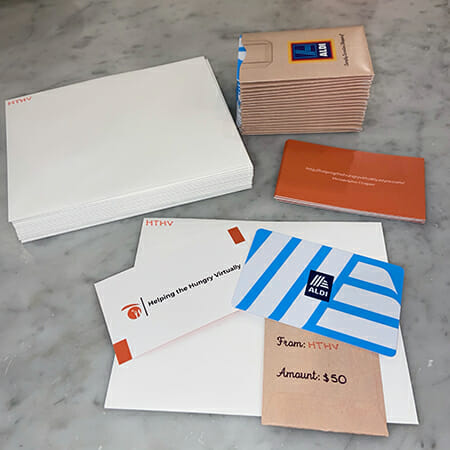 Share one personal story with me from your volunteerism.
I spoke with a mother in need, who explained to me that the EBT program was very helpful for her family, but she realized the program had limitations with what food she could buy. She encountered the same problem with food drives and food banks, specifically with foods that were important to her culture. That's where it clicked for me. Grocery gift cards are a great way to fight food insecurity in a dignified way. We help families buy the food that is important to them, and they're able to retain the freedom of going to the grocery store as normal.
Why do you think it's important for others to give back?
Through volunteering, I hope I can do my part in lifting other community members up. These are different times for everyone, and it takes every member of the community to continue to lift one another up in times they need it most. If the roles were reversed, I know someone would rise up and do the same for me.
What's been the most rewarding part of your service?
I love the gratitude I receive in exchange for helping others. Launching this organization wasn't an easy process. I was 15, couldn't drive, barely had enough money to help one family in need, and it was amidst a pandemic. Gratitude makes every single obstacle I've faced along the way very, very well worth it.
How have you continued to volunteer throughout the pandemic?
We'll continue our volunteerism in the future, and hope to expand helping the hungry virtually and get more youth involved.
What do you want people to learn from your story?
Take action. There's often a really wide gap between intention and action. Everybody can get involved in service and it just takes moving from intention to action and any help you can give is well worth it.
In one word, what does volunteering mean to you?
Selflessness.
How can readers help?
Please visit the HTHV website for more information about how you can help.
Do you want to make a difference in your community like Ashley Cohen? Find local volunteer opportunities.
Share this post