Georgia Student Helps Peers Improve Math Skills Amid Pandemic
Meet Daily Point of Light Award honoree Gabrielle Tobin. Read her story and nominate an outstanding volunteer or family as a Daily Point of Light.
Gabrielle Tobin had a special wish for her 10th birthday party. The Mableton, Georgia student didn't want gifts, instead, she wanted to help her peers who didn't have as much. Today, the now 14-year-old continues to give back in ways beyond her years, as she volunteers to better her community's future.
Recognizing the impact COVID-19 pandemic school closures would have on her peers and their ability to learn, Gabrielle launched an initiative called "For Math's Sake: Peer to Peer Videos," as part of her Girl Scout Gold Award project. Since then, thousands of students have benefitted from the educational videos and accompanying app, which improve math proficiency and content mastery for middle schoolers in Georgia and beyond. Gabrielle's most recent service work is just one example of how she is positively contributing to her community, one student at a time.
What inspires you to volunteer?
Math and science are my favorite subjects, and when my school district, like the rest of the country, announced that its school buildings were physically closing, I immediately thought about my peers and the challenges a remote environment would present, especially for middle school students. My friends and fellow Girl Scout Seniors have created our peer-to-peer videos to support education for students.
Describe your volunteerism.
As founder and creator of "For Math's Sake: Peer to Peer Videos," I coordinate and create our videos. I find school systems that want to help me with this project. We also translate some videos into Spanish for students, as we have connected with students in the United States in states like Georgia and North Carolina in addition to the Bahamas. Before launching this project, I've volunteered through my foundation, 40 Mustard Seeds, to support under resourced students in my community.
Share one personal story with me from your volunteerism.
Hearing how grateful the students that watch our videos and use our app are gives me an understanding of how my service is impacting so many students. This is something I love to do, and it's not a hassle. I can continue helping people for a lifetime and putting smiles on the faces of other people.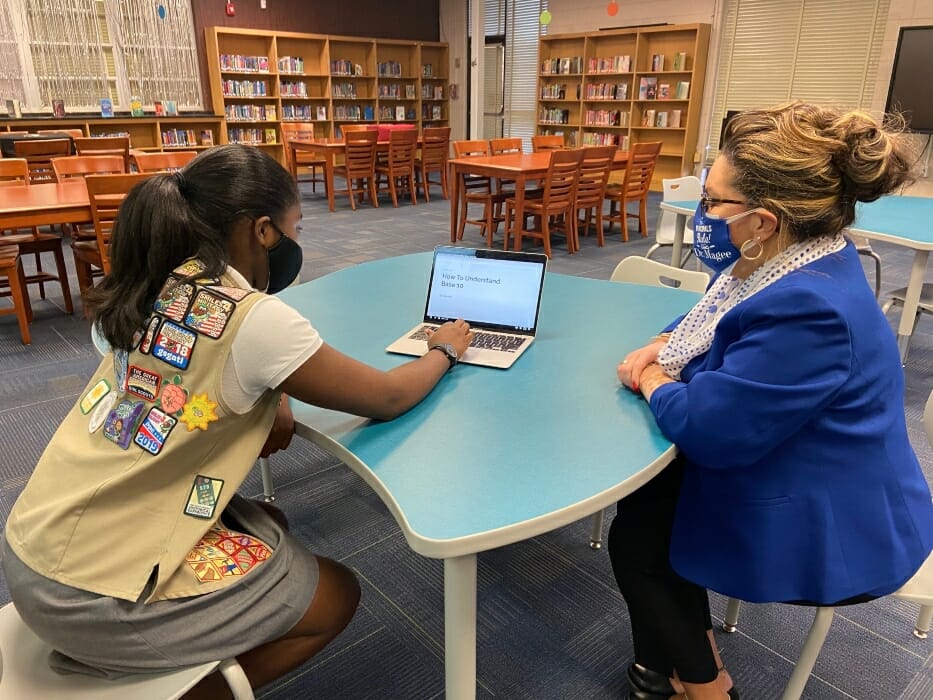 Why do you think it's important for others to give back?
When you take from the community, I believe you should give back. It's important to serve the community you grew up in.
What does the future of your volunteerism look like?
I expect to continue volunteering by throwing parties and fundraisers to support students, as we couldn't do this during the pandemic. I also expect to increase the number of students we are serving through my Gold Award project across middle and high schools.
In one word, what does volunteering mean to you?
Selflessness.
What do you want people to learn from your story?
I saw a story on the news about teachers buying school supplies for their students, and I told my mom that I wished I could help students in a similar way, but I didn't have the money for it. My mom said, "You don't need money, all you need is faith of mustard seed and a willing heart." That Biblical phrase means to me that I can do anything, I just have to put my mind to it.
When you're not busy with school or volunteering, what do you do for fun?
I do gymnastics. I do all around but the specific event that I like is vault. I also play the cello.
How can readers help?
Please visit my website, 40 Mustard Seeds Foundation, for more information about how you can help.
Do you want to make a difference in your community like Gabrielle Tobin? Find local volunteer opportunities.
Share this post