Teenage Animal Shelter Volunteer Finds Forever Homes for Felines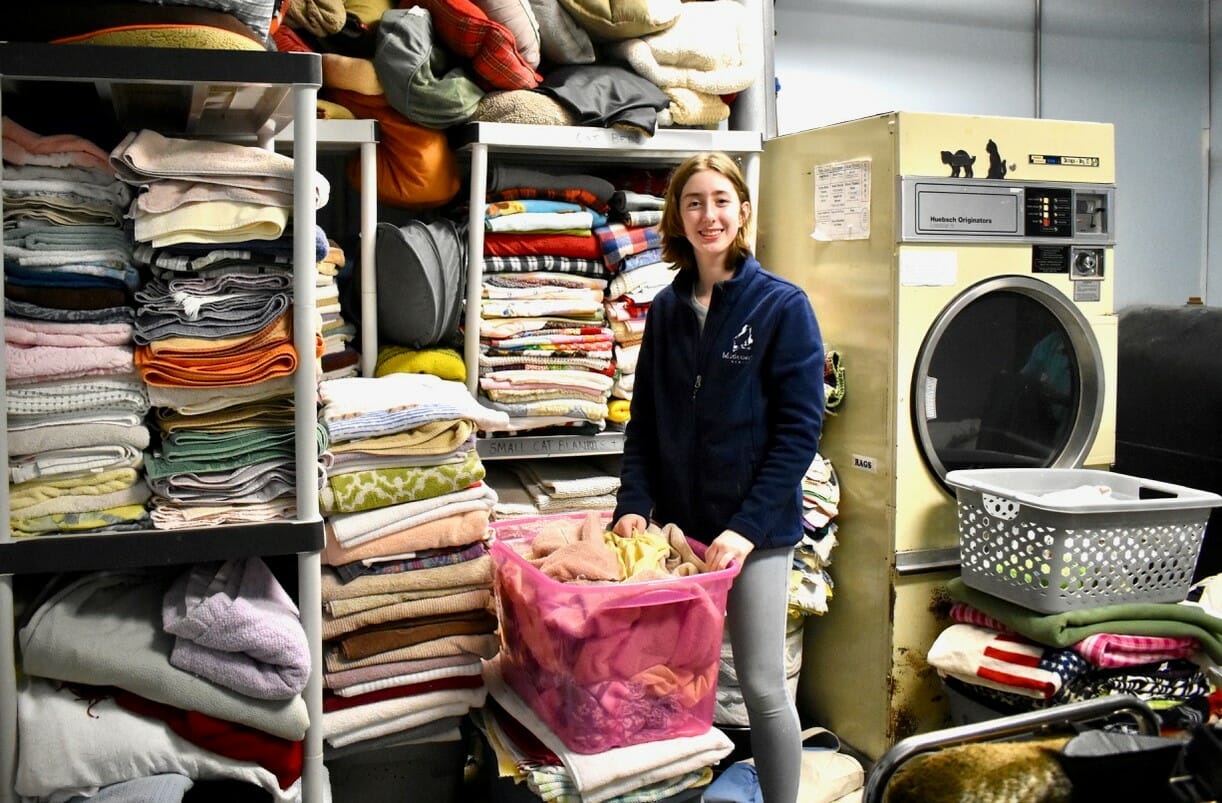 Blake Austin is a typical high school freshman. She plays basketball, is busy with academics, and is involved in band and book club with her friends. The passion that sets this 15-year-old Brunswick, Maine native apart from others? She's volunteered over 500 hours in the last year with the Midcoast Humane animal shelter.
What started as a young child's desire to spend time with animals has now blossomed into a dedicated pursuit helping four-legged friends. Blake wears many hats as a shelter volunteer, from cleaning cages, working at adoption events, and assisting with Animal Camp. Her favorite way to give back? Fostering cats and newborn kittens and helping felines to find their forever homes as an Adoption Ambassador.
Giving over 1,500 hours of nurturing volunteer service to help animals facing a difficult road and in need of special attention, and fundraising over $10,000 thus far, Blake is today's Daily Point of Light award honoree. Points of Light spoke to Blake to learn more about her volunteerism with Midcoast Humane.
What inspires you to volunteer?
The passion I have for helping animals. I see them and hear the stories about what they've gone through and where they've come from, and it breaks my heart. If volunteering means petting them for an hour or taking them to my house for a break from the shelter, I'll do whatever they need.
Describe your volunteer role at the shelter.
I fill a bunch of roles. I help on the weekends with laundry. The shelter goes through hundreds of pounds of laundry each week from sick or quarantined animals. There's just one washer and two dryers at the shelter, so we work through it and pray there's enough clean laundry for everyone (laughs). I am a certified foster cat caregiver and Adoption Ambassador for the shelter, which means I help to find homes for the animals I foster. I've fostered over 100 cats and have found homes for them. I also assist with events the shelter holds including their Animal Camp, birthday parties, fundraisers and outreach.
Tell me about the shelter foster program.
The foster program allows the animals – whether it's bunnies, puppies, or slightly anti-social cats or kittens, time away from the shelter. There are many different reasons to foster an animal, including dealing with medical issues, if they're feral and just need to get used to people and their surroundings, or if they're too young to get spayed or neutered and need to wait before they are able to receive vaccinations. In general, being fostered helps the animal to destress away from a louder shelter environment. These 8-10 week temporary placements include managing care, sometimes feeding, nurturing and providing medications. Check the Midcoast Humane website to see how you can help: https://midcoasthumane.org/volunteer/foster/
Share one impactful story with me from your volunteerism.
I fostered a litter of kittens in January 2018, there were three amazing foster kittens that we took care of. They all came in to the shelter with eye infections so they were given eye-related names: Iris, Rhett and Cornelius. Cornelius was such an incredible cat. He was so sweet and fluffy and adorable. A woman in my neighborhood has health- challanges, she is such a nice person and is wheelchair bound. She wanted one of the foster kittens and she fell in love with Cornelius. One of the most rewarding parts of my volunteer work is finding the purr-fect home for my foster cats. Once he was old enough to be adopted and he was in better health, our neighbor adopted him. His temperament was a perfect match for my neighbor, and Cornelius hasnt left her side since.
As an Adoption Ambassador, you give some love to fosters on your Instagram. Explain.
I use my Instagram page to broadcast whatever fosters I have at the time to help raise awareness and help to find homes for the kittens and cats. I've helped to place over 200 cats since I became involved with the program. As an Adoption Ambassador, I can have the cats spayed or neutered at the shelter and instead of waiting on the floor at the shelter, they can come directly to my home to be fostered until they make it to their new homes. Fostering them at home can help them be their best selves before they make it to their forever homes, because the shelter is not always the ideal place for a young kitten, or a cat dealing with health issues.
What's one thing you want readers to take away from your service?
Find something that you're very passionate about. As many people say, when you love what you do, you never work a day in your life. The hours fly by when I spend time volunteering. Also, you're never too young to make a difference. I started volunteering at the age of eight, and my contribution has continued to grow.
You don't have a cat as a pet. What's your dream cat for one day in the future?
I haven't thought about that (laughs). We can't have a pet cat now because my dad is allergic to them. Hopefully, she's going to be fluffy and adorable and sweet. I don't know exactly what she'd look like but she'll be orange or black, and she'll have whatever name suits her.
Tell me about an exciting event coming up for the shelter.
We are breaking ground on a new facility with tons of space for animals to run around. We are doing a lot of fundraising for the new facility. We also hold several mega-adoption events for animals throughout the year. Check our website for more information: https://midcoasthumane.org/
Do you want to make a difference in your community like Blake Austin? Visit All For Good for local volunteer opportunities.
Post written by Marlena Militana.
Share this post