Teenage Sisters Shine 'Rays of Hope' by Selling Necklaces for Cancer Research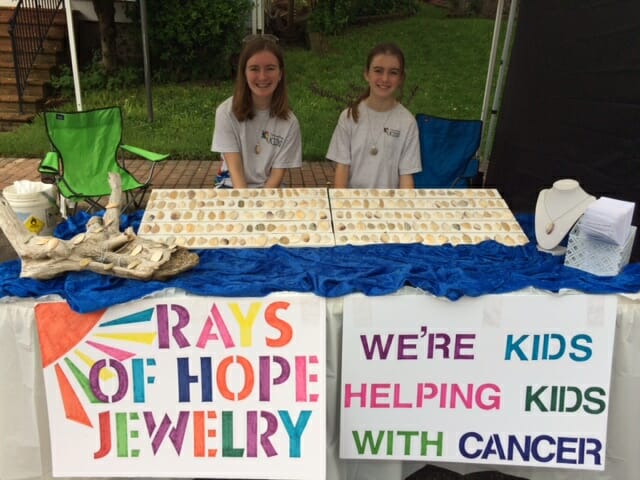 At the beach, you might see people building sandcastles, soaking in the sun, swimming or maybe eating. But if you run into Jenna and Cara Ainge of Reston, Virginia, you'll see them vigorously looking for seashells.
That's because Jenna, 12, and Cara, 14, make pendant necklaces with seashells and sell them at their local farmers markets and craft fairs. They donate 100% of their proceeds to children's cancer research organizations CancerFree Kids and St. Jude Children's Research Hospital.
The idea to make and sell necklaces came from a school project, but the inspiration to donate all the money to cancer research came from their cousin Thomas who was diagnosed with leukemia at just two years old.
"He's my closest cousin since we're around the same age," Cara said. "I was very little when this happened so I don't remember much, but I remember being confused like 'Why did he lose his hair?' But at the same time, he was still the same kid. He was very strong during his entire battle and his smile never faded."
"We wanted to help other people who went through the same thing as our cousin Thomas did," Jenna said. "It makes me feel really proud and happy to be helping other people."
Finding the seashells is just the first task of many. Each necklace takes around two hours to make. The girls grind, shape and polish each shell and then attach a clasp and chain to complete a necklace.
"The early products were probably something only a mom could love," said Dennis, Cara and Jenna's father. "But over a couple of years, they started to perfect this and they received tremendous support when we'd go up to these craft shows and farmers markets."
Naming their business "Rays of Hope Jewelry," the sisters have raised over $3,000 for the two charities by selling their pendants for $15 and $20 each.
"We've gotten most of the same response that we are doing a really good job of doing our duty as a citizen to help other people," said Cara. "I think it's great that people recognize that and hopefully we can inspire other people to do the same."
Check out All For Good to find opportunities to volunteer in your area.
Share this post