Teen's Entrepreneurial Spirit Creates Global "EntrepreYOUership" for Other Kids
Meet Daily Point of Light Award honoree Naomi Porter. Read her story and nominate an outstanding volunteer or family as a Daily Point of Light.
Growing up, Naomi Porter says she felt like she was surrounded by children connecting with their passions, and she was left in the dust.
"Did I miss the memo?" says Naomi. "I didn't find anything that fit me well. Everyone was figuring out sports, art, dance, and I wasn't good at any of those things. Then, I saw an ad in the newspaper which read, 'Calling all young entrepreneurs.' All 4-foot, 9-inches of me got up to the microphone at this event, and I started talking. In that moment, I realized, this is what I want to do."
The now Los Angeles, California high school sophomore, who launched her first company at the tender age of 11, says she was seeking educational resources, support, and a community of entrepreneurs just like her – but was coming up empty. That's when she started EntrepreYOUership, an organization dedicated to increasing access to entrepreneurial education.
"As a young entrepreneur, I've relied on self-education, mentorship, and figuring things out myself. If I had questions about topics I couldn't go to my school to (learn more about) tax codes, employment law, advertising and marketing, all things you need to know about when starting a business. That's when I realized there was a need for more programming around being an entrepreneur."
Increasing access to free entrepreneurial education for kids aged 12 to 18, EntrepreYOUership has served more than 1,000 middle and high school students in the United States and internationally. In particular, Naomi is teaching the youngest generation through service that there are multiple pathways to success, as she gets more girls and youth involved in learning fundamental skills and building interest in entrepreneurship.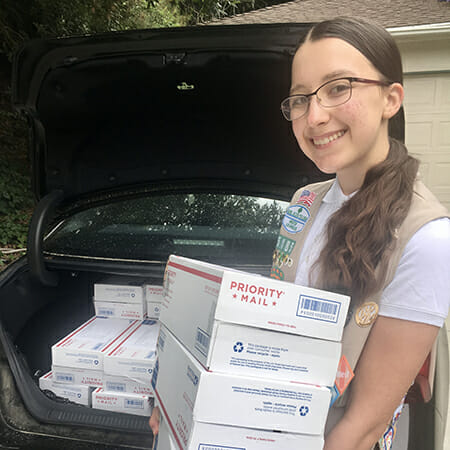 "I partnered with an organization called Superposition to get girls interested in STEM. After working with us, one girl said to me, 'Oh my gosh, I didn't even realize I was an entrepreneur!' That's when it clicked for me. Entrepreneurship is the intersection of (many real life subjects) and that's our mission to make sure all youth can have an entrepreneurial mindset. It was a very 'yes!' moment. Like when you hear someone giving a speech and you're like, 'Yes, yes yes!' Finally, (this girl) was articulating the vision I'd set to empower all youth to become entrepreneurs."
Offering business and development workshops that equip youth with an entrepreneurial mindset, program participants receive support to write business plans and have access to start-up funding. Partnering with existing community organizations, the youth-led organization is showing kids that entrepreneurship isn't just reserved for adults with degrees and access to venture capital. Turning dreams into reality, Naomi is teaching other kids lifelong skills, says Crystal Cabello, career bound coordinator for Boys & Girls Clubs of the Los Angeles Harbor.
"Naomi put an entire course on entrepreneurship and building business as a teen together right before the pandemic hit," says Crystal. "Within a week, she shifted to make everything available virtually, and she took that opportunity to invite people from other states. From teen to teen, it's helpful for youth to see they can open up their own small business. (It's at) a very small scale, but these skills will be transferable when they start pursuing other things. Naomi is providing youth with a completely different perspective, one that they can achieve."
Adjusting to the impact of the COVID-19 pandemic, Naomi's shift to virtual events and programs allowed more youth to participate globally. Innovating to keep students engaged online, Naomi even offered conversational "Think Tank" sessions. Reaching that larger audience, Naomi, who says she hopes to become a school superintendent and then the U.S. Secretary of Education one day, is effecting greater change, student by student, proving that volunteerism knows no limit at any age.
"So often, people say that one person can't make a difference, or one vote can't make or break an election, that individual contribution doesn't matter, but it does. Your one individual contribution can build a network of people. Entrepreneurship is a lifetime thing as I continue to look for more ways to engage. We're looking to redefine the way we view success and (through volunteerism) we keep empowering and inspiring young people."
Do you want to make a difference in your community like Naomi Porter? Find local volunteer opportunities.
Share this post