Teen's Powerful Volunteerism Shapes Public Policy and Creates Positive Change For a Better Tomorrow
Meet Daily Point of Light Award honoree Sarah Cheung. Read her story and nominate an outstanding volunteer or family as a Daily Point of Light.
Sarah Cheung remembers going to the polls with her father as a child, a memory that informed her thoughts on civic engagement and community responsibility. Discovering at a young age that ordinary people could have a voice in shaping public policy, the San Francisco, California teenager has dedicated her time to empowering other youth in the Bay Area.
An active volunteer who wears many hats, 17-year-old Sarah is a volunteer with San Francisco's Youth Commission, a group charged with offering legislative input and recommendations and identifying unmet needs of youth in the city, in addition to the president of TeenTechSF (TTSF), an organization which provides free technology resources to teens. Leveraging her powerful service to brighten the future for children across San Francisco, Sarah's deep love for her community is transforming quality of life for her neighbors and inspiring others to volunteer.
What inspires you to volunteer?
Living in San Francisco my whole life, attending public schools and participating in community-based programs, I was able to interact with a lot of different people with various backgrounds and lived experiences. I'm inspired to volunteer because of a deep love for my community and interacting with others.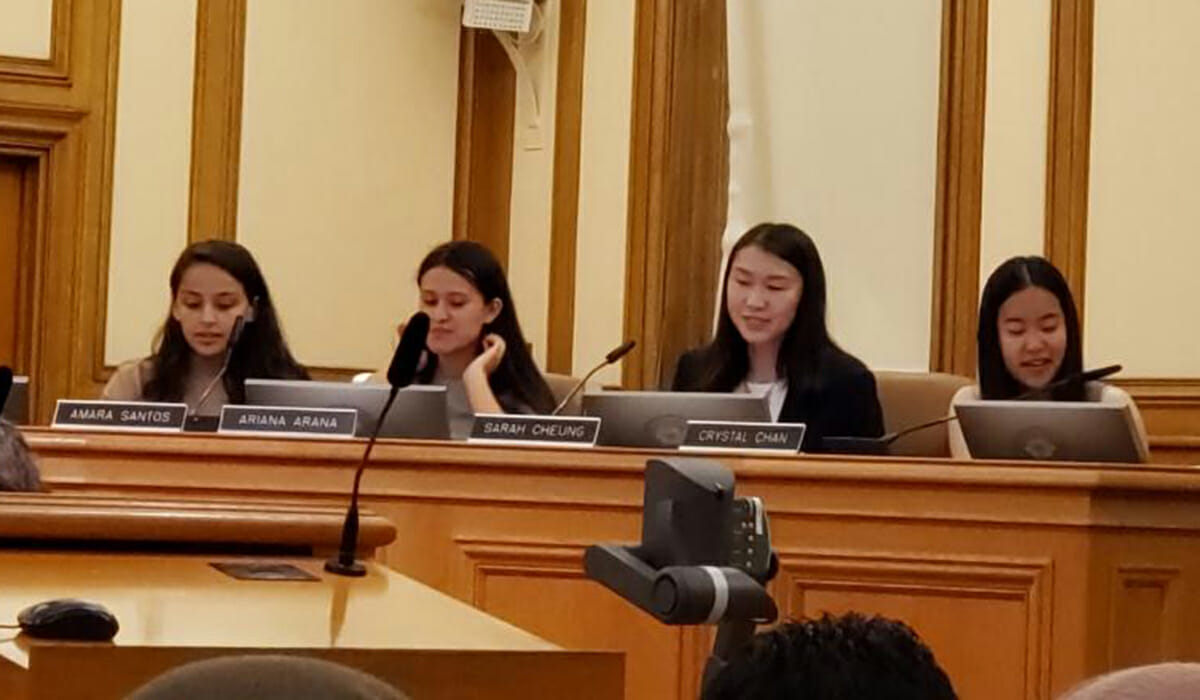 Describe your volunteerism to support youth.
Through my volunteerism with the Youth Commission, I advocate for legislation that supports children and youth, especially for those who are marginalized. I joined the organization in 2019 as a volunteer, and am currently a mayoral appointee and the chair of the civic engagement committee. I was the main youth lead for the Vote16 campaign, a measure we got on the ballot and which would have extended voting rights to 16 and 17-year-olds in San Francisco. In addition, I have worked with and advised the following campaigns and initiatives:
 CAREN Act to make racially-based 911 calls illegal
 Legislation which closed a local juvenile hall and an unsafe county jail
#30RightNow to make permanent supportive housing rents no more than 30% of income
Free public transportation for youth in San Francisco
UNICEF Child Friendly Cities Initiative to make San Francisco one of the first cities in the nation to have a children's rights framework
In addition to my work with the Youth Commission, I am the president for TTSF, and help to organize hackathon conferences and STEM workshops for Bay Area teens. I also work on statewide education bills as the director of strategic partnerships for GENup, an organization dedicated to education equity, and lastly, I recently co-founded When YOUth Vote, our mission to amplify youth voices and increase voter turnout.
Share one personal story with me from your volunteerism.
Through my volunteerism for TTSF, I taught a STEM workshop at an alternative school, and used Play-Doh for an activity with the students. Breaking down technology, which can be quite intimidating, and making it accessible and fun for students brought me a lot of joy. They quickly became very immersed in their projects, and seeing their excitement and how they proudly showed me their work reminded me of my own experience as a student. As a young woman of color in middle school, I didn't see a lot of other young girls who were interested in STEM or actively seeking out STEM activities. Hopefully, through my volunteerism, I inspired other young girls in that classroom to take initiative, build confidence and pursue more workshops.
Why do you think it's important for others to give back?
My community has given so much to me including resources, support and encouragement. It only makes sense to dedicate time back to people who have dedicated time to you in any space you're in, to make sure you're not just a consumer, but also to be a creator and to help create a positive impact just like others have created on you.
How have you continued to volunteer throughout the COVID-19 pandemic?
We've found ways to interact with people online as a result of the pandemic. For TTSF, we've made several adjustments, including holding our annual STEM inclusivity summit online. In addition, we partnered with the San Francisco Human Rights Commission to use grant money we received from the YMCA's Youth Empowerment Fund to provide free PPE to vulnerable community members. With that funding, TTSF volunteers have sewn around 500 face masks thus far, and are working on 3D printing face shields. I am continuing my volunteerism with the Youth Commission, including advocating for no budget cuts for youth services and I recently co-sponsored a resolution with recommendations on how San Francisco can address anti-Asian hate crimes. This resolution was prompted by the rise of recent violence against community members in the Bay Area.
In two words, what does volunteering mean to you?
Empathy or compassion.
When you're not busy with school or volunteering, what do you do for fun?
I like to sing. I'm very into music. I'm part of the Young Women's Choral Projects of San Francisco.
How can readers help?
TTSF is accepting donations so our volunteers can produce more PPE including face shields and masks. Also, to learn more about When YOUth Vote and find out how you can help, please visit our website.
Do you want to make a difference in your community like Sarah Cheung? Find local volunteer opportunities.
Share this post