Teens Start Nonprofit to Promote Accessibility in Medical Field for Fellow High School Students
Meet Daily Point of Light Award honorees Gael Gonzalez-DeLaLuz and Aliza Lopez. Read their story and nominate an outstanding volunteer or family as a Point of Light.
Gael Gonzalez-DeLaLuz and Aliza Lopez have both been passionate about the medical field from very young ages. Wanting to increase accessibility to the field for young people such as themselves, last year they started the nonprofit Medicine Encompassed, which promotes awareness of the medical field to high school students. The duo, based in North Brunswick, N.J., serve as Medicine Encompassed's co-CEOs, leading a board of directors of over 30 other young people to educate and foster a sense of community for their fellow students interested in studying medicine.
Since its creation, Medicine Encompassed has reached over 1,300 students in over 40 states and 40 countries. They offer a mentorship program to connect high schoolers to pre-med and medical students, over 500 lessons on medical concepts, a newsletter, a podcast, research initiatives and more. Gael and Aliza, who are rising high school juniors, will soon be running Medicine Encompassed's first ever community conference, a four-day virtual event of panels and workshops for young people around the world.
Describe your volunteer role with Medicine Encompassed.
Aliza: We're a student-run 501(c)(3) and we basically aim to promote awareness and increase accessibility for those who are interested in future medical careers. We achieve this mission statement through a lot of different mediums and platforms. These initiatives range from the resources we have posted on our website, our STEAM-based medical curricula. We hold a lot of community events with various medical professionals to have our students gain exposure to different fields that medicine is composed of. We also have our podcast initiative, our research initiative, our mentorship initiative. We have been pairing high school students with advisees who are at the undergraduate and graduate level.
Gael: The two of us are the co-CEOs, so we run a lot of the general operations of the organization. For example, we lead the board of directors of over 30 other high school students and a couple of undergrads. Aliza creates most of our framework for educational materials and curriculum. We manage finances and we do outreach. We also create a lot of the base of what Medicine Encompassed is. As the co-founders, we in a sense built the whole organization from the ground up.
What inspired you to start this?
Aliza: Since medicine is generally such a multifaceted field, and with the number of students who are interested in such a complex field as medicine and generally STEAM, I think it was really just finding that concrete platform for students within our community to network and get to know the aims and prospects of medical professionals, and really just extending this mission to other age groups and building that sense of community, and bridging that gap between different age groups and different levels in medicine.
Why is it important for young people to have a resource like Medicine Encompassed?
Gael: I think Medicine Encompassed, at least at this point, has been something that has allowed students to explore their interests and their passions. Sometimes young people can tend to be pretty indecisive with what they want to do, so I think it's good to help support student journeys of self discovery and in general helping people in whatever they can in order to explore something that was hidden within them.
Do you have any goals you would like to achieve with this organization?
Gael: Definitely to foster a community of likeminded people and students who are really interested in pursuing medical professions, and also generally expanding along with our professional networks. That's something we've been working on recently.
Aliza: As for specific goals and numbers, we've been working on our STEAM-based medical curriculum for awhile now, and I think it's definitely a primary aim of ours to implement these curricula into schools and start doing in-person seminars and more interactive workshops with younger students. The main point is more global expansion.
Are there any future partnerships, programs, or events that you are excited about?
Gael: We are hosting our first-ever virtual conference, Medicine enCONpassed. It's going to be four days long from August 4 to August 7, and it's completely free and we have a ton of events signed up for those four days. We have a couple of panels such as getting scientific internships, pre-medical student panels, how to conduct independent research, diversity and equity in STEM fields, virtual shadowing and CAT prep. Also just general workshops with medical professionals and other student organizations we'll be partnering with in order to promote the event.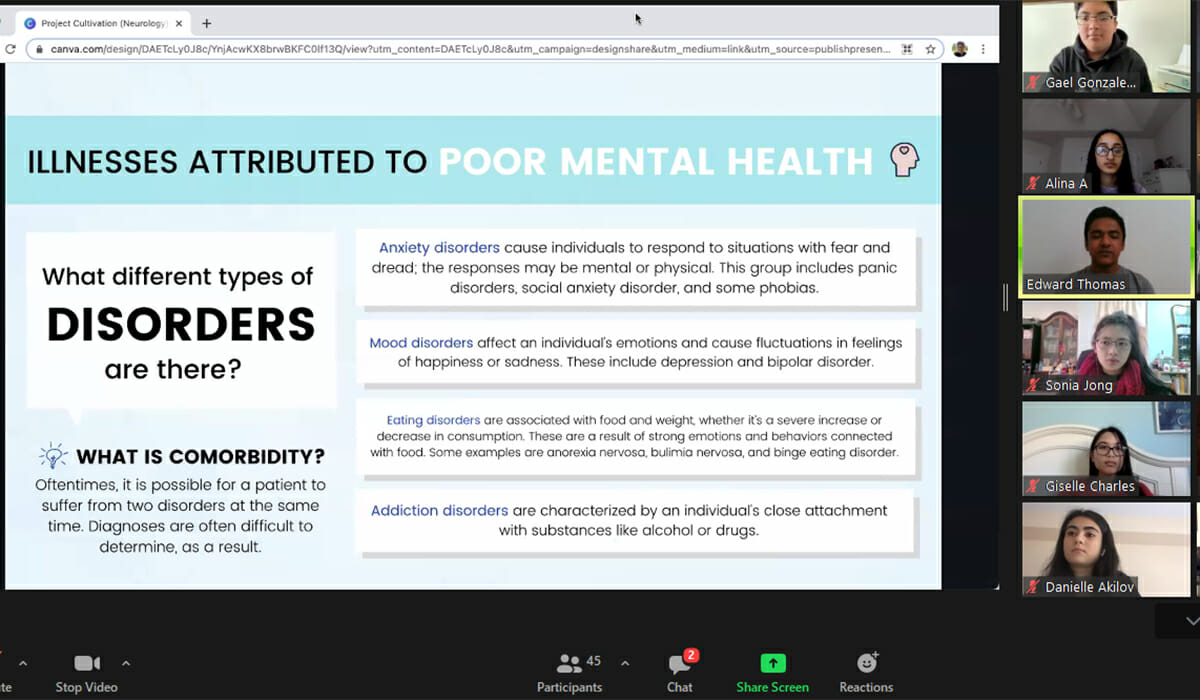 What drives you to spend so much time working on Medicine Encompassed when you're also students yourselves?
Aliza: It's really that prospect of making that impact and seeing the positive effects of it. In my eyes, we're driving that force for medical revolutions, especially for students. That's really the one thing that motivates me to keep going for Medicine Encompassed — all the positive results and how students can take away and benefit from our services.
What's been the most rewarding part of your work?
Aliza: It's really just the notion that we're defying that whole 'age equates to impact' thing. Gael and I started ideating this organization at a pretty young age, when we were 13 or 14. All of the impact points, statistics and initiatives that we've launched to date attests to the fact that as long as we have that vision, we can really spark that change in our community and make as much impact as we aim for.
Why do you think it's important for others to give back?
Aliza: We're both proof of what happens as a result. … If one group or population really drives that first step toward making an impact, it brings up other people and proves that if they can do it, then obviously there is that capability for others to do the same. The way I think about it, the more steps you make toward impact, the more influential your initiatives will be.
Do you want to make a difference in your community like Gael and Aliza? Find local volunteer opportunities.
Share this post
---