Volunteer Translates Beach Cleanups Into Art to Showcase Overuse of Plastic
Meet Daily Point of Light Award honoree Sarah Thornington. Read her story and nominate an outstanding volunteer or family as a Point of Light.
For the past 15 years or so, Sarah Thornington has walked her black Lab down the same mile-long section of coast in her town of West Yarmouth, Mass. She picks up any trash she sees on her walk and was consistently arriving home with her pockets and trash bags full of debris. A professional photographer, Sarah decided to turn her cleanups into a daily, year-long project documented on her Instagram, A Year of Plastic, as a way to raise awareness for the amount of trash and single-use plastics that wash up on beaches.
Sarah started the project in February 2019 with the goal of picking up three pieces of plastic each day, which would translate to a little over 1,000 pieces by the end of the year. She hit that goal after only nine days. By February 2020, she had picked up, washed and sorted over 21,000 pieces of plastic, along with numerous other types of garbage. While the project has since ended, Sarah is continuing to do beach cleanups weekly and is regularly updating her Instagram, now with art projects she makes with the collected debris. She has shown her art at four different exhibits so far, with the goal of starting a conversation in her community on cutting down plastic and keeping the earth clean.
Describe your Instagram project, A Year of Plastic.
I started it in February 2019. I had been doing a lot of beach cleanups. I was amazed by the sheer quantity of marine debris I was picking up, so I decided to do a beach cleanup every day for a year. I am one of those people who like things to be organized and neat, so I kept putting off when I was going to start. Then I was at the beach and found two little Army figures, and there was this fantastic sunset. Even though it was February 8th, I thought, today's the day I'm starting because it's perfect. I started the Instagram account on the first day of a year-long project doing a beach cleanup everyday.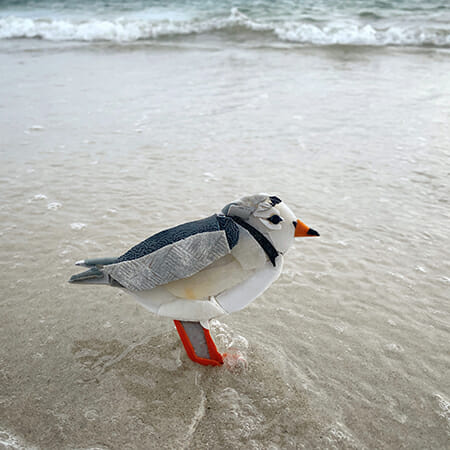 Why was this something you wanted to document on Instagram?
I wanted to make people aware of the sheer quantity of debris that was washing up on a tiny little mile-long section of coast that is actually quite clean. I wanted to do it on Instagram because I am a photographer, so I wanted to use my talent to show plastic in other ways — do flats lays, make pictures out of it, not just show 'here's a pile of garbage.' I wanted to use my photographic skills and make it interesting and tell little stories about it.
What reaction did you want people to have when they saw your photos?
I wanted people to go, "Oh my gosh, there's that much plastic on the beaches? How can I help? How can I make that better?" I wanted people to think about their single-use plastics especially. I wanted them to think about how much trash they're creating and how everybody is involved in this. We're all interconnected. Every single person needs to take ownership of the planet.
What kind of reaction have you gotten from your art exhibits featuring the debris you find?
It's been great. I get a lot of, "Oh my gosh, I can't even believe you found all of this stuff." I get a lot of people who say you've convinced me to skip the straw, or you convinced me to not use plastic bags. With the latest one at the Atlantic White Shark Conservancy, they commented on how many conversations people had within their families about taking care of your stuff and limiting what you buy. People talk about how everyone is so surprised I find so many shotgun shells and shotshell wads on the beach. Of course, it kind of freaks people out, but we can also talk about the science of it all and how the tides are bringing all this stuff in. We can talk about how even if you're inland, your trash can still make it to the ocean. Probably shock is the biggest response.
What are your plans now that the project has finished?
I still continue to do beach cleanups. I probably do a good beach cleanup every week, and I still pick up trash every time I see it. At the moment, I'm doing 100 days of picking up a piece of litter everyday. … I'm always going to do beach cleanups. That's never not going to be a part of my life. I still post regularly to my Instagram. I've been making more art with the pieces because I find that's been a really good way to get conversations moving. … If I know I'm going to do an hour-long beach cleanup, I will track it all. Keeping track of my data through Ocean Conservancy's Clean Swell app, Center for Coastal Studies and Surfrider Massachusetts worksheets is important so changes are able to be made at the municipal and governmental levels to require sustainability of industries and businesses with their handling of their plastic creation and waste.
Surfrider Massachusetts is doing an initiative this summer where they are trying to get every part of the coast around Massachusetts to have a beach cleanup. I've already done one specifically for them and there's a bunch of towns that still need to be connected, so I'm going to go and get as many around me as I possibly can. I'm out there cleaning the beaches anyway, so I would like it to be helpful. I don't want to be cleaning the beaches. What I want is for people to be aware of their single-use plastic use. I want them to stop using all of our resources. Reduce, reuse, recycle — which is now reduce, reuse, repurpose, refuse — whatever R's you use, they always start with 'reduce.' That's the message I hope we get across in all of this. We don't want to be cleaning the beaches. We don't want to be picking up litter off the side of the street. We want the beaches to be clean.
Are there any future partnerships, programs, or events that you are excited about?
Center for Coastal Studies' Ghost Gear Initiative. The woman who is in charge of the Ghost Gear Initiative has a beach brigade down here. Every now and again, she will call people down to Provincetown if there's something big [to clean up]. I am part of that beach brigade. Every time she does it, they bring in ghost gear during the winter months when the boats aren't out getting fish. They go out and they retrieve lost and abandoned fishing gear including lobster traps and lobster nets. They bring them back in and I go down and help sort and dispose of all the gear. I think it's a wonderful initiative because ghost gear is a huge problem.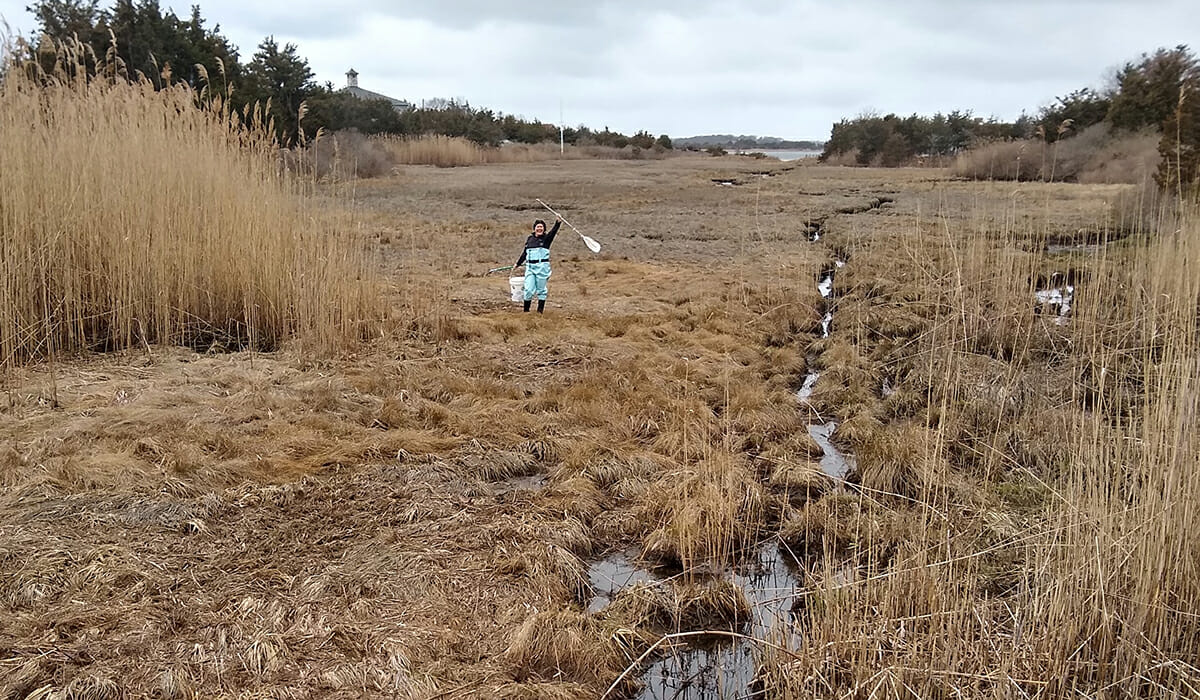 What's been the most rewarding part of your work?
I think the most rewarding part is when people tell me that I've made them think, or I've made them make a change in their lifestyle.
Why do you think it's important for others to give back?
I think it's our responsibility as humans. We're all in this together and I think whatever your passion is, there's people who need you to help. My passion is the environment, so I do what I can do. Other people have other talents in other areas and so by giving back, it's making the world happier and friendlier and nicer and kinder. It's so much easier to be helpful and nice than to be all about yourself. There's nothing good about that. I can't even imagine not giving back. It's not giving back, it's just being.
What do you want people to learn from your story?
I think this is where I would like to throw out again that whole 'reduce' [idea]. We only have one planet. We all need to walk lightly on it. We need to be aware of all of our choices and we need to vote for the planet.
Do you want to make a difference in your community like Sarah? Find local volunteer opportunities.
Share this post