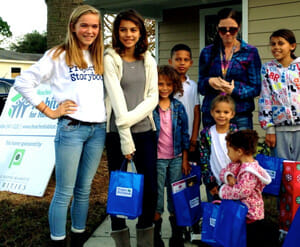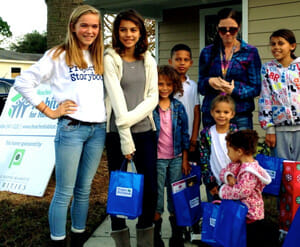 When Tess Reiman of Ponte Vedra Beach, Florida discovered she was too young to volunteer with Habitat for Humanity to build houses, she was determined to identify other ways to help families in need served by the organization.
Reiman began researching other ways she could help Habitat for Humanity families. Soon, she learned through BookSpring's Reading is Fundamental (RIF) program that 61 percent of low-income families have no age-appropriate books at all in their homes for their children. In addition, she learned that many of the children do not have books for their new Habitat for Humanity homes.
As a result, Reiman started Project Storybook in the summer of 2012 to provide a basket of new books to children when they move into their Habitat for Humanity home. In a little over a year, she had raised enough money to present approximately 200 new books to roughly 40 Habitat families on their move-in day.
Today, Reiman has grown Project Storybook from a donation of books to one preschooler through Beaches Habitat for Humanity in Atlantic Beach, Florida to partnerships with Habitat of St Augustine and Habitat Orlando. Additionally, Reiman is tirelessly working to secure books for less than suggested retail prices so that her fundraising dollars go farther leading her to collaborate with First Book, a non-profit organization based out of Washington D.C. that works towards getting new "age appropriate" books into the hands of children from low-income families.
Share this post