Texas Airman Spreads the Ripple Effect of Kindness Through Volunteer Service
Meet Daily Point of Light Award honoree Dustin Brooks. Read his story, and nominate an outstanding volunteer or family as a Daily Point of Light. 
Content Warning: Points of Light is proud to share the following uplifting and inspiring story. However, we acknowledge that a small portion mentions suicide and may be difficult for some readers. We encourage you to please care for your own well-being above all.
Dustin Brooks grew up in Germany in a military family, and it was here that he was first exposed to the plight of refugees. At the time, displaced Albanians were flooding Germany to escape the horrors of war. Dustin and his elementary school class held a fair to raise money, which Dustin and a few of his classmates took to the refugee camp. He was struck by how happy the kids were playing with their new toys, even amid the uncertainty in their lives and the hard living conditions. 
As a child, Dustin noticed that people who have nothing seem to give the most.  
Now, as an adult, he realizes that homelessness is a stigma often associated with drug abuse, when in reality anyone could, through no fault of their own, find themselves without a place to call home and no idea how to escape their plight.
Dustin, 32, has been actively volunteering for over eight years. Since 2019, he has been volunteering with the Dyess We Care Team organization based at the Dyess Air Force Base in Texas. Before that time, he spent five years as a volunteer with Aramark/Sodexo creating free meals for people who were underserved.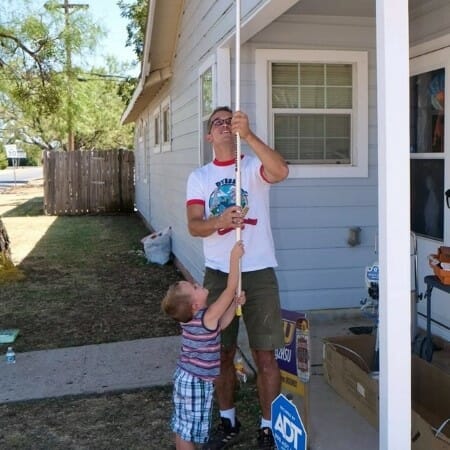 Dustin balances family, military and community service in a way that inspires others to follow suit. He often devotes his weekends to working on community volunteer projects. Aside from acting as project leader, Dustin's current duties as inventory manager ensure the organization has all the supplies on hand to paint houses and provide minor repairs. Next year, he will act as president of the Dyess We Care Team. 
What's most remarkable about Dustin is that he understands the incredible ripple effect that individual projects can have. There's the immediate reward of seeing the joy in recipients' eyes; but more importantly, Dustin is inspired by impact the Team's efforts have on the recipients' families, the community and the volunteers themselves. 
One family received a granny-flat addition which enabled the family to adopt another foster child. Not only did this positively affect the family, but forever altered the life of the new foster child. 
Dustin's most cherished memory involves a young boy of just five who had already undergone four heart surgeries and was scheduled for another. His family had received an incredible donation from the Make-a-Wish Foundation — a backyard playground. However, this gift came just at the start of the pandemic, and Make-a-Wish couldn't send anyone to assemble the playground. The Dyess We Care Team sent 26 people to assemble the playground while the boy visited his grandparents. When the boy returned home, he was in for the surprise of his life: his very own playground, and a rousing welcome from three local fire departments and several police vehicles, his favorite superhero Spiderman, and even military aircraft flying overhead. This was one of the organization's smallest projects in terms of scope but the most heartwarming for Dustin. 
Throughout his volunteer career, Dustin has noted two major effects of volunteering.  
The first is the connections fostered among the volunteers. Lifelong friendships have been forged through volunteering among people who may have otherwise never crossed paths.  
The second is the realization that he first came to as a child in Germany: those with the least to give often give the most. One limited-mobility recipient needed extensive repairs done on his home, including a carport to prevent his car from literally melting in the hot Texas sun, a wheelchair ramp and toilet repair. During this two-weekend project, the man was so grateful that he made sandwiches and lemonade for all 50 volunteers.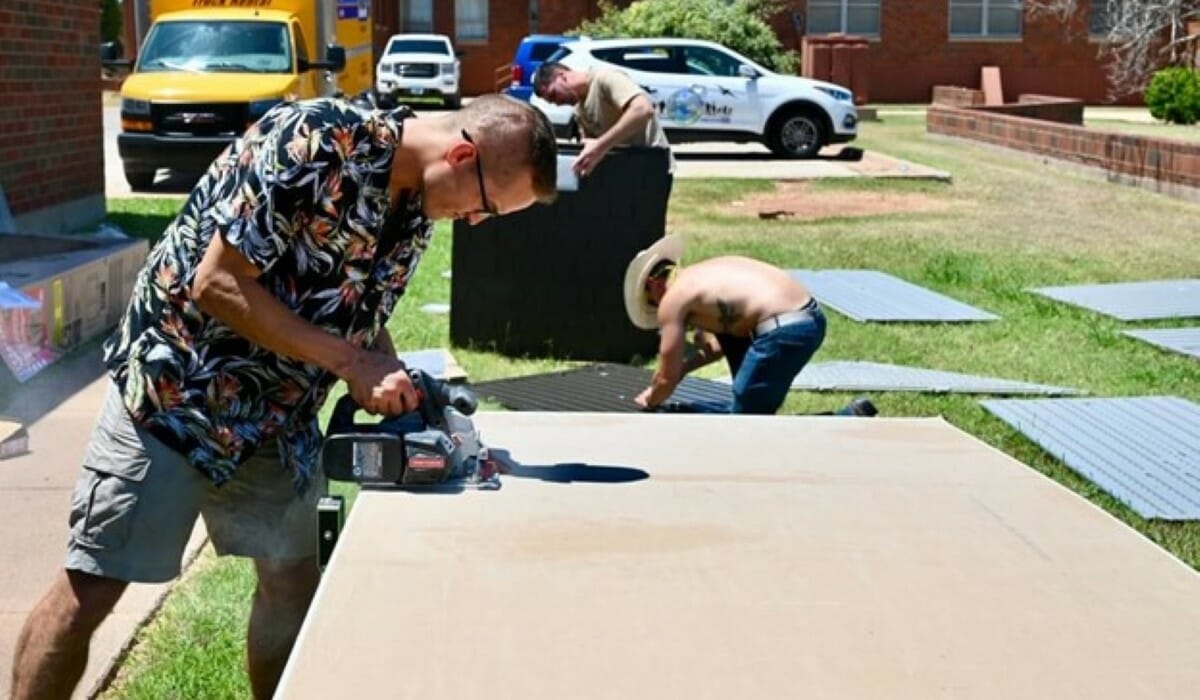 Dustin is excited about a project that actually started before the COVID-19 pandemic and is finally coming to fruition.  This major home and landscape renovation for a hard-working disabled elderly woman will be another surprise reveal from the Dyess We Care Team , with 60-80 people joining forces to spruce up her home in one weekend. 
Currently, the organization takes on approximately 30 projects each year, including 15 buildings that are completely repainted.  
Dustin believes that it's important to give back for the simple reason that anyone could, at any time, need help.  
Even volunteers have challenges in their lives that can be eased through volunteering. One former Dyess We Care Team volunteer sent the organization a letter after she was transferred to another base. In the letter, she confided that she had been severely depressed before volunteering. She was young, far from home, without friends, depressed and contemplating suicide. During her volunteer experience, she made new friends; and so, her act of kindness toward others made a big difference in her own life. 
Dustin hopes to open a homeless shelter once he retires from the military, but rather than only providing shelter, he plans to empower people with life skills that help them get back on their feet including cooking, interview skills, shopping and more.  
Dustin believes that any act of volunteerism can have a ripple effect not just on the life of a recipient but their family, the community and the volunteer. Even his five-year-old son has been helping out on painting projects since he was three. Theirs is a family legacy that makes a difference. 
If you or someone you know may be considering suicide, contact the National Suicide Prevention Lifeline by dialing 988, or text HOME to 741741 to talk to a trained crisis counselor through Crisis Text Line. Both resources are anonymous, free and available 24/7. 
Do you want to make a difference in your community like Dustin? Find local volunteer opportunities.
Share this post