Texas Teen Seeks to Create a Kinder World Through Volunteerism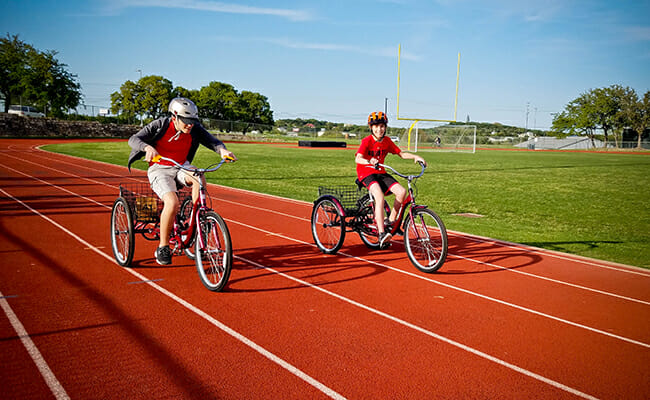 What makes a person truly empathetic? We know one thing it's not dependent on: age. At just 16-years-old, Jake Reid's generous heart and passion for service drive his determination to make a difference in the lives of others. The Spicewood, Texas, native has volunteered with more than 30 organizations – supporting animal shelters, food banks, children's hospitals, homelessness initiatives, and more. No matter the cause, Jake's mission of turning actions into positive outcomes for the people around him remains the same.
For the last five years, Jake has volunteered as a coach with his local Special Olympics chapter, making it his priority to ensure that the athletes are having fun. He strives to make sure that his participants enjoy each and every weekly practice, and that they become just as excited to come back as he is to help.
We spoke with Jake to learn about how his passion for service, and his vision for the world we can create together through volunteerism and service.
What inspires you to volunteer?
I've volunteered for many different organizations and I think my motivation is the knowledge that I have the power to make a positive impact in people's lives. For Special Olympics, it started as a whim and turned into the most amazing experience. It's a form of respect for my peers and appreciating the differences we all bring. To see happiness, success and creating life-long friendships is incredible. The most inspiring part of my volunteer work is the noticeable impact that I make on people's lives, whether it be by making someone happier, less cold, or less hungry than they were before.
How did you first get involved with Special Olympics, and what is your volunteer role with the organization?
I started as a Special Olympics volunteer coach for our local high school when I was in 7th grade. This upcoming season will be my fifth year volunteering for basketball, cycling and track, and my fourth year for bowling. We are currently in the second season of a newly established swim team. My role as a volunteer coach is to help support and encourage athletes' during practice for competition, but more importantly my role is to make sure that the athletes are having fun. I hope that they are just as excited to come back as I am to help. When I leave for college, I will find the local Special Olympics chapter in my area. I am a forever volunteer.
What's been the most rewarding part of your work?
The most rewarding part of my volunteer work is seeing the athletes' joy and achievements, and I'm honored to join in that celebration with them. I have a great sense of pride in watching them succeed. It's hard to measure the effect of volunteering for Special Olympics until you do it. It reminds us to have enthusiasm for life, tolerance and acceptance, and to give respect to everyone.
Do you have a fun or favorite memory with Special Olympics to share?
During one of our recent swim practices, Mark, one of our younger athletes, was practicing a new event he was thinking about competing in but was unsure. It was towards the end of practice when the entire swim team, including all the athletes, coaches and volunteers, stopped to watch him. The entire room erupted with cheers of encouragement and he was absolutely ecstatic. When he finished he announced that he would be competing in the event, while smiling from ear to ear.
What have you learned through your experiences as a volunteer?
Through my experience as a volunteer, I have learned that your time is one of the most important and valuable things that you can give to someone. While a monetary donation can be helpful, the friendships and connections you'll make are far more meaningful. If you can do nothing else, be nice to someone; even if you have nothing else to give to someone, your kindness will mean the world to them.
Are there any future volunteer opportunities, program or events that you are excited about?
I am excited about the upcoming swim competition to see that all the athletes' show off all their hard work, and basketball and track seasons since some athletes only participate in those two events. I am also excited for the upcoming volunteer opportunities I'll have as a new member of National Honor Society this school year.
Why do you think it's important for others to give back?
I think giving back can give you different perspectives, and you can realize the challenges others face. With these experiences, you grow and understand how important it is to bring people together and lift them up. I benefit as much, if not more, from my involvement. I think it's a good example for the next generation to teach others that kindness matters. If everyone in the world was more focused towards helping, we could probably solve many of the world's problems and improve the quality of life for everyone. Just imagine how wonderful our world could be.
What do you want people to learn from your story?
I want people to learn that volunteering can be just as fun as any extracurricular activity and, in my opinion, more important. I hope that from of my story, people will be inspired to make volunteering a more central part of their lives. One person can make a big difference, and every little bit helps.
Share this post