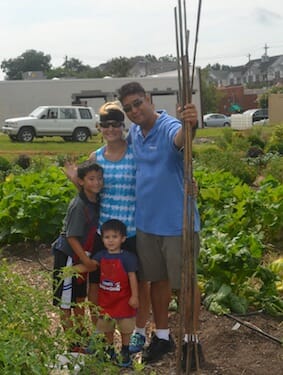 In honor of Family Volunteer Day, Nov. 23, Points of Light and Disney are recognizing families with the Daily Point of Light Award. Meet today's winning family, the Bangilans of North Carolina, and nomimate someone in your community.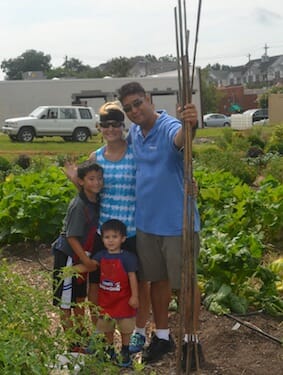 When the Bangilans volunteer, they like to get dirty.
Since moving to North Carolina two years ago, the family of four – parents Rod and Serina and sons Kevin, 8, and Crisanto, 2 – has volunteered many hours at the Raleigh City Farm, composting, staking plants, and harvesting fruits and vegetables used to feed the community's hungry.
The Bangilans have also volunteered through the local volunteer center Activate Good, a HandsOn Network affiliate. Through Activate Good, the family has helped with the Wilders Grove Project, which transforms recyclable material into public art, and with planting gardens at local elementary schools.
"My grandparents first taught me the value of giving," says Serina, a full-time mom. "I've been volunteering regularly since my teens because I was taught to put other people first. It's something I still believe in because I've witnessed that whenever I give, it always comes back to me. I want my kids to understand and experience that."
Years before moving to North Carolina, Serina earned a master's degree in childhood education and volunteered more than 1,400 hours of classroom teaching. She was also a volunteer tutor and active participant in many civic organizations in New York.
Rod, who works as a coding supervisor for Duke Health System, says Serina is the most active volunteer in the family, but he joins her whenever he has the time.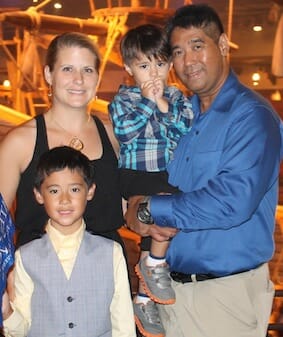 "I try to be as active as I can, but Serina takes the lead," says Rod. "Helping people is everyone's responsibility, and I believe we should do it without expecting anything in return. I want our children to learn the virtue of giving at a very young age."
And while the Bangilans' toddler is too young to appreciate the meaning of volunteer service, their older son already sees its value. This year, Kevin joined his parents in working on both the art project and school gardening, and says he plans to continue volunteering with his mom and dad.
"I'm glad I did it," says Kevin. "The gardening was kind of hard because it was a hot day. But it makes people feel good to have others around them who are helping to do stuff."
Serina sums it up this way: "The main driving force behind my family's desire to volunteer is the word 'hope.' Our dreams are not dreams without others. My dreams include helping others in some way because I believe that it is the secret to my happiness. When I contribute in making the world a better place, I in turn feel safer and at peace within."
Share this post