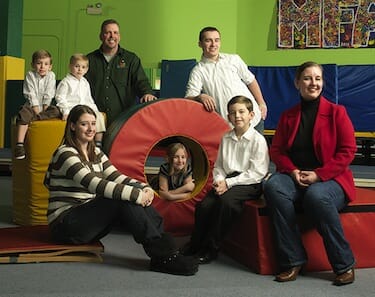 In honor of Family Volunteer Day, Nov. 23, Points of Light and Disney are recognizing families with the Daily Point of Light Award. Meet today's winning family, the Konkels of Illinois, and nomimate someone in your community.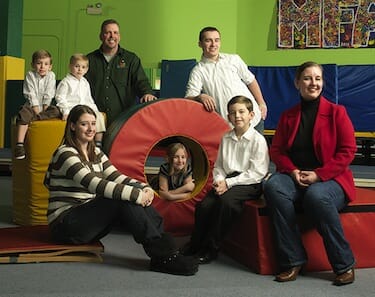 An accidental discovery launched the Konkel family of eight on a journey of community service.
It started about five years ago, when Shawn Konkel, the mom, happened upon a building called Maywood Fine Arts in the economically struggling town of Maywood, outside Chicago. Curiosity led her inside, where she discovered children's tumbling classes in session. She learned that Lois and Ernie Baumann had been teaching dance there for 25 years.
She also learned that in 1996, with help from the community, the Baumanns had created the nonprofit Maywood Fine Arts Association to combat escalating local rates of drug activity, gang involvement and teen pregnancy by offering kids exposure to the fine and performing arts through affordable classes in dance, art, music, drama and karate. Some former students had gone on to perform with the New York City Ballet and the Rockettes.
Shawn, who had studied dance for 15 years, was instantly enchanted by Maywood Fine Arts and became a volunteer.
"From that moment, everything changed in my life," Shawn told FamilyFun Magazine last year. "I realized one place could bring so much good into the world."
Soon, every member of the Konkel family was involved with the organization. Shawn, who runs a promotional product business, creates and sells custom clothing bearing the Maywood Fine Arts logo; all proceeds go to the association. With help from the whole family, Shawn also spends many hours planning and coordinating the annual Pumpkin Patch Parade, in which Maywood Fine Arts students perform for the public.
Shawn's husband, Don, volunteers as a handyman for Maywood Fine Arts. The Konkels' eldest children, Joe, 21, and Nellie, 19, assist with association rehearsals and productions. Two of their kids, son J.D., 12, and Margueritte, 10, attend courses at Maywood Fine Arts and also help sell their mother's promotional clothing. Even the two youngest Konkel kids, Jack, 6, and Jett, 5, help set up productions and clean up afterward.
In 2010, a fire damaged the studio where Maywood Fine Arts teaches dance. While Maywood temporarily teaches its dance classes in a church, the Konkels are hard at work raising funds to repair the studio. The family even produced a fundraising benefit that featured 20 dancers from the Chicago area.
Nellie says she is proud she can play even a small part in helping Maywood Fine Arts, which she describes as "such a little miracle."
"The founders, Ernie and Lois, literally dedicated every minute they have to the organization," says Nellie. "The magic that happens there is just something indescribable. And when you see something like that, you can't help but to get involved."
Share this post