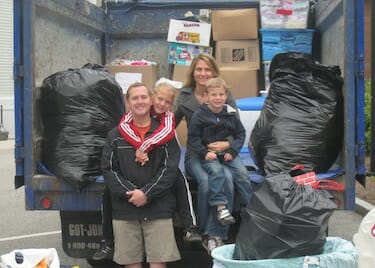 In honor of Family Volunteer Day, Nov. 23, Points of Light and Disney are recognizing families with the Daily Point of Light Award. Meet today's winning family, the Jacks of Massachusetts, and nomimate someone in your community.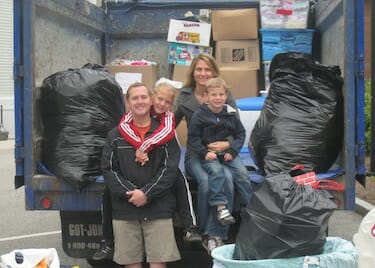 After the birth of her daughter, Lizzie, in 2002, Heather Jack wanted to become more involved in the community. She hoped her daughter, as she got older, would follow suit. The mom worried that kids were growing up more focused on themselves than others.
"There seems to be an increased desire among youth to become independently rich and famous, as young people seem to become more and more entrenched in their own secluded 'iPod culture,'" says Heather.
In order to help reconnect young people with the larger community and to tap into kids' "natural capacity for empathy and idealism," as Heather puts it, she founded The Volunteer Family. Heather began by meeting with parents and teachers in her own community of Ashland, Mass. Her mission was to help connect kids with service learning opportunities in their own neighborhoods. In 10 years, The Volunteer Family has grown into a national network that helps 20,000 children, parents and teachers identify and engage kids in local volunteer opportunities.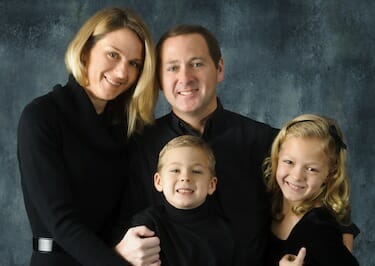 As Heather broadened her work with The Volunteer Family beyond Ashland, she often met teachers who faced a common problem: Even if students were willing – or required by their schools – to do community service work, it was difficult to find programs that were fun and meaningful to them.
In 2009, to address this challenge, Heather authored her own 300-page curriculum, Future Philanthropists, a hands-on course in philanthropy for middle school and high school students. The program, which is supported by two foundations and an annual fundraising appeal, teaches kids the essentials of philanthropy and how the nonprofit sector works. Students make their own visits to assess local charities and collectively decide where to make donations of $5,000 to $10,000. Since Future Philanthropists started, it has enabled 670 students in 58 locations to allocate $400,000 to community charities of their own choosing.
Today, both Lizzie, now 11, and son Alex, 8, are active participants in The Volunteer Family. Lizzie has helped her mother arrange a number of events and has initiated projects of her own.
"When I was in third grade, there was an earthquake in Haiti, and I collected 300 bars of soap to send them," says Lizzie. "It made me happy because I was helping complete strangers. And I enjoyed it because I was not just donating money, but doing something creative."
Alex, who has been helping The Volunteer Family for two years, says he "likes giving away stuff."
"This year, I took all my toys from my birthday party and gave them to the food pantry, where other children would get them," says Alex. "I was happy about it because I thought they would enjoy them more than me."
Husband and father Phil is an active volunteer himself in Ashland, where he serves on the Affordable Housing Council, Affordable Housing Trust and the Conservation Commission. He's proud of his wife's work in the community and beyond. "It's a very nice feeling to see what she's accomplished," he says.
As The Volunteer Family grows, and becomes too large for one family to oversee, Heather is working to ensure its sustainability by merging many of its programs with those of Doing Good Together, a Minneapolis-based nonprofit.
"I'm happy that I've been able to make a contribution," says Heather. "But mainly, I hope I've been able to help teach other people to have an impact. I think it's very important to find your passions and talents, and align those to benefit others."
Share this post