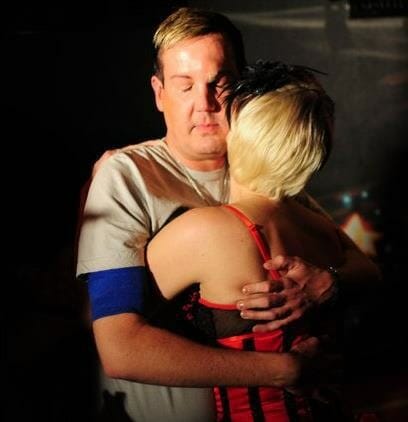 Meet Daily Point of Light Award honoree The Barber Fund. Read the organization's story and nominate an outstanding volunteer or organization as a Point of Light.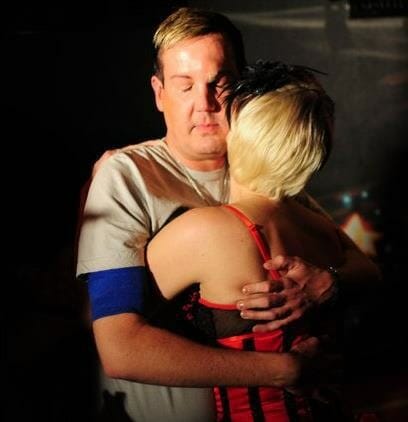 John Barber gets a hug during a fundraiser in his honor.
When serious illness strikes, taking medicine, meeting with doctors and scheduling tests consumes time and money. Little of both is left for the mundane business of day-to-day living – paying the rent, buying groceries, playing with pets.
Blue Star, an Orlando, Florida-based choreographer and theater owner witnessed this firsthand in 2010 when she "embarked on quite the cancer journey" with her ailing friend, John Barber. To help, she and some friends decided to organize a fundraising party for Barber, who had been diagnosed with sinonasal carcinoma, a rare form of cancer of the nose and sinuses.
"John knew everyone – he couldn't walk down the street without someone saying `hi' to him," she says. "So the turnout was amazing. He loved Broadway musicals, so we staged a revue and even the entertainers donated their tips."
When Barber passed away a year later at age 39, Blue threw one more fundraiser in his name for The Barber Fund, the foundation that Barber co-founded with Star before he died.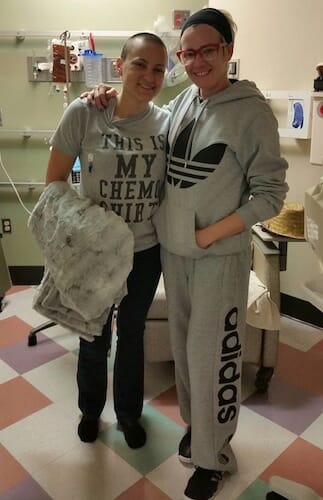 Cancer patient Laci Schweneker, left, holds a "chemo blanket" she received from Barber Fund co-founder Blue Star, right, to keep her warm during chemotherapy.
The foundation's mission: to help those living with cancer manage daily expenses and appointments.
So far, the foundation has "adopted" 15 people – from the first recipient who was diagnosed with a rare cancer similar to Barber's condition, to a 5-year-old with neuroblastoma (a childhood cancer of the nerve cells) who has now entered remission.
"Because a lot of my extended circle is in the entertainment business, we tend to put on shows," says Star. "We like to say we put the `fun' back into fundraising."
The nonprofit stages a fundraiser every three months for a different person, drawing its pool of both cancer patients and donors mainly via word of mouth. It caps the total amount of money raised for each person at $5,000 – or three months' worth of bills – to help as many people as possible.
The foundation also offers nonmonetary support, such as accompanying patients to doctor's visits, running errands or simply lending an empathetic ear.
"Every day I wake up and thank John for giving me this humbling gift," says Star, whose mother is a breast cancer survivor and whose father has stage 4 colon cancer. "Sitting in the cancer center when someone is receiving an infusion and seeing their courage and bright attitude helps me more than I help them."
Share this post