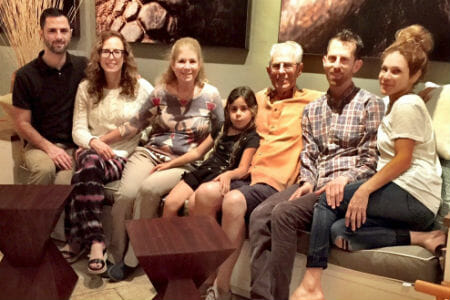 Meet the Engelman family of Santa Monica, California, Daily Point of Light Award honorees. Read the family's story and nominate an outstanding volunteer, family or organization as a Point of Light.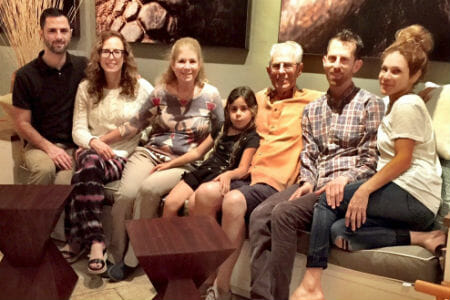 The Engelman family
When Eric Engelman was diagnosed with multiple sclerosis at age 23, he vowed not to let it slow him down. Twelve years later, Eric is a successful businessman and father. Inspired by Eric and guided by a commitment to volunteer service, his entire family has made it a tradition to support the National Multiple Sclerosis Society – raising more than $1 million.
It was Eric's sister, Traci, who suggested the California-based family participate in the chapter's annual Walk MS fundraiser. She was living across the country in New York, but nonetheless, in its first year, Team Engelman had 25 walkers and raised $22,000. The team's goal: to "help the National MS Society fund research, advocate for change and help people with MS live their best lives."
Over the years, the family has helped bring in donations from all over the country. As many as 80 walkers have participated in a single year.
"Our annual walk team is a vital family activity," says dad Barry. "We spend hours together sending emails, mailing letters, updating the team website, educating friends and family and strategizing how we can get even more people involved."
And they don't just walk. Seven years ago, Traci and brother Jamie, who also designs the team T-shirts, decided to branch out and form a team for the annual Bike MS Coastal Challenge. Their team – Rowdy Riders – raised nearly $30,000 in its first year and this year, the 75 cyclists on the team are projected to raise $150,000.
"I've always had the fundraising and volunteering bug," Barry says. "My parents were involved in the Jewish Federation all their lives, as volunteers and raising money for federation activities."
Barry's volunteer service has included a continuation of his parents' commitment to the Jewish Federation and 20 years of fundraising and board membership with the Juvenile Diabetes Research Foundation, a relationship that began when a friend's son was diagnosed with Type 1 diabetes.
"My wife Julie, along with Traci, Jamie and Eric, have all been part of the family tradition of giving," Barry says. "When Eric was diagnosed with MS in 2003, it was natural for us to turn our attention to working for a cure – and better treatments – for MS."
Barry, who is on the board of the Southern California and Nevada Chapter of the National Multiple Sclerosis Society, retired this year from his career as a financial adviser. Julie retired from teaching five years ago. For them, retirement presents more opportunities to give back.
"With more time, I can go to conferences and also support other causes that are important to me, like the Commission for the Senior Community here in Santa Monica and the Climate Reality Project," Barry says. "Julie is very interested in working with foster children as a Court Appointed Special Advocate as well as our family support of Team Engelman and Rowdy Riders."
To support the Engelman family's National Multiple Sclerosis Society fundraising efforts, visit the webpages for Team Engelman and Rowdy Riders.
Share this post