The Family that Gives Together: Teaching Service as a Family Value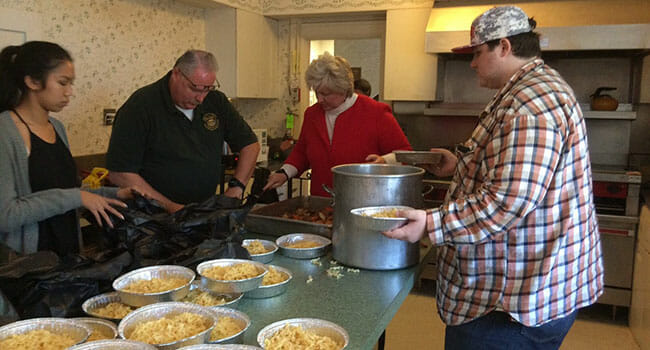 Meet Daily Point of Light Award honorees the Winklers. Read their story and nominate an outstanding volunteer, family or organization as a Point of Light.
"We've always tried to instill in our kids that you need to be involved in the community you live in and give back in some way," said Beverly Winkler.
It's this very way of thinking that is at the core of the Winkler family's giving spirit.  For Beverly, her husband Wayne, 17-year-old daughter Cianna and 21-year-old son Zachary, giving back is a family affair that is a constant part of their very busy lives.
In fact, because finding ways to improve the lives of others is often on their minds, it becomes a frequent topic of conversation. One of those conversations involved the Winklers and a family friend, Eileen Kuhn. Discussing the topic of elderly people who depend on food delivery from nonprofit organizations in their area, Eileen and the Winklers were concerned that many of these people do not receive deliveries on the weekends. Especially with the economic downturn, they realized their neighbors had a need – and they could help. With a little seed money from their church and money from their own pockets, Sunday Suppers were born.
"We decided to try the first Sunday of the month because we looked at when folks would get their checks from the state or welfare," said Beverly. "It seemed that the first weekend was typically a harder weekend, according to our social services contact."
The First Presbyterian Church of Verona, in New Jersey, provides Eileen and the Winklers access to its industrial kitchen each month, as they bring in an army of volunteers to cook and deliver food to those who need it most.
Recipients are identified through Verona Social Services and they are then asked to fill out an application, which gives Beverly and her crew an idea of food allergies or special needs. Knowing that this may be the most nutritional meal these folks have received in a while, the team works hard to plan the menu carefully. Each meal contains one or two vegetables, a carbohydrate, a protein, a roll and a dessert. They also want the meal to be something special, something close to a traditional after-church meal that the patrons would like to have with their own families, if they could.
"We've never repeated a meal. The main courses have never been repeated," Beverly said, proudly.
"Eileen and I are always looking for new recipes on Facebook and elsewhere, and then we'll price it out."
They make an effort to use seasonal ingredients and prepare meals that match the time of year.
"For the Fourth of July, we try to make it fun with hamburgers and corn on the cob and things like that," Wayne added.
Once they know the number of meals needed for the month, Beverly and Eileen scope out grocery and wholesale stores, to see what's on sale, what's in season and what will make the most nutritious and delicious meals within their budget. They keep meals priced around $3 apiece, including the packing containers used for delivery. While Beverly admitted that she and Eileen still pitch in a little money each month, they are able to continue to serve the community through donations from individuals and local businesses.
After the food is purchased, cooking and prep become an all-hands on deck affair. The cooking begins on Saturday when most of the meal is prepared. Sundays, they reheat and deliver, aiming to deliver all meals by noon. The whole family gets to work, as well as several volunteers.
"Cianna likes to clean and cut up the vegetables," Beverly said. "[She] has recruited several of her friends to come most Saturdays to help us cook and bake desserts. Because we aren't just baking a dozen cupcakes; We're baking and frosting 60, 70, 80 cupcakes!"
Wayne pointed out that many high schools in Verona require students to earn a certain amount of volunteer hours in order to graduate. While the initial motive for the teens to join may be out of an interest in meeting those hours, he said that isn't why they return every month.
"When I asked [my friends] to do this, they said, 'Yes!' because we were together and it didn't matter what we were doing. We were having fun," said Cianna, echoing her father's sentiment. "It's community service, but no one thinks about it that way. We are having fun and helping others. It's not a chore."
Big brother Zachary, himself an Eagle Scout, also pitches in with packaging and delivery. He too has made it an activity to do with friends. Delivering the food is a special experience for Cianna, Zachary and their friends.
"Most of the time, these people only ever see us. Their family and friends don't visit. We know this one lady who asked to take a picture with us and she framed it," said Cianna.
"A lot of them are just standing around indoors, waiting for them," Wayne added.
But this monthly endeavor isn't the only way the Winklers are giving back.
Each year Zachary and Cianna are teen sponsors for their church's toy and coat drive, bringing more comfort to families in need. For the past two years, they have gone beyond the traditional toy drive and visited schools in some of the poorest areas of Newark, New Jersey, to throw a holiday party.
"It was really sweet because [for] some of these kids, this will be the only toy they got this Christmas," said Cianna. "It was really nice to see them really excited about this. We might take getting a gift for Christmas for granted and this is the only thing that they will get."
Through a program called Cardboard City, organized by her church, Cianna has learned first-hand about the struggles that people in the community go through. The program simulates the environment of living on the street by creating a cardboard city outside the church. The teens spend the weekend living in their cardboard boxes without cell phones or basic necessities. They must rely on the kindness of strangers. Though it is done under adult supervision, the program provides an interesting experiential learning opportunity.
Cianna's experience with the Cardboard City led her to start an ongoing drive at church to collect items for Blessing Bags – bags packed with necessities such as Band-Aids and socks, which are delivered to the homeless shelters near Verona and in Newark.
It's clear the Winkler children are on a mission to continue making the world a better place for others to live in. While the Beverly and Wayne say, "this is just how we always were," teaching their children to give back has been a priority in their family
"I have said to them, if you can just help one person with something little to help them be better, then that's all that matters, " Beverly said.
Do you want to make a difference in your community? Find local volunteer opportunities.
This post was written by Rebecca Angel Baer.
Share this post