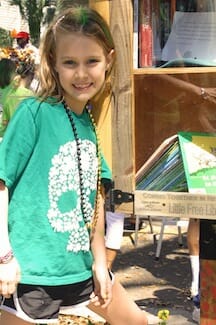 As we celebrate National Volunteer Week – sponsored by Advil® – meet Daily Point of Light Award winning-Leali family. Read their story and nominate someone you know as a Daily Point of Light.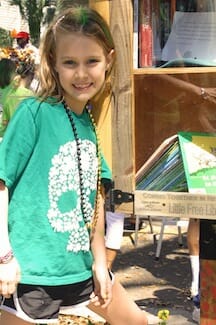 Walk past the Leali home in New Orleans and you'll notice a large wooden structure with glass doors near the sidewalk. Locals say it resembles a giant birdhouse or a miniature, old-fashioned schoolhouse. Stocked with 50 to 80 books and bearing a sign that reads, "Take a Book. Return a Book," the mini-building is the Little Free Library 8-year-old Nikki Leali founded.
Since 2012, the always-open facility has allowed kids and adults in the neighborhood to browse, select and – if they wish – keep books of interest to them.
When Nikki was 6, she and her family heard that Little Free Libraries were cropping up in neighborhoods throughout New Orleans. The idea was originally started as a nonprofit by two social entrepreneurs in Hudson, Wis., and was spreading nationally and even internationally.
New Orleans is a city especially concerned with the problem of childhood literacy. The Public Library Foundation estimates that 44 percent of city residents are functionally illiterate and that many children have never owned a book. Illiteracy is linked to crime, unemployment and poverty.
To start her own Little Free Library, Nikki personally applied for and received a grant to do so from a local church. Later, the mayor's office gave Nikki additional funding and a Boy Scout troop volunteered to help build Nikki's front-yard library.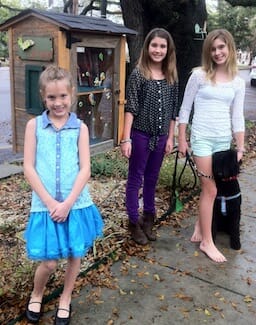 According to Nikki's mom, Joelle, as many as 100 people a day visit the family library, and often 50 books a week will be kept by visitors, which has prompted the family to participate in book drives to replenish the library inventory.
Last year, Nikki held a book drive on Global Youth Service Day, held over a weekend in April. She brought in 1,900 books, which she used to stock her own library and help the more than 20 Little Free Libraries throughout New Orleans. Nikki is now preparing for her second drive for Global Youth Service Day, April 11 to 13 this year.
Nikki also received a grant from Disney Friends For Change to hold a book donating and swapping party and to purchase books. In addition, Nikki has received book donations from the Friends of the New Orleans Public Library, the nonprofit KaBOOM!, the Society of Children's Book Writers and Illustrators and Barnes & Noble holiday book drive. Several local bookstores have also provided donations.
While Nikki is the head librarian of the family, she is assisted by her twin sister Josie, sister Jenna, 11, and by her parents, Joelle and Robert.
"My favorite part is putting out the books and decorating the library for the season," says Nikki. "I'm very happy with the library because a lot of kids don't get many books of their own, and here they are free."
Joelle says she is amazed at how much the library has meant to the family: "We get more out of it than we give. We love helping the community, but you should see the smiles on our daughters' faces when someone takes a book."
Share this post