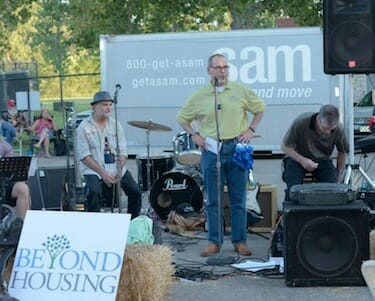 As we celebrate National Volunteer Week, meet Daily Point of Light Award winner Rich Ryffel. Read his story and nominate someone you know as a Daily Point of Light.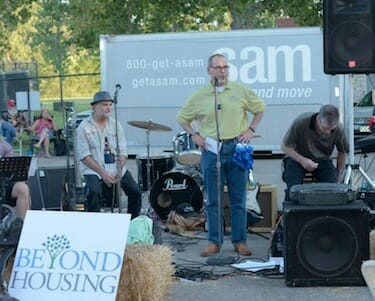 Rich Ryffel was introduced to the nonprofit Beyond Housing – and volunteerism in general – through a business colleague. Since 1999, he has been a fixture on Beyond Housing's board, working tirelessly to recruit board members, promoting the organization through regular speaking engagements and overseeing some of the group's most successful new programs.
Founded in 1975, Beyond Housing has worked to help low-income families secure affordable housing and to prevent foreclosures. In more recent years, it has expanded it mission to improve the overall quality of life in communities it serves.
"I started volunteering 15 years ago serendipitously," says Ryffel, an executive with JPMorgan Chase. "If I had it to do all over again, I'd start sooner. If I win the lottery tomorrow, I'll become a full-time volunteer."
Ryffel just completed four years as board chair of Beyond Housing, and is sitting out for a year from the board because of term limits. During his tenure as chair, Beyond Housing produced or acquired more than 100 housing units, built a senior housing facility, established a grocery store in an area where residents previously had to travel three miles to shop for food and helped to open the first bank in 50 years in a depressed area of St. Louis County.
Ryffel also launched Beyond Housing's "24:1" economic development initiative to serve St. Louis County's Normandy School District, which comprises 24 municipalities and has a population of around 50,000. The district faces serious economic, education and housing problems. By bringing residents and town mayors together to determine the specific needs of the Normandy district, Beyond Housing was able to secure $3 million dollars for development projects in the district over the next five years.
Of all the projects he has overseen at Beyond Housing, Ryffel says he is proudest of helping to open the grocery store, located in the Normandy School District town of Pagedale.
"These people had nowhere nearby to shop for groceries, and developers thought it was not economically viable to open a store," says Ryffel. "That means the area was what we call a 'food desert.' I happened to meet a man from the discount food store chain Save a Lot and asked him about Pagedale. He was interested. Beyond Housing had to buy the land with grants, and financing was very difficult, but two years later the store opened and is doing well."
The new Save a Lot store is located close to a senior center. To serve other Pagedale residents, Beyond Housing was able to arrange bus service to the store.
In his 15 years working with Beyond Housing, Ryffel says he has done just about everything, from working behind to scenes as a fundraiser to operating Bobcat heavy equipment to turning out on the group's annual father/daughter day to help renovate houses purchased by the organization.
"I love helping in any way I can," says Ryffel. "I always think of the story of the man who finds a beach covered with stranded starfish. He starts throwing them back into the ocean. Another man sees him and says, 'There are too many. You can't help.' The first man holds up a starfish and says, 'I can make a difference for this one.' That's how I feel. I can't change the world, but that's no excuse not to change a life."
Share this post