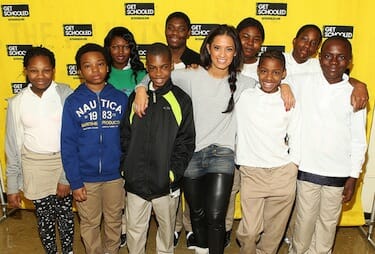 For helping kids stay in school and reaching out to her community in various ways, television personality Rocsi Diaz received a Daily Point of Light Award in Los Angeles. The ceremony was part of the One America campaign, led by Points of Light and Chase, to unite people in volunteer service. As we also celebrate National Volunteer Week, read Diaz's story and nominate someone you know as a Daily Point of Light.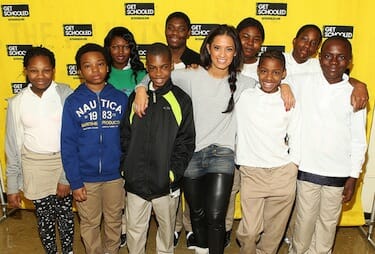 Known for her charismatic personality and winning smile, Rocsi Diaz has become popular with millions of television viewers as co-host of "Entertainment Tonight" and formerly of BET's "106 & Park." Behind the camera, and the smile, is a deep commitment to social and humanitarian causes.
Diaz spends much of her time volunteering for a wide variety of organizations and even launched her own foundation, RocStar, to help rebuild and repair public schools in New Orleans after the area was devastated by Hurricane Katrina in 2005. Along with other popular figures such as basketball legend Magic Johnson and actor Hugh Jackman, Diaz is an active participant in Get Schooled, an organization that uses the media and celebrity ambassadors to help inspire and empower kids nationwide to finish high school and go to college.
Diaz, who grew up in New Orleans, launched the RocStar Foundation after learning that thousands of children in the city were unable to return to public schools that had been damaged or destroyed by Katrina.
"There were many charities helping in New Orleans after the hurricane, but it wasn't always clear to me how the money would be used," says Diaz. "I wanted to start an organization and guarantee that all the money raised would go to helping schools."
Working through RocStar, Diaz and celebrity friends raised more than $250,000 for the foundation's first project: rebuilding Diaz's alma mater, West Jefferson High School, which had served as many as 6,000 students before it was destroyed by the storm. Diaz contributed everything from money and moral support to physical labor as the school was rebuilt.
"It was amazing going back, along with (NBA star) Alonzo Mourning, to help my old school," says Diaz. "I cried. I just like knowing that the place where I have so many good memories is still up and running and will be providing good memories for new generations of kids."
The RocStar Foundation later gave college scholarships to some West Jefferson students and has subsequently funded repairs to several other New Orleans schools.
In 2011, Diaz got involved with Get Schooled when the group's foundation partnered with New York City to create the Wake Up! NYC campaign to fight truancy and chronic absenteeism in the public schools. Diaz and other celebrities recorded personal "wake-up calls" for students. When the program was launched, 6,500 students with attendance problems in 25 target schools began to receive the calls each morning.
"It's cool," says Diaz. "They hear me saying, 'Wake up, get out of bed and get to school on time!' The kids love getting a wake-up call from their favorite celebrity. They tweet me and say, 'Was that really you?'"
Through Get Schooled, Diaz has also traveled to cities throughout the country to speak to thousands of middle school and high school students about the importance of education. In Los Angeles, at an event sponsored by Get Schooled and the chamber of commerce, she spoke to thousands of graduating high school seniors and their parents about how to apply for state grants for college.
"Education is by far the most important issue," says Diaz, who has visited troops through the USO and supports animal rights and women's health organizations. "I want to do everything I can to encourage youth to stay in school and go to college. If we put enough energy into it, I think there's no limit to what we can accomplish."
Share this post