In honor of Family Volunteer Day, which was Nov. 23, Points of Light and Disney are recognizing families with the Daily Point of Light Award. Meet today's winning family, the Louies of California, and nomimate someone in your community.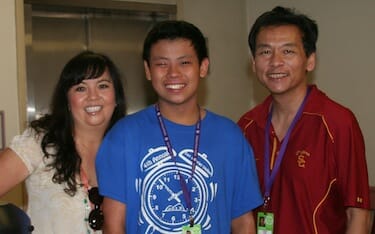 When Steve Louie's alma mater put out a call for volunteers, Louie decided to make it a family outing. For the University of Southern California's Alumni Day of SCervice, the family headed to the Keiro Intermediate Care Facility, which serves elderly Japanese Americans in the Los Angeles area.
Steve, his wife, Julie, and son, Matthew, enjoyed the experience back in July 2012 so much that all three went through formal Keiro training and have volunteered at Keiro one or two days a week ever since.
Every Thursday, the Louies of Montebello, Calif., prepare snacks and then push snack carts through the facility, delivering coffee, tea and sweets to the residents. And almost every Sunday, the family volunteers to accompany residents – most of whom require walkers – on an hour-long walk.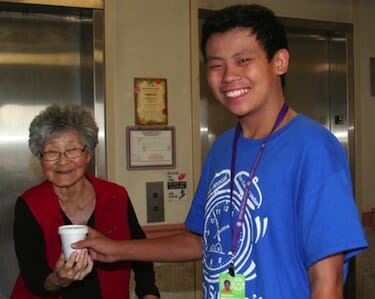 "It gave me a good feeling from the start," says Julie. "It's family-oriented, so it's a way for Matthew to learn about compassion. But it's important for me, too. I work a full-time job and I'm sometimes very tired when I get home. Every Thursday, I know we're scheduled to go back out to Keiro, where I see all the friends I have made. They're very appreciative of what we do, and I always feel very good afterwards."
At the Day of SCervice event, Matthew was worried he wouldn't fit in, but he quickly got caught up in the activities.
"I played blackjack, poker and worked on puzzles with the senior citizens," says Matthew, now 15. "I thought I wouldn't be good at it, but it was a lot of fun. It was just like being with my own grandparents. Plus, I have learned to be more patient and understanding of people when they get older."
On Sundays, Matthew enjoys sitting and talking to seniors who remain at the facility because they don't have walking partners for the day.
"Many of them are lonely, and they love the chance to talk," says Matthew. "They tell me amazing stories of life in Japan, life in California long ago and about living through the internment during World War II. Their stories have been an education for me. Some of them don't speak English, but they still sit and talk to me in Japanese. I can't understand them, but I don't feel there's a language barrier. They just want to talk to someone, and I feel totally connected to them."
Matthew adds that he never feels an age gap when he visits the seniors: "The most valuable lesson I've learned is that ages don't matter when it comes to friendship. They are always happy to see me, always grateful for anything I do, and they always like talking to me. I love being there for them."
Steve, whose parents endured great hardship both before and after emigrating to the U.S. from China as 12-year-olds, says volunteering at Keiro has reconnected him with the tradition of respect he learned as a child.
"I've been fortunate," says Steve. "My parents worked very hard and gave me a good life, but they also taught me respect, volunteerism and appreciation of life. I'm proud that I have the chance to give back at Keiro, and I want to pass the things I was taught on to Matthew."
Share this post