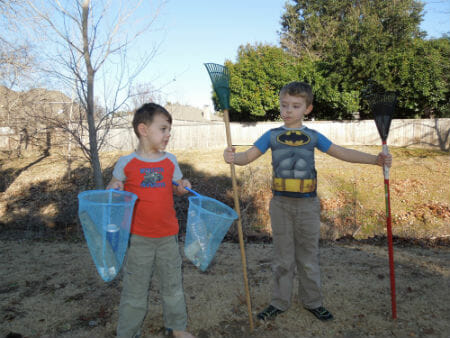 In honor of Family Volunteer Day, Nov. 21, Points of Light and Disney are recognizing families with the Daily Point of Light Award. Meet today's winning family, the Sjolseths of McKinney, Texas, and nominate someone in your community.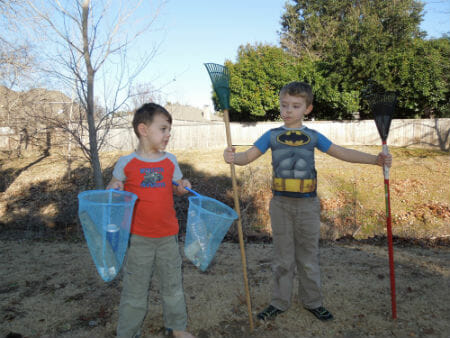 The Sjolseth brothers, Merritt and Everett, help clean up a creek.
For the Sjolseth family, giving back is so, well, daily.
For the past three years, the family – Erik, 44, Sheila, 40, Everett, 9, and Merritt, 6, have made it a point to give something back and perform acts of kindness every single day.
"It's not big acts of service that changes kids," says Sheila. "It's the small daily repetitive actions, that 20 minutes a day where we all think about something else other than ourselves. It's a way to fight the sense of entitlement that so many kids have. It's helped make us a happier family, and made them so much kinder, in general and to each other."
Sheila and Erik share a lifelong commitment to service. But they didn't want the kids to just be tagalongs.
"Sheila came to me when the boys were 3 and 5 and said, 'I'm going to do a community project with the boys every day,'" Erik recalls. "And I said, 'OK, for how long?' And she said, 'Every day, forever.'"
Part of Sheila's inspiration was born from tragedy. When a close friend lost her 21-month-old daughter Penny in an accident, Sheila felt humbled by her friend's strength and love in response to loss. Sheila founded a nonprofit, Pennies of Time, which provides resources to help make serving reasonable and doable for children of all ages and their families.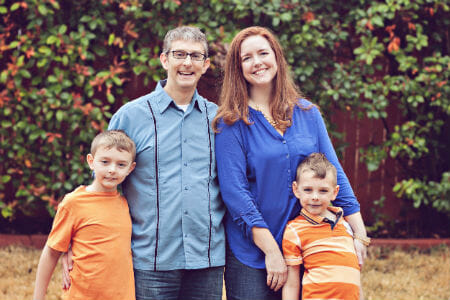 The Sjolseth family, from left, Everett, Erik, Sheila and Merritt
"A few minutes a day is just a penny of time, but it makes a big difference," Sheila says.
The impetus to start Pennies of Time was also practical. "We found that most big nonprofits shut the door on having small children serve," says Erik. "We didn't set out to start a movement or even a nonprofit. We set out to do service with our boys and nobody was really out there doing it."
From the beginning, the parents incorporated fun, dress up and play into their daily acts of kindness. For example, the boys dressed as ninjas and came to the local emergency room to tape bags of coins onto vending machines.
"The point is to talk before and after," recalls Sheila. "For them to understand that people who are hurt and in the emergency room don't always have money with them and they get hungry and can't get something to eat or drink. It's critical to take time right after to reflect. OK, what went well, how did we help? That gets them thinking."
Sheila understands that busy parents might feel overwhelmed at the very thought of trying to organize their kids into service projects. Which is why mindful acts of kindness can start at home.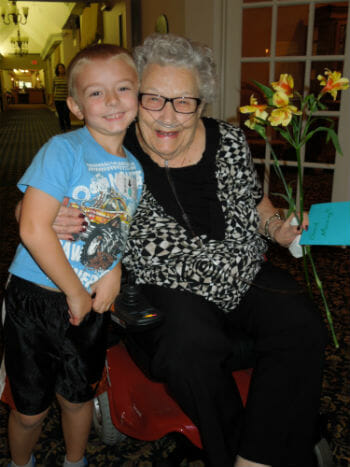 Everett Sjolseth, left, brings flowers to a nursing home resident.
The Sjolseths have what Sheila calls compassion conversations at the dinner table. The topic may come out of a jar filled with little scenarios and questions. Something like – you saw a friend during recess tell another friend they can't play with them and they walk away feeling sad. What do you do? "There are no right or wrong answers," says Erik. "But it's having the conversation that gets everyone thinking."
Then there's the stealth Kindness Kangaroo, one of the boys' favorite feel-good games. The stuffed toy is the harbinger of kindness – whoever has him, does something kind – say, clean the kitty box for Mommy, and leaves the mascot as his calling card. Then it's Mommy's turn to do something kind and leave the kangaroo for the next person. And so it goes.
The Sjolseths' younger son, Merritt, says his favorite way to serve is by cleaning trash from a local creek: "It's better for the frogs that way." Older brother Everett likes getting friends involved in projects and agrees that the weekly creek cleanup is fun. "It's really muddy though," he says.
What Sheila and Erik didn't expect was what their boys were going to teach them about kindness.
"There've been times when I was rushed, or we didn't plan to make a stop, but they have really insisted," she says. "Not every day is a golden day of helping out – sometimes we cut something short if it's not working. But then there's always tomorrow to try again."
See how your family can get involved on Family Volunteer Day at www.generationon.org/fvd.
Share this post