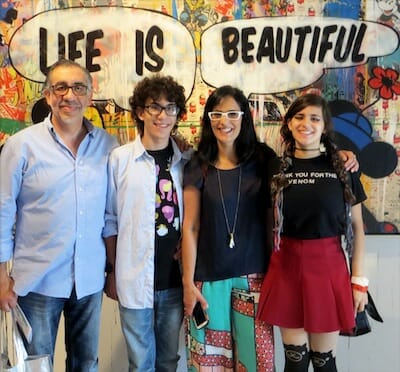 In honor of Family Volunteer Day, Nov. 21, Points of Light and Disney are recognizing families with the Daily Point of Light Award. Meet today's winning family, the Ulloa family of Florida, and nominate someone in your community.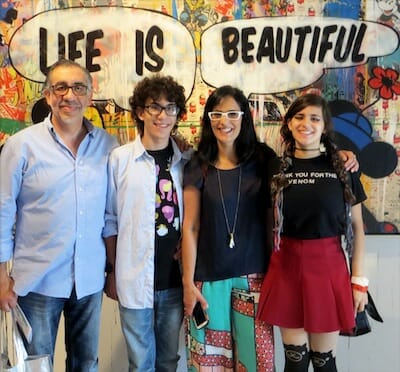 The Ulloa family, from left, Ricardo, Nico, Cristina and Natalia
For the Ulloa family, giving back has been an international endeavor. But it didn't become hands on until they came to the United States.
In Colombia, says mom Cristina, the family donated money to various causes. But their community involvement deepened when they moved to Weston, in Broward County, Florida.
"Weston is such a small community, and we felt very welcomed," she says. "We started looking for ways to be involved in the community more. We wanted a way to pay our blessings forward."
Several opportunities emerged three years ago through HandsOn Broward, part of Points of Light's HandsOn Network. HandsOn Broward connects residents to local volunteer opportunities.
As architects, Cristina and her husband, Ricardo, were drawn to Habitat for Humanity, but their twins, Nico and Natalia, have been more deeply involved with the Movies, Muffins & Beyond project through their local Ronald McDonald House in Fort Lauderdale. The kids get to bake muffins and cupcakes for and watch movies with the families staying at the house to be close to their sick children, who are undergoing treatment at nearby hospitals.
In many ways, Cristina says, both volunteer opportunities give her family the chance to help other families who aren't all that different from hers – parents trying to do their best and provide for their children.
As Habitat volunteers, the Ulloas construct homes alongside the families who will eventually live in the dwellings. Even though her children can't participate in building or painting until they're 16, they've still found a way to contribute – they pack and distribute snacks to all the workers.
Handing out snacks might be a small way to give back, but it lets the Ulloa kids feel like they're part of giving someone a home.
"[My kids] enjoy the volunteering – it makes them feel good about themselves," she says. "They feel good about helping other people."
That's a big reason why they enjoy their volunteer time with Movies, Muffins & Beyond. Many families spend months at the Ronald McDonald House, so many children get the chance to participate in the event several times. It's given the Ulloa kids the opportunity to get to know them, and it offers a level of continuity for the children living there, Cristina says.
The Ulloas' son, Nico, now leads the monthly gatherings. He schedules times and coordinates the number of volunteers and families that participate.
"The most important thing is to volunteer directly and with gusto," he says. "I want to leave a footprint and create far-reaching benefits."
Share this post