Third-Generation Volunteer Firefighter Safeguarding Community Through Service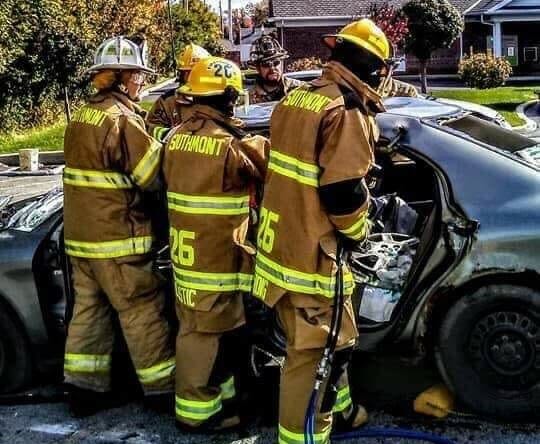 John Butler is a third-generation volunteer firefighter who trains new members, recruits, fundraises and helps to lead his department. In response to those who call him a hero – the Johnstown, Pennsylvania resident says his service is just what he's trained for, nothing more.
Volunteering alongside his dad, his grandfather a former volunteer and his brothers also a part of the family legacy of service, the 43-year-old runs the family business during the day – a garage and body shop, and in his spare time, serves as a volunteer firefighter for the Southmont Borough Volunteer Fire Department.
Giving back when the community needs it most, John is on-call 24/7, prepared to confront danger and assist his neighbors, and is today's Daily Point of Light award honoree. Points of Light spoke to John to learn more about his work with the Southmont Borough Volunteer Fire Department.
What inspires you to volunteer?
It's just something I enjoy – I like to help people in need. It makes me feel good.
Describe your volunteer role with fire department.
You stop what you're doing and you just go when there's a call for help. Usually if I'm at work, my dad will go on the call. I'm not doing this for anybody but me. I enjoy volunteering, but it has its ups and downs. I've seen some terrible stuff on calls, those are the ones that are always in the back of your head, but then there are the good moments. I rescued people out of a home that was on fire – that felt great. It's something I'll never forget.
Wow, you rescued people out of a burning home. Tell me more about that.
It was a full first-alarm fire. The two people were in the home, I'm close friends with these people, we'd serviced their cars – but I'd never been in their home before. I just happened to be in the area, and realized the home was on fire. The front door happened to be open because the couple was waiting for their daughter to come home. I ran in and looked around, but didn't find them. I ran around the back and just started opening doors. They were sound asleep in their bed, the fire had stopped just shy of their bedroom door. They would have slept right through that fire. They told me the next day they sleep with a gun, and I was lucky I didn't get shot saving them (laughs).
That's pretty serious. What about some of your lighter calls? Have you ever rescued a cat from a tree?
I've had some cats stuck down some sewer grates. Once, at three o'clock in the morning, we got a call to go get a bat out of someone's home. I said, 'Are you kidding me? We're turning back to the bat cave!'
Why is it important to volunteer?
It's so hard to get people to volunteer. You have to go through 200 hours of training to join our volunteer fire department, but there are other ways to give back. You can do the books, you don't have to be the one running into the fire.
Why do you think it's important for others to give back?
I think everybody should at least make an effort to try to do something for their community. It makes you feel better, and it makes the community feel better.
What future events do you have coming up that you're excited about?
Check our Facebook page for more information about our events, and how you can help: https://www.facebook.com/Southmont-Volunteer-Fire-Company-881268238634293/.
Do you want to make a difference in your community like John Butler? Visit All For Good for local volunteer opportunities.
Post written by Marlena Militana.
Share this post