Veteran Spends Retirement Bringing Joy to Kids in Need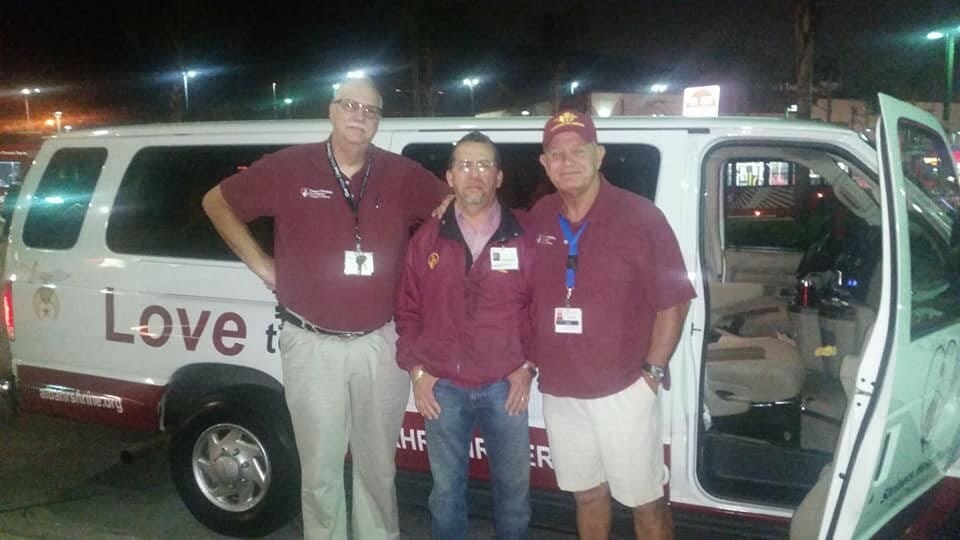 William Romer spent a long, impressive career in the Navy, serving in the Vietnam War and eventually achieving the rank of Master Chief. But after 20 years of service, he found himself retired with not a lot to do. Then Al Bahr Shrine — a San Diego-based nonprofit that serves as an offshoot of Freemasonry — asked for volunteers to drive kids in need to the Shrine's medical center. William, a Shriner since 2003 who was already volunteering as a clown at the organization's events for kids, found himself signing up.
Since July 2015, William spends once a week driving about three hours to the Tijuana border to pick up children and their families at 5am in order to make it to their medical appointments at Shriners for Children Medical Center in Pasadena. He and the other drivers spend the day waiting for the children to finish their treatments, and then turn around and drive them back home. William describes what he does as "a labor of love." He is today's Daily Point of Light Award Honoree, and we spoke with him about why he chooses to dedicate his time to the kids of Shriners for Children Medical Center.
Describe your volunteer role with Shriners for Children Medical Center.
I belong to Al Bahr Shrine. It's one of the many Shrines throughout the country. It's an offshoot of Freemasonry and the charity that they chose. In 1922, they developed the hospital for children with polio. From that original hospital in 1922, we have now 22 hospitals and five burn centers located in Canada, Mexico and the United States. They've branched out from polio and crippling diseases, to cleft palates and minor surgeries. Our charity is to make sure the kids that are in the program get delivered to the hospital or to the medical center for their appointments, and get them back to their places of abode. What our Shrine does here in San Diego is take patients from Tijuana, they come across the border into San Ysdiro, we load them to our vans and we take them to Pasadena to the medical center. Once we get there, they do their appointments and we just sit back and wait until they're done, and we bring them back to the border until they have their next appointment. I'm a volunteer driver for that so I make a trip to Pasadena about once a week. I've been driving since July 2015 on a regular basis, taking kids to the hospital and medical center and back.
What inspired you to volunteer?
The Shrine asked for volunteer drivers and since I retired and didn't have a lot to do, I went ahead and signed up to do it. It's basically a labor of love. We're not getting any pay for it, the Shrine takes care of the vehicles, the Shrine pays for the gas, all we do is make sure the parents and their children get to their appointments on time and back home safely.
If it weren't for the drivers, would the patients have any other option to get to the center?
They would but that would be out of pocket for them. The hospital is irregardless of the parents' ability to pay for the appointments —basically the hospital picks up the cost of driving them there and back, and their meals and stuff, so the parents don't have to. Most of the patients we are seeing are destitute or can't afford the medical care that they're asking for because of the condition that the children are in. It's sort of like a last effort to have any medical service done on the kid because they can't afford it. Our Shrine doctors do such a great job with them, it's just fantastic. It makes your heart break to see what some of these kids go through.
Describe to me what you do when you volunteer as a clown.
Basically, I get in makeup and costume, go to the event we're doing and make kids laugh. I do balloon animals and do little bits of magic. Basically just to bring a smile to their face and make them feel better about themselves during the day with what they're doing. Every year at Easter, the March of Dimes … has a luncheon for their kids that are in the program, and we've been doing it for 25 years down there, being with the kids and just entertaining the kids while the kids are having lunch. Just volunteering our time and making kids happy.
What do you want people to know about the children you are working with?
Even though the kids are afflicted with whatever malady they have, they're still our future. They'll be taking over for our politicians that we have now, and basically lead the country. When I'm dead and gone, they're going to be taking how we treated them, how we showed them how we care. It makes a big impact on their lives. It shows them that there are people who care and hopefully it will press on them that yeah, there's people out there who are like that. Not everybody's out for themselves.
What's been the most rewarding part of your work?
Seeing the kids smile. The families appreciate what we do and we understand that, but we aren't doing it for any gain or rewards or anything like that. It's just so heartwarming to see the kids and know they really appreciate what we do.
Why do you think it's important for others to give back?
I know it makes me feel good. I was always taught with the principle, if you recognize a problem and you don't do anything about the problem, then you in turn become a part of that problem. That's the outlook that I was raised by, and we have a problem in our society with children in need. If I don't do something about it, then I become a part of that problem. So by my volunteering driving, it's not doing a lot, but its doing something, and that's more than I can say about a lot of people. If everybody would just do a little bit, and be a little bit better, I think the world would be a better place to live.
What do you want people to learn from your story?
I think if everybody gave a little bit of themselves to help others, the world would be a better place to live. Everybody is tied up in their own little agendas and programs, but if we set aside a little bit of time everyday for others [and] pay it forward — where you have something done to you and you give back to somebody else to make it better, and then they pay it forward to somebody else — if enough people do that, before long, everyone's paying forward and not expecting anything out of it.
Do you want to make a difference in your community like William Romer? Visit All For Good for local volunteer opportunities.
Post written by Morganne Mallon.
Share this post