Through 800+ Hours of Service, Octogenarian County Fire Volunteer Keeps Community Safe
Meet Daily Point of Light Award honoree Mary Troup. Read her story and nominate an outstanding volunteer or family as a Daily Point of Light. 
84-year-old Mary Troup has volunteered more than 800 hours over the past decade with the Ventura County Fire Department, keeping families in her community safe and encouraging others to get involved.  
The Camarillo, California resident says she first completed her county's Community Emergency Response Team (CERT) course, and so enjoyed the education, she decided she wanted to help prepare others through service. From distributing disaster preparedness to educating children about fire safety, Mary's dedication is helping to protect her neighbors and community.  
What inspires you to volunteer?
I'm alone and volunteering allows me to be more active in the community, and it helps me mentally too. I was once attacked, and feel safe in this environment with the firefighters. I see how good they are and how much they try to help the community, from fighting fires to preparing people for disasters.  
You're in your 80s, but actively engaging youth in your community. Explain.
I find it real refreshing to volunteer, and I get to meet a lot of people through service. We educate children in the community and encourage them to get involved. The fire department has a camp for underserved girls, where female firefighters speak with them and show them that if they set their mind to a challenge, they can do it. I've had to struggle in my life, and I don't want to see them struggle like I had to, but I still want them to appreciate the work. You have to fight for it.  
Describe your volunteerism with the Ventura County Fire Department.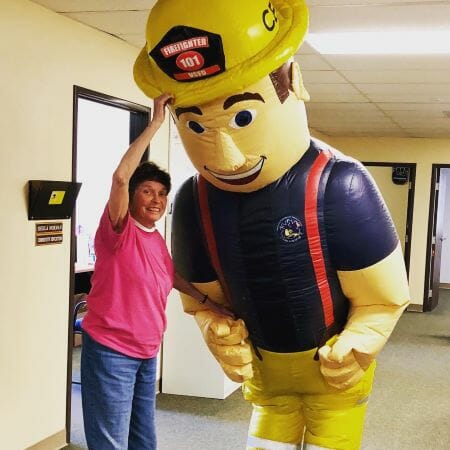 I distribute disaster preparedness and safety information at community events, escort the fire department mascot to attract children and parents to educational booths, and prepare thousands of children's educational bags each year that contain coloring books, smoke alarm calendars and exit drills. I also act as the victim for the department's drill search program.  
Share one personal story with me from your volunteerism. 
We had a storm that knocked out our electricity, and I had extra lanterns that I took upstairs to a lady. She only had candles and was grateful for my help. Volunteering is all about helping the community. I wish I could do more.  
Why do you think it's important for others to give back?
Volunteering is good for your soul. People are struggling, and contributing a little bit makes you feel good.  
What's been the most rewarding part of your service? 
It's rewarding to be able to offer help. Some people are not prepared, and they don't think about preparing for disasters. We've had forest fires, earthquakes and floods right in our own community. If you can get your neighbors together, you find out they have different talents of all sorts and you can unite to make a difference.  
In one word, what does volunteering mean to you?
Uplifting.  
You've volunteered with VCFD for nearly ten years. What's next? Another decade of volunteerism?
Another decade? (Laughs) I don't know at my age. So far, what I'm doing at my age hasn't complicated anything yet. It would be nice. Ask me again in ten years.  
How can readers help?
Please visit the Ventura County Fire Department's website for more information about how you can help. 
Do you want to make a difference in your community like Mary Troup? Find local volunteer opportunities. 
Share this post