Over 10,000 Hours of Service, Conservancy Volunteer Loves the Land and Passes it Forward
Meet Daily Point of Light Award honoree Paula Dreeszen. Read her story and nominate an outstanding volunteer or family as a Daily Point of Light.  
Interlochen, Michigan resident Paula Dreeszen says she's always enjoyed working outside. The 63-year-old volunteer is now dedicating her time to loving land and passing that passion forward. 
As a volunteer with the Grand Traverse Regional Land Conservancy, Paula has volunteered more than 10,000 hours over 16 years to protect and restore the natural world. Caring for a group of nature preserves near the Eastern shoreline of Lake Michigan totaling more than 10 properties and over 5,000 acres of land, Paula is volunteering for a greener future and inspiring others to follow in her journey.  
What inspires you to volunteer?
I enjoy working outdoors and learning new things. I had just moved to Michigan when Grand Traverse Regional Land Conservancy purchased a nature preserve near where my family vacationed when I was a child, so I was particularly interested in volunteering with this cause.  
Describe your volunteerism with the Grand Traverse Regional Land Conservancy.
As a volunteer preserve steward, I help to build trails, maintain existing trails and keep preserves enjoyable for guests. I also do some habitat restoration and research, including counting birds and leading hikes and education through our citizen science bird and plant observations. 
Share one personal story with me from your volunteerism.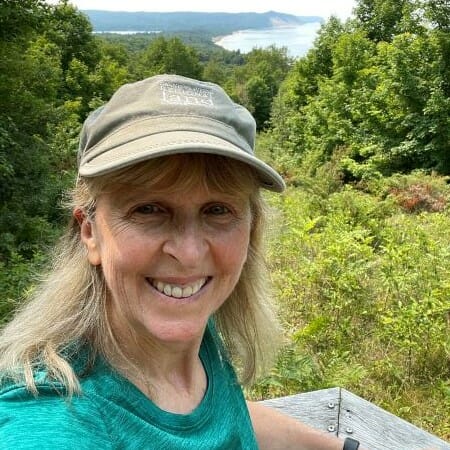 Several years ago, staff was not able to keep up with removing garlic mustard in the spring. I jumped in and spent long days doing invasive species control, which removes invasive plants that can harm other plants, and pulled it all. The staff thanked me, and it was nice to receive their appreciation, as I know I filled a gap for them controlling this weed and helped to preserve native wildflowers. 
Why do you think it's important for others to give back?
I get a lot out of volunteering myself. You learn new things, you get to talk to people on the preserve and see them enjoy it. The organization I volunteer for can't get it all done with staff alone, they give opportunities and leadership to volunteers, who are essential to maintaining preserves.  
How have you continued to volunteer throughout the COVID-19 pandemic?
I led in-person wildflower hikes for more than 10 years, but in 2020, we didn't have any in-person events. We recorded a video of me leading a hike through the woods, and posted the video online, so people could learn about the hikes and go on their own time. 
What do you want people to learn from your story?
Find a volunteer opportunity that is fun. Also, respect the trust an organization gives you when you volunteer. When you promise you'll do a task, make sure you do it. That's how you get more responsibility.  
What's your favorite wildflower you've come across volunteering?
My favorite wildflower! That's like when someone has children and you have to pick your favorite kid. Out of the spring wildflowers, the Trillium. Everybody picks it. I have a half-dozen favorites.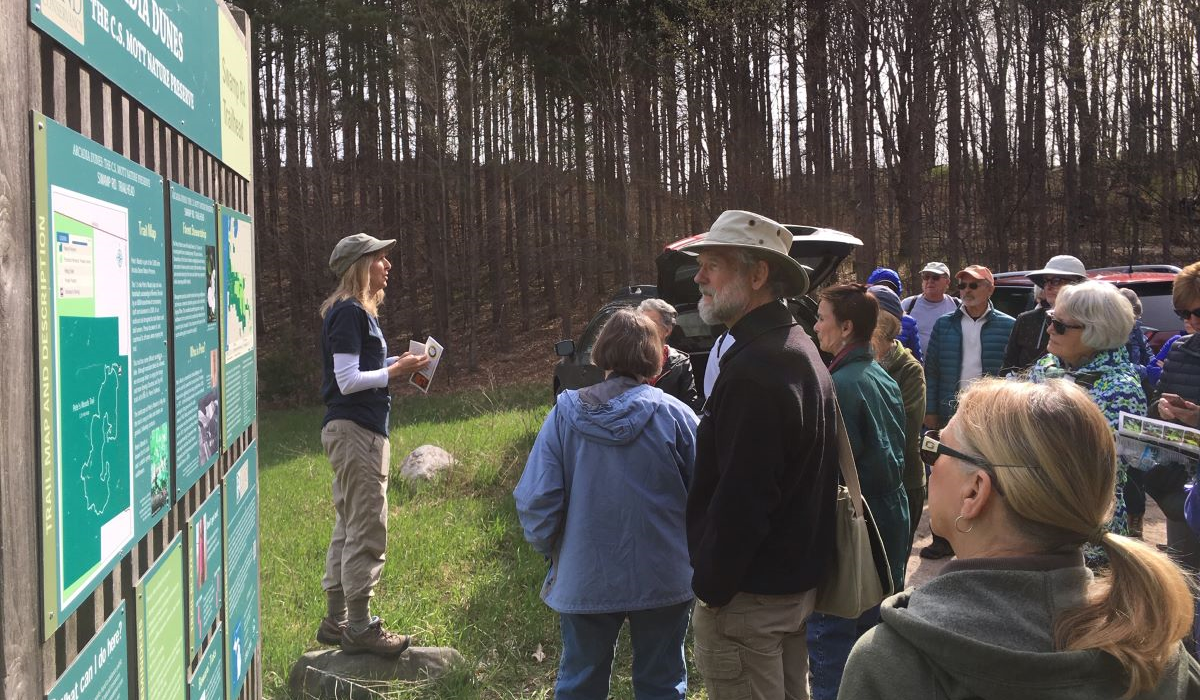 In two words, what does volunteering mean to you?
Second career. 
How can readers help?
Explore your own community and resources to see how you can preserve the environment. To learn more about the Grand Traverse Regional Land Conservancy, please visit their website. 
Do you want to make a difference in your community like Paula Dreeszen? Find local volunteer opportunities. 
Share this post